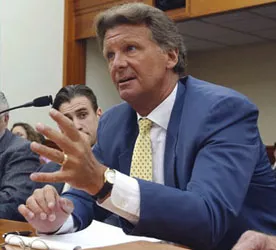 Today's specimen of what's wrong with democracy is one state Sen. Jack Brandenburg, a Macomb County Republican who wants his colleagues to do something the voters don't want and which will make the roads and schools even worse.
Brandenburg, an industrial supply salesman, wants to cut the state income tax rate from the current 4.25 percent to 3.9 percent, which sounds like the sort of typical pandering-to-the-voters politicians like to do in an election year.
Except this year, it's not. Voters don't want a meaningless tax cut that won't give them any money worth mentioning.
They want better schools and better roads. We know this because EPIC-MRA conducted a poll last month, when it was announced that the state was going to have close to a $1 billion surplus. Three out of four people thought the money should be used either for the schools or the dreadful roads.
Others wanted the state to spend it on other needs.
Only 11 percent wanted a tax cut. My guess is that even that number would have fallen like a rock if they suspected that Brandenburg's tax cut would matter only to the 1 percent.
Michigan's constitution outlaws a graduated income tax, which means that while our lawmakers are free to change the tax rate, they have to levy the same rate on someone who makes the minimum wage as they do on, say, Gov. Rick Snyder.
The folks over at the nonpartisan Michigan League for Public Policy did some entertaining calculations as to what Brandenburg's income tax would mean. To someone in the lowest fifth of income earners, i.e., those who need money the most, the tax cut would average a whopping $12 per year.
What about middle-income taxpayers? People making, say, an average income of $45,700? They would get about $88 a year, not even enough to fix one pothole-ruined tire.
However, the tax cut for the 1 percent would be an average of $2,618, enough for a round-trip for two to Paris.
They might want to make that a one-way trip. According to the Senate Fiscal Agency, three years after Brandenburg's plan kicks in, the state would be getting $873 million a year less in revenue. Meaning even worse roads and schools.
You would think that would be enough for his colleagues to tell Brandenburg to shut up and go sweep out his industrial supply business, but apparently most state senators couldn't care less what you want or need or what's good for the state.
The Senate Finance Committee happily passed it. House Republicans are working on a similar plan that's almost as bad.
There is, however, a way to give the neediest Michiganders a tax cut, and do it in a way that will help the economy: Restore the full EITC — Earned Income Tax Credit — that our lawmakers took away from the working poor in 2011.
They cut the tax credit from 20 percent to 6 percent, which amounted to about a $600 yearly tax increase on a family of three scraping by on a minimum wage salary. Restore that income, the Michigan League for Public Policy estimates, and it will lift nearly 12,000 children in this state out of poverty.
Restore it, and those folks will spend that money in their communities on necessities, helping small businesses.
But is anyone in the legislature demanding they do this?
Representatives from Detroit? Senate Minority Leader Gretchen Whitmer? If so, they sure aren't doing it loudly.
Maybe none of them really give a damn.

DINGELL & CONYERS
John Dingell, the longest-serving congressman in American history, announced last week that he was retiring after this year. Four days later, to the surprise of absolutely no one, his much younger wife, Debbie, announced she would be a candidate to succeed him.
Not only is she a heavy favorite, it's not even clear if she'll have any major opposition. Consider this: If she were to win and stay nine terms, which is entirely possible, there will have been a Dingell in the seat for an entire century, starting with the two John Dingells, father and son.
Whatever you think about that, and them, here are a few things to remember: It is fashionable to bash Dingell for opposing higher fuel economy standards, and allowing the Detroit Three to continue their anti-environmental, anti-safety and, ultimately, self-destructive ways.
Ralph Nader last week attacked him for all that. But hindsight is 20-20, as I suspect most of the Floridians who voted for Nader for president in 2000 came to agree.
The truth is that, for years, Dingell did exactly what both the auto companies and the United Auto Workers wanted him to do. During the last decade, he realized times have changed.
Seven years ago, Dingell went to see the heads of the not-so-big-anymore three to deliver a message: The world had changed. Afterward, Dingell told me "I told them if they listened to me, I would get them a [fuel efficiency] agreement they would hate. And if they didn't listen to me, they would get an agreement that would put them out of business."
You can argue that he stayed too long. Physically, he is as frail as a nearly 88-year-old man usually is. He needs a cane, he is hard of hearing and his energy level isn't what it was.
But mentally, he is still completely sharp. Which brings us to the curious case of John Conyers, who is running for re-election. If he wins, Conyers, who started out as an aide to Dingell, will become the house's longest-serving member.
He will have been there for a half-century when this term ends. However, it's no secret that Conyers, 84, sometimes doesn't seem to be firing on all cylinders.
Two weeks ago, the Rev. Horace Sheffield announced he would take on Conyers in the August Democratic primary. That itself wouldn't have rated more than a few seconds on the news.
What turned heads was what Sheffield then said: "The congressman is not all there."
Politicians make charges about other politicians all the time. But to me, what was most telling about this was that nobody came forth to deny what Sheffield said — except for those who are on John Conyers' payroll.
That doesn't mean Conyers will be defeated. Sheffield isn't anybody's idea of an ideal candidate. A relentless self-promoter, he was slavishly devoted to Kwame Kilpatrick to the end.
More disturbingly, he has been in the news more than once for alleged physical violence against women. Others have tried — and failed — to beat Conyers for two decades, from Butch Hollowell to Glenn Anderson to Bert Johnson.
He has always won easily. What's interesting is why no news organization has ever taken a hard look at how his office is run, how funds are spent, how employees are treated.
Nor has anybody seriously tackled what you might call the competency issue. I've known seasoned reporters who wanted to, but who couldn't get their editors to take the issue on.
Whatever happened to public service journalism?