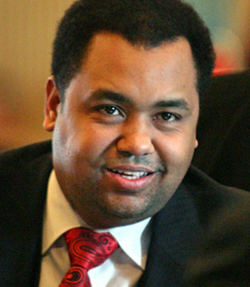 Last week, when news broke that a federal
grand jury is looking into Detroit Mayor Mike Duggan's demolition program
and the possible misappropriation of federal funds, several
local media outlets
quoted anonymous sources close to the investigation as saying the
mayor was not a target of the probe
.
Today,
the man hoping to unseat Duggan
in this fall's Detroit mayoral election aimed to cast doubt on that claim while also questioning the legitimacy of the investigation.
In a news conference in Livonia, Sen. Coleman Young II argued that it is too soon to know who might be the target of the investigation. Local media outlets last week reported the
grand jury has only been meeting for about month
and is
still gathering information
. Young noted also that demolition contractors have received subpoenas asking for all correspondence with the mayor's office.
But Young went a step beyond suggesting Duggan could indeed be a target of the probe — and accused the U.S. Attorney's Office of Eastern Michigan of working on Duggan's behalf by reaching out to members of the media to say he wasn't a target. Young alleged preferential treatment was given to Duggan because he has a "prior relationship" with the state's attorney's office as a former Wayne County prosecutor. That relationship, he said, merits a special prosecutor be put on the case.
"The law states that federal grand jury probes are confidential and secret," said Young. "Duggan's relationship with the Eastern District corrupts the investigation into the demolition program."
But for at least one legal expert — that is too great of a leap.
"First of all, you have to prove where the leaks come from," said longtime Detroit criminal defense attorney David I. Lee. "In such a highly charged political environment, these leaks could be coming from anywhere."
Metro Times
was unable to find one instance in which a local media outlet gave any indication that the leaks were coming from federal sources specifically.
"The fact that people are alleging that leaks are happening doesn't give rise to appointing a special prosecutor," said Lee. And he said neither does the fact that Duggan is a former prosecutor.
"A lot of politicians are ex-prosecutors," he said. "It doesn't necessarily present a conflict. Even if he was a former U.S. Attorney and even if he had worked in that office it wouldn't necessarily present a conflict."
Duggan has said his office is
not the target
of the federal grand jury probe and that nobody from his office has been questioned or subpoenaed. Duggan's chief of staff, Alexis Wiley, on Monday characterized Young's news conference as just another attempt to bash the mayor without offering a plan for Detroit.
Said Wiley, "If he actually presented a plan for the future of the city, that would be big news."