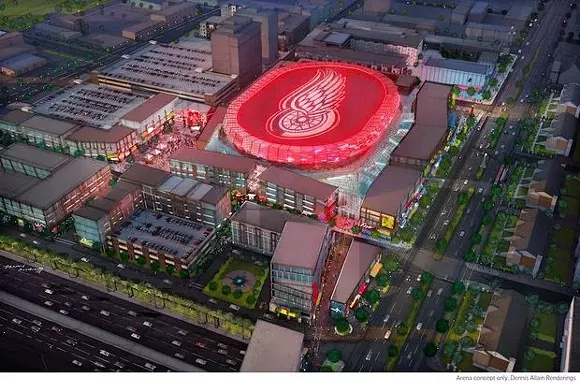 We missed
this
when it was published a few weeks back, but
Michigan Radio
brought it to our attention today: Writing at the
Columbia Journalism Review
, David Uberti says local news organizations tend to cheer on the announcement of new sports stadiums, before they begin to ask tough questions.
In Detroit's case, Uberti writes, that was the case with the announcement of a
new $450 million arena for the Detroit Red Wings
near downtown. He says a number of stories here on the arena highlighted "rosy economic numbers" — $1.8 billion in investment — without much thought as to if that would actually materialize. Also, he says, some failed to mention the project will be significantly financed by public tax dollars.
Says Uberti to
Michigan Radio
: "Citizens should remain skeptical ... This is, in a lot of cases, a political question: Should a local government subsidize a local business? They have to evaluate by themselves whether that's worth it."
Uberti chatted with the public radio station during an 8-minute segment, which can be heard
here
.
Meanwhile, leading up to the 5 p.m. meeting downtown with Detroit's planning commission, Chris Ilitch of Olympia Development of Michigan talked about the new arena today during
the Detroit Homecoming event
. The Ilitches have said they've been acquiring land
over 15 years for the project
. Here's a snippet of what he had to say about the land north of I-75, where the new arena will be located:
Chris Ilitch: "It's no coincidence that these areas to the north of I-75 are some of the most blighted areas of our city core."

— Nathan Bomey (@NathanBomey) September 18, 2014