If patriotism were a concept that could apply to a municipality, Detroit native Ali Thrower would have it in spades. On any given day, you can find the 42-year-old repping his city through the Detroit flag screen-printed on his tee shirt or — in the winter — embroidered on his beanie. But Thrower's love for the city and its flag runs more than surface-deep: He
believes
in the flag, both for its power as an educational tool and its ability to instill pride in Detroiters.
"Our flag's busy, a lot of people think it's ugly, but it has so much symbolism about Detroit," says Thrower.
For as long as he can remember, Thrower has been explaining that symbolism to just about anyone who will listen. Four years ago, he took his title of unofficial historian to the next level, pioneering an event called "Raise the Flag Festival" to coincide with the city's July 24 birthday.
"Our flag restores our pride and let's us know who we are again," says Thrower. "So I started 'Raise the Flag' and said hey, 'let's raise our flag!'"
While the Detroit flag-clad festival events mostly revolve around music and booze, Thrower says there is an educational component to them as well. And we believe him, because it was on a booze-fueled night that Thrower became the first person to inform us of the flag's meaning.
The quadrants of the red, yellow, blue, and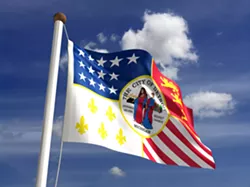 white banner represent the different countries that have, over time, controlled the city: In the left bottom quadrant, a handful of fleurs-de-lis represent France and, in the top right, three gold lions imitate the Royal Arms of England. The opposite quadrants are made of 13 stars and 13 stripes to represent the 13 colonies. The city's seal is located in the center, and depicts the Great Fire of 1805 with the words "We hope for better things" and "It will rise from the ashes" written in Latin. One woman is shown weeping over the city leveled by the blaze, while another looks toward a brighter Detroit.
"It's prophetic if you ask me," says Thrower. "Detroit has always been cursed with fire since [1805] – from the riots, to the arson we deal with today. And in the flag, you can see there's a greening of Detroit going on — buildings flourishing with a lot of trees. [Similarly], a new Detroit is emerging right now and the flag has been telling us this for so long."
Thrower's crowning achievement through his years of hosting the festival came on Detroit's 313th birthday, when he projected the image of the flag onto Michigan Central Station during a packed outdoor party at Roosevelt Park. It was also that year that he held a 3 minute and 13 second long "moment of silence" during which hundreds of people were instructed to "think positive thoughts about Detroit."
This year, as we approach Detroit's 316th birthday, the Raise the Flag Festival events will be a little less involved, but you can expect to see Detroit flags hoisted at each of them and performances from a range of local musical artists.
The festival officially gets underway Saturday at Motor City Wine with a
DJ showcase
by the Detroit Vinyl Room. Raise the Flag Fest continues Sunday outside Bert's in Eastern Market with performances by DJ Dez, Nick Speed, Bruiser Brigade's King Jxxky and more than a dozen other artists. More details are available on the
festival's Facebook page
.