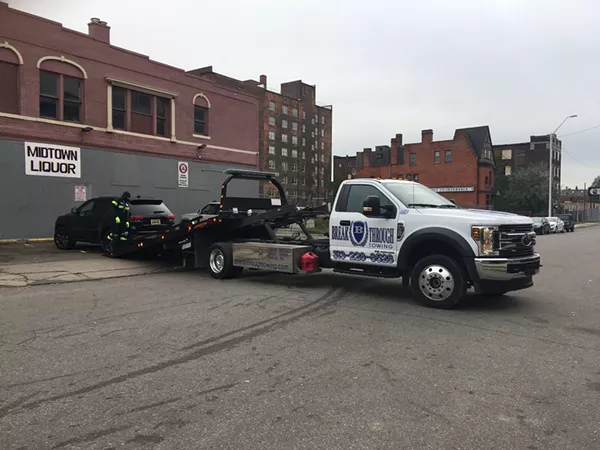 It's been a rough couple of months for Breakthrough Towing, the overzealous (OK, some say "predatory") towing company that has come under fire for being part of an alleged scam in which drivers are forced to pay hundreds of dollars to recover their vehicles — even when they say they are rightful customers parked in customer-only lots.
Following a September
Metro Times story
about the company, which we routinely spot hauling cars from the McDonald's and the liquor store across the street from our office,
WJBK-Fox 2 reports
that Breakthrough Towing has been ticketed by the city for 10 violations.
The company isn't being fined for its aggressive businesses practices, though — at least, not at the moment. Instead, the city is nailing it for blight and code and compliance violations at the Detroit lot where it stores the cars it tows.
"What they're doing to people that own cars is ridiculous and should not be happening," Dave Bell, director of Detroit's Buildings, Safety, Engineering and Environmental Department told the TV station. "But unfortunately I can't enforce that. What I can enforce is the property maintenance code."
It's the latest bad news for Breakthrough. Since our story ran,
AAA cut ties with the company
. Weeks later,
attorneys filed a class action lawsuit
against the company for its aggressive practices, which include removing cars without proper permission and not alerting police before removing vehicles. And more bad news could be on the way, as WJBK reports both the Better Business Bureau and Mayor Mike Duggan's office are also investigating the company.
WJBK's investigation found plainclothes "spotters" taking photos of car license plates for Breakthrough to tow, sometimes within minutes of the cars parking. Signs posted at the McDonald's say cars can be towed after just 30 minutes, which customers say is too little time to order and eat their food.
The McDonald's franchise owner defended its partnership with Breakthrough Towing, as did the owner of Midtown Liquor, telling WJBK that he has been losing business because sometimes his lot has been full even while he has had no customers inside. However, at least one former customer told the TV station she will never go back to the liquor store after the ordeal of getting her car towed.
The company charges more than $400 to release cars back to drivers.
Stay on top of Detroit news and views. Sign up for our weekly issue newsletter delivered each Wednesday.