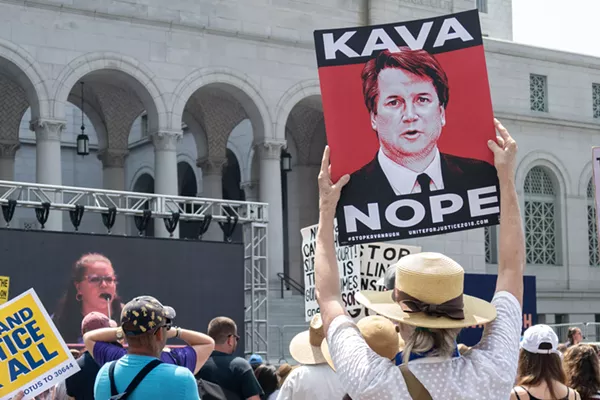 With Supreme Court nominee Brett Kavanaugh facing a second allegation of sexual misconduct – this time from his college years — will Michigan Attorney General and GOP gubernatorial candidate Bill Schuette walk back his support for the Trump pick?
The answer is, of course not.
Speaking this morning with reporters, Schuette said he felt the Senate should "have a hearing, let every voice be heard, and then the Senators should vote."
With the latest sexual misconduct allegations surfacing surrounding US Supreme Court Nominee Brett Kavanaugh, GOP gubernatorial candidate Bill Schuette said he believes "The Senate should have a hearing and then vote" #MIGov @wwmtnews pic.twitter.com/OzgCfbN87D

— Mikenzie Frost (@MikenzieFrost) September 24, 2018
Schuette's statement that the confirmation process should move forward comes as Democrats urge Kavanaugh to withdraw and as their calls grew louder for an FBI investigation into the claims against him. Kavanaugh's first alleged victim, Christine Blasey Ford, is set to testify before the Senate Judiciary Committee on Thursday.
According to a report published by the
New Yorker
yesterday, a woman identified as Deborah Ramirez says Kavanaugh exposed his penis and thrust it in her face when they were at a party at Yale their freshman year.
The claim follows Ford's allegation that Kavanaugh tried to force himself on her while covering her mouth after he and friend locked her in a bedroom at a party when they were in high school.
Schuette has aligned himself with Trump and has received the president's endorsement.
In July, he called the president's nomination of Kavanaugh to the Supreme Court a
"home run."

"What a great decision by President Trump in nominating Judge Kavanaugh for the Supreme Court," Schuette was quoted as saying in an
"article" on his website
. "He is a rule of law, experienced judge who respects the Constitution – as written."
In the post, Schuette brims with joy over Trump's wonderful luck in being able to nominate two right-wing ideologues to the court, saying that thanks to his election, Hillary Clinton was unable to take "America down an ultra-liberal path with a significant negative impact on your rights."
"Your 2nd Amendment rights? Infringed. Easier to obtain an abortion? With certainty," he said.
Kavanaugh has said he does not plan to withdraw. As of this publishing, no Republican Senators have expressed opposition to his nomination.
Stay on top of Detroit news and views. Sign up for our weekly issue newsletter delivered each Wednesday.