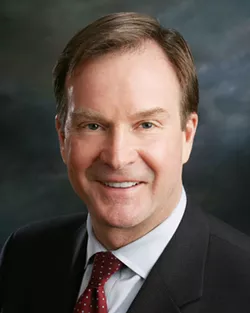 Michigan Attorney General Bill Schuette weighed in Wednesday on what has become an increasingly contentious issue: Can the state shut down poor-performing Detroit schools at the end of the current academic year? His answer: Yes.

What he didn't discuss in his legal opinion was the fact that since 2009 he has received close to $140,000 from pro-charter school proponents like the DeVos family.

In August, Chalkbeat Detroit reported that the state School Reform Office planned to close down hundreds of failing Michigan schools in June 2017 — including dozens of Detroit public schools — if they didn't get their act together. The news, specifically the threat of Detroit closures after years of documented neglect, resulted in a thunderous uproar.
"Closing a failing school, particularly in Detroit, a city whose schools are famously, notably distressed, won't have a millimeter of impact on the conditions that caused those schools to fail," Detroit Free Press columnist Nancy Kaffer wrote this summer, pointing out that the news was textbook free-market-education-reform-speak, but ultimately didn't take into consideration bigger systemic issues, such as funding, a lack of school supplies, and poor infrastructure, that has been holding many of Detroit's public schools back.
Comments like Kaffer's caused Lansing to pause. While the SRO said they would close schools that had a track record of failure for three consecutive years, the new legislation surrounding Detroit's schools indicated that there could be a hitch in this plan. In June, when Gov. Rick Snyder signed off on the controversial DPS bills, the district split into two: an old DPS district to deal with the debt, and a new Detroit Public Schools Community District to educate kids. This reality caused some — including the governor's top education aide — to re-think Detroit closures for next year. Perhaps because DPSCD is technically new, it would be exempt from these closures.
Well, Schuette says no. According to Schuette, schools that fall in the bottom 5 percent of state achievement for three years in a row — including DPSCD schools — will be subject to closure in June.
The news is particularly troubling when considering the fact that Schuette, a likely GOP contender in the upcoming gubernatorial race, has received close to $140,000 from the pro-charter DeVos family and their charter school-promoting advocacy group, the Great Lakes Education Project.
Schuette received $102,800 from the DeVos family between 2009-2014 and $34,000 from GLEP during this same period, according to political contribution records retrieved by Progress Michigan.


The donations raise questions about Schuette's intentions and what the impending closures will do to the city's education landscape.
"What Bill Schuette is doing is laying the groundwork for a complete charter takeover of Detroit Public Schools, which is exactly what the wealthy DeVos family has spent years and millions of dollars to achieve. Corporate money talks and, as is par for the course, Bill Schuette has listened very intently," Lonnie Scott, executive director of Progress Michigan, said in a Wednesday press release.
As we reported throughout the spring, the DeVos family has been incredibly hands-on when it comes to Detroit's educational options. This past spring, they gave thousands of dollars to GOP legislators who were in the midst of debating possible DPS legislation. Unsurprisingly, the final package of bills was viewed by many as a detriment to public schools in the city and a boost for charters. The bills included no mechanism for reining in Detroit's unwieldy and over-saturated charter market, and more tellingly it was ultimately championed by many pro-charter school groups, including:

• National Heritage Academies — Michigan's largest charter school operator, owned by billionaire J.C. Huizenga.
• Great Lakes Education Project — a Michigan-based charter advocacy group, funded largely by the right-to-work, union-adverse DeVos family.
• The Michigan Association of Public School Academies — a coalition for charter school leaders.
• The Michigan Council of Charter School Authorizers — an alliance for charter school sponsors who receive public funds for sanctioning charters.
This is not the first time Detroit education decisions could be traced back to the DeVos family. In 1996, former MT journalist Curt Guyette wrote an exhaustively researched piece on the genesis of the state's charter school movement. Who was providing major funding? The DeVos family.
As Guyette explained it at the time, the DeVos family — and other wealthy original backers of charters in the state — all support religious issues and groups advocating for the "christianizing" of American politics. In short, charter schools were a step toward these individuals' ultimate goal of getting public funding for parochial schools.
"To reach that goal, the groups promoting 'school reform' have mounted a relentless attack on the state's education system," Guyette wrote, later adding, "But that alone wouldn't be enough. To galvanize Michigan parents and taxpayers behind the idea of school choice, the reformers needed a Trojan horse that could effectively blur the lines between public and private education: charter schools."
View the document below to see campaign contributions the DeVos family and GLEP have given to Schuette:
Schuette Political Contributions by progressmichigan on Scribd