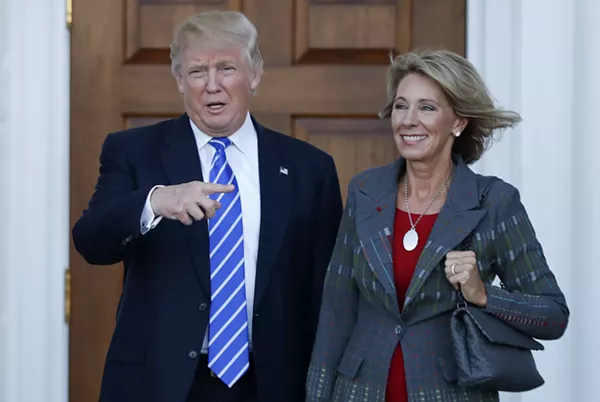 U.S. Education Secretary Betsy DeVos on Tuesday defended Trump's proposed plan to eliminate funding for the Special Olympics, and refused to give a clear answer about her stance on sexual orientation and gender identity discrimination in schools.
DeVos was testifying before a House subcommittee when she was asked questions about charter school funding by Rep. Mark Pocan (D-WI).
During the exchange, Pocan asked whether DeVos believes that schools should be able to discriminate on the basis of sexual orientation and gender identity. DeVos dodged the question's core ask: "yes" or "no."
"We have laws that cover discriminatory efforts," DeVos said. "[And] our office for civil rights has continued to be very diligent in investigating any allegations of discrimination, and will continue to do so."
When prodded by Pocan to clarify her opinion, DeVos neither confirmed nor denied that she feels schools should be allowed to discriminate based on gender identity and sexual orientation.
Pocan's inquiry followed that of Rep. Barbara Lee (D-CA) who questioned DeVos regarding an eliminated 2014 disciplinary mandate meant to protect students of color who statistically face harsher disciplinary measures than white students.
"No child should be treated or disciplined differently based on his or her race, or color, or national origin." DeVos said. "[A
nd]
if and when they are, our office for civil rights will act swiftly."
Pocan then asked DeVos whether she intentionally omitted sexual orientation and gender identity discrimination from her response to Lee, which she still dodged.
DeVos's testimony was also criticized for defending Trump's proposed budget cuts to eliminate funding for Special Olympics.
"You have zeroed out Special Olympics, once again,"
Lee said
. "I still can't understand why you would go after disabled children in your budget. You zero that out. It's appalling."
When asked by Pocan about the number of children that would be impacted by budget cuts to Special Olympics, DeVos could not respond.
"It's 272,000 kids," Pocan answered.
Stay on top of Detroit news and views. Sign up for our weekly issue newsletter delivered each Wednesday.