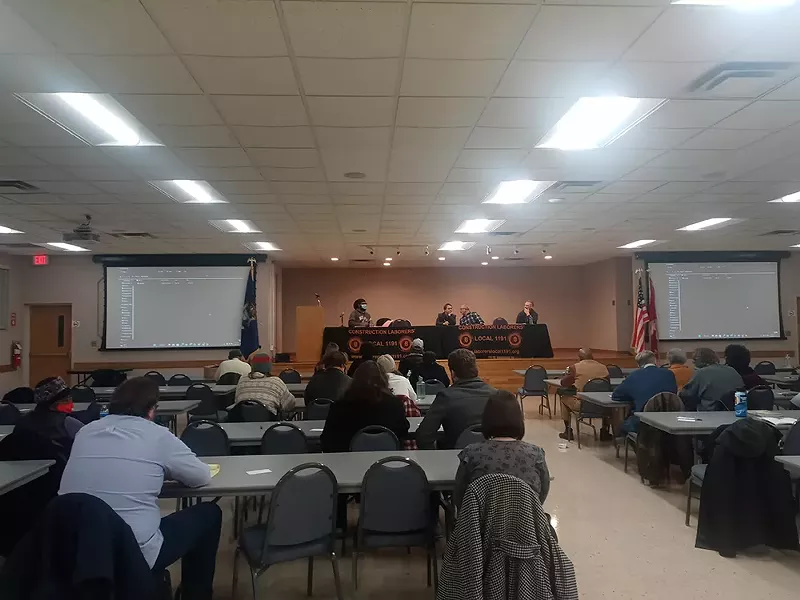 When an eviction notice arrived in her mailbox a few days ago, Sharon Humes was shocked.
The 76-year-old retired social worker said she paid the rent for her two-bedroom apartment on Detroit's west side. She uses her social security and pension benefits to pay $954 a month. Water bills and parking space drive up her total costs to $1,100.
Hoping to dispute the eviction, she wrote a letter to the management company, including a copy of a certified check as proof. Office managers, who acted rudely during previous encounters, Humes recalled, did nothing for her. A court date later this month looms.
Humes is searching for help.
"I don't understand that. How can they do that?" Humes said. "I've been here for 10 years. And I've never had a problem like this until a new landlord came through."
She was among the nearly 60 tenants and housing advocates who packed a nondescript conference room for a convening of the Detroit Tenants Association Tuesday evening. Held inside the Laborers' International Union building on W. Grand Boulevard, many in attendance said they didn't feel safe in their homes. And landlords weren't welcome.
The tenants association is pressuring city officials to enshrine a piece of legislation they believe will provide housing stability and defend renters against evictions. On Jan. 16, the tenants association will launch an online petition calling for a "right to renew," which would require landlords to offer a lease renewal to current tenants or pay for relocation costs.
"If any landlord chooses to not renew a tenant's lease, they have that legal right, because we don't have the right to renew our leases. Even if the tenant has done nothing wrong," said Steven Rimmer, the coordinator of the Tenants Association of New Center Plaza and Marlenor.
In Ann Arbor, landlords must now give their renters an opportunity to renew their leases after city council adopted an ordinance in October. Tenants rights organizers are hoping the same policy becomes a reality in Detroit, a majority-Black city gripped by chronic poverty.
The need is real. "The fundamental principle is simple. Renters deserve the right to remain stably housed," Rimmer added. "Today, renters in Detroit who are current on rent, good neighbors, and members of the community are still at risk of being suddenly displaced by eviction at the end of our lease."
City residents are engulfed by a litany of other profound housing woes: crumbling homes in need of repair, rising rents, a dearth of low-cost housing options, ongoing delays in the implementation of the city's right to counsel office, and a growing eviction crisis as pandemic-era emergency protections disappear. In November, University of Michigan researchers found eviction filings in Detroit were on pace to return to 75% of pre-pandemic levels and estimated about 21% or roughly 61,000 tenants faced the danger of eviction in 2022.
"Much like climate change and wealth inequality, housing has become a civil rights issue of our generation," said Evan Villeneuve, a social worker and housing justice advocate. "Landlords are refusing to renew leases, to maintain properties, and often resort to harassment, intimidation, and retaliation when tenants speak up about living conditions or just flex their basic housing rights," he added, noting these actions continue the legacy of racism and classism in Detroit.
The tenants association hopes to empower the city's renters and tenants to voice their grievances and understand their rights, part of a wave of tenant activism that has recently emerged across the nation. Formed last year, the city-wide coalition advocates for rent control and safe and low-cost housing, among others, and provides resources for those facing eviction.
"Since COVID started, the housing crisis in Detroit has deepened. And it's affected tenants all across the city in many different ways," said activist Mike Shane from Moratorium NOW! Coalition, an advocacy group who fights against foreclosures, evictions, and utility shut-offs. "What we need to do is organize."
Across different corners of Detroit, battles between tenants and landlords are mounting. In the Dexter-Linwood neighborhood, Taura Brown, a Black woman and dialysis patient, is fighting against what she calls a "retaliatory eviction" from her 317 square-foot tiny home on Monterey Street.
Anti-poverty nonprofit Cass Community Social Services, which designed the tiny homes for people enduring financial hardship, has moved to evict Brown, even though she has paid her rent on time. Activists with Detroit Eviction Defense are standing guard in front of Brown's tiny home and preparing to protect Brown from being forced out.
Humes's potential eviction has disrupted the quiet life she lived with her 53-year-old son, who shares the apartment. She's actively looking for an attorney for assistance — and she's hanging on her final thread of patience.
"It's frustrating," she said. "Because they can do anything to us and that's not fair."
Coming soon: Metro Times Daily newsletter. We'll send you a handful of interesting Detroit stories every morning. Subscribe now to not miss a thing.

Follow us: Google News | NewsBreak | Reddit | Instagram | Facebook | Twitter