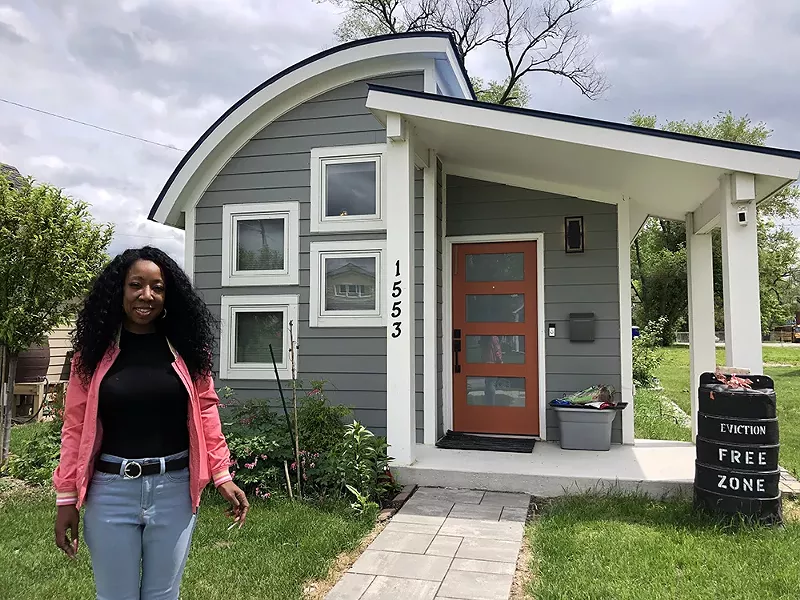 Detroit activists say they're prepared to do whatever it takes to prevent what they're calling a "retaliatory eviction" of a Black woman with a terminal illness.
Taura Brown is being kicked out of her 317-square-foot home that is part of
a community of unique tiny houses in the Dexter-Linwood neighborhood
on the city's west side.
Even though she has paid her rent on time, Cass Community Social Services (CCSS), a nonprofit that designed the homes for lower-income Detroiters, has moved to evict her.
Brown, who has stage-five kidney disease, alleges she was evicted in retaliation for blowing the whistle on problems at CCSS. She accused the nonprofit and its director, Rev. Faith Fowler, of fraud and micromanaging residents. She also alleged CCSS never intended to provide permanent homes for tenants.
Despite a groundswell of support for Brown, Fowler has moved forward with the eviction process, and a judge said at a recent hearing that she plans to sign the writ for eviction Monday.
Once the writ is signed, bailiffs can force her out of her home.
Activists have other plans.
"The home defense has begun," Sammie Lewis, an activist with Detroit Eviction Defense and the Detroit Communist Party, tells
Metro Times
. "We are taking shifts to stand guard and prepare for what happens next. We have multiple groups and organizers and activists prepared to be out here for as long as is needed until the eviction stops."
Activists hope Fowler changes her mind to avoid a potential standoff that could damage CCSS's reputation as an antipoverty nonprofit.
When the houses were built, CCSS promised that tenants who pay rent for seven years will receive the deed to their home, mortgage-free. The goal was to break the cycle of poverty and create a path to homeownership.
But Brown won't have that opportunity. At the end of her 12-month lease, CCSS informed Brown that her lease won't be renewed.
"We are hoping with this community activism that Faith Fowler calls off the eviction," Lewis says.
Despite all that is at risk, Brown is staying strong.
"It's obviously a stressful time for her, but she is a warrior," Lewis says. "She is very willing to fight this — and not just for herself, but for everyone."
Across the city, an increasing number of residents are getting kicked out of their apartments and homes because a moratorium that was imposed during the COVID-19 pandemic has been lifted.
"We want to put a stop to all evictions," Lewis says. "We want to put a stop to slumlords."
In December,
activists called on the Detroit City Council to impose a moratorium on evictions
after Mayor Mike Duggan's administration missed a deadline to begin providing lower-income residents with free legal representation when facing eviction.
The council declined to take action.
The council approved the right-to-counsel ordinance on May 10, and it was supposed to go into effect on Oct. 1. But Duggan's administration delayed the process, saying it needed more time to work with potential vendors who want to represent low-income tenants.
Coming soon: Metro Times Daily newsletter. We'll send you a handful of interesting Detroit stories every morning. Subscribe now to not miss a thing.

Follow us: Google News | NewsBreak | Reddit | Instagram | Facebook | Twitter