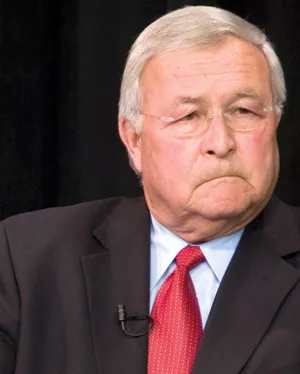 What a banner week for L. Brooks Patterson. Just days after his appointees on the Regional Transit Authority board teamed up with Macomb County to
squander a proposed long-term public transportation plan in metro Detroit
, a highway project he has clamored for since the 1990s is set to begin.
The more than $1 billion rebuild and widening of I-75 from 8 Mile Road to M-59 has been in the works forever. Think we're lying? Here's a cut from
Metro Times ...
in 1999
.
While many Oakland County politicians and I-75 users say the artery must be widened to alleviate congestion and accidents, others are trying to persuade transportation officials to consider alternatives to pouring more pavement.

That includes regional mass transportation – buses and rail lines connecting Detroit and the suburbs.
Sound familiar? It's the same tune you've heard ever since. And Patterson, the Oakland County executive since 1992, has been along for the ride with Team More Freeway throughout. Now, the project — which some Oakland County officials have
attempted to scuttle in recent years
— is set to break ground this month, according to the Michigan Department of Transportation.
Starting Aug. 15, crews will begin a $90.8 million reconstruction on both directions of I-75 between Coolidge and South Boulevard, covering everything from fresh pavement, new bridges, and revamping the Square Lake Road interchange. MDOT says the right lane of southbound I-75 will be closed continuously, "in order for crews to begin upgrading the right shoulder for a future traffic shift." Northbound motorists will have to deal with intermittent single-lane closures "for future work in 2017," the agency says.
From there, sometime in early September, another stage of the project is scheduled to commence, MDOT says.
If you're anxious to learn more about the project, there's plenty of info at
www.modernizei75.com
.
And don't fret, construction lovers, this marks only the first of several segments to come. The state says Patterson's pet project should wrap up in short order, and by that — hold your breath —
we mean sometime in the 2030s
.
Godspeed.