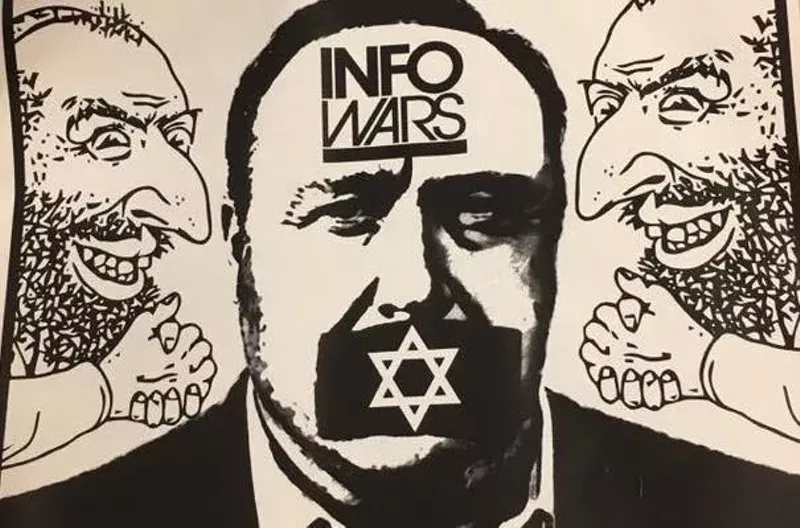 Anti-semitic flyers depicting
Infowars
founder Alex Jones and offensive caricatures of Jewish men were found on the doors of the First United Methodist Church in Ferndale on Monday.
The church posted the flyers to its Facebook account with the caption "#LoveIsBigger" and said that it would be filing a police report. The
Detroit News
reports that the Ferndale Police Department has confirmed it is investigating.
Though the motive for the targeting of the First United Methodist Church is unclear, the church appears to pride itself on its inclusivity and tolerance. "Our welcome knows no boundaries of age, race, ethnicity, culture, gender identity, sexual orientation, family configuration and economic condition, physical or mental ability," the
church's website says
.
Rev. Robert Schoenhals,
speaking with Fox 2 News
, also said that the church has put up banners for Black Lives Matter and Gay Pride. Currently, First United Methodist Church has an art installation in commemoration of the Charlottesville attack.
Though there is no specific information attached to the flyers, the bottom reads that it was "brought to you by your local Stormer Book Club." The flyers blame Jewish people for hindering the free speech of the neo-Nazi and white supremacist website,
The Daily Stormer
.
The Daily Stormer
has also been known to deny the Holocaust and advocate for the genocide of Jewish people.
The website has faced ongoing backlash for its incendiary rhetoric. Since April 2017, three high-profile lawsuits have been filed against Andrew Anglin,
The Daily Stormer
's publisher. In August 2017, GoDaddy, the website hosting company, terminated its services for
The Daily Stormer
in the wake of the Charlottesville rally. And in July of this year, lawyers for the cartoonist Matt Furie, whose cartoon "Pepe the Frog" was misappropriated as an alt-right symbol and swiftly reverberated across the dark recesses of the Internet, forced the site to take down 90 percent of the Pepe the Frog images it had posted.
The flyers also depict Alex Jones, the founder of the conspiracy and alt-right website
InfoWars
, with tape over his mouth. Jones and
InfoWars
have promoted a slew of conspiracy theories in recent years, including the false assertion that the Sandy Hook shooting in 2012 was staged.
But like
The Daily Stormer
,
InfoWars
has also seen its reach shrink recently. Last month, major content platforms like Facebook, YouTube, Apple, and Spotify banned Jones' broadcasts for reasons ranging from "repeated violations of community standards" to "hate speech."
Lucas Maiman is a Metro Times fall editorial intern.