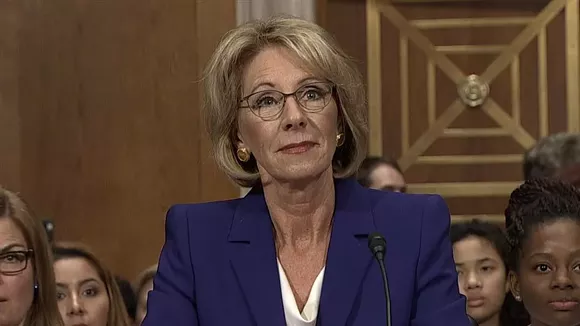 It's no secret that liberals, democrats, and "crybaby snowflakes" everywhere are in staunch opposition to Betsy DeVos' appointment to Secretary of Education. You can read about that
here
and
here
and
here
. Oh, and
here
and
here
.
DeVos' senate confirmation hearing was yesterday afternoon and just as we suspected, she was grilled by democrats who see her appointment as nothing more than the propping up of a family who has contributed hundreds of millions of dollars to the GOP.
So, we've selected the best moments from DeVos'
grilling
senate confirmation and listed them below.
But first, let's watch her opening statement. Favorite moments include but are not limited to when she talks about getting rid of government mandates and regulations for education.1. When Sen. Elizabeth Warren pointed out that DeVos still has not filled out and signed her ethics forms.
2. When Sen. Al Franken had to define "growth" and "proficiency" for DeVos.
3. When Sen. Bernie Sanders point-blank asked DeVos if she thought her monetary contributions to the GOP had anything to do with her appointment.
4. When she said guns belong in schools to protect children from "potential grizzlies" 5. When DeVos refused to answer Sen. Maggie Hassan's question about whether or not she would make charter schools more accessible for students with disabilities. And then a couple minutes later when Sen. Hassan gave her a lesson about federal laws. 6. When a senator pointed out that DeVos has make tens of thousands of dollars in donations to an organization that opposes Title IX while subtly making note her her conflicts of interest. Reminder: her ethics forms have still not been cleared by the government ethics committee. 7. When she thought "I support accountability" was the appropriate answer to a yes-or-no question.
You can watch Betsy DeVos' senate confirmation hearing in its entirety here. Full disclosure, it's three and a half hours long.