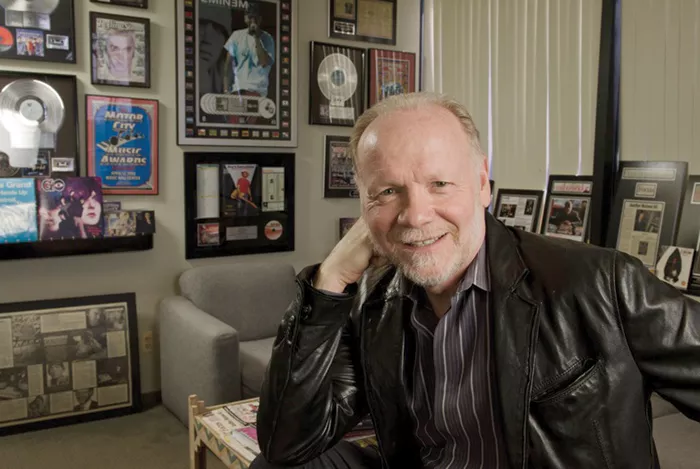 Entertainment attorney Howard Hertz has represented numerous musicians, authors, screenwriters, recording artists, radio personalities, producers, etc., since 1976. Marilyn Manson, Elmore Leonard, George Clinton and the Insane Clown Posse have all been on his client list at one time or another. Most recently, he was sitting beside ICP at the press conference announcing their lawsuit against the FBI (see last week's cover story). His Bloomfield Hills office is filled with records, figurines, a Marilyn Manson mask, and signed posters — one Eminem poster reads, "Thanks for keeping me out of jail." It's not easy being Howard Hertz.
Metro Times: Have you been a Detroiter your whole life?
Howard Hertz: No. I moved to Detroit when I was 4 years old. I was born in Canada, in Barrie, Ontario, about 60 miles north of Toronto. My parents moved here and I decided to come along. I grew up in the city. I lived six houses from Mumford High School, but I went to Cass Tech for high school.
MT: How has the city changed in that time?
Hertz: When I was at Cass, that was during the mid-'60s hot Motown era. Diana Ross had gone to Cass, we were very tuned in to Motown music, soul music and R&B in general. It was a very diverse high school. There were a lot of things going on downtown. I remember going to see James Brown at Cobo Hall, going to the Fox Theatre to see the Motor Town Revue with all the Motown acts. It was walking distance from the high school. Then I went to Wayne for both undergrad and law school. Things were still pretty active downtown. For a while in undergrad, I drove a taxicab in Detroit. The great thing about it while I was in school was you'd just come and pick up your cab whenever you wanted. From my recollection, probably around 1980 was when it really started to go downhill in terms of downtown. The '67 riots were probably the beginning of the exodus from Detroit, but there was still life in the city. Now, this is the best that I've seen in my lifetime in terms of an upswing downtown. Now we see the Gilberts, the Ilitches, that are investing in the city. I think we're going to see a totally different downtown five years from now.
MT: When you graduated, did you go straight into entertainment law?
Hertz: No. I was at the public defender office. I didn't really know what I was going to do long-term, but it was a great training ground. I was in court every day; I was trying murder cases, armed robbery and rape. Right after I passed the bar and got sworn in, I met a singer-songwriter who had been offered a music publishing contract that he didn't understand. I got sucked in, and I negotiated the contract. The client's name was Ted Strunk. He continued performing and writing songs, and he still does some today. He was my first client. I ended up getting involved with George Clinton and the Romantics in the early '80s. I also represented Jeff and Marky Bass [the Bass Brothers], and they started a production company. One of the artists they signed to the production company was Eminem, and I've represented him ever since.
MT: Musicians like the ICP and Eminem speak of you more as a buddy than their attorney. Why do you think that is?
Hertz: That's because I'm crazy busy all the time, but I like to hang out. I like to become close with clients, be friends with them, so if we are hanging out I can have a good time. I enjoy that part of entertainment law. The clients are all interesting. I have a joke that I started out majoring in psychology in undergrad, trying murder cases at the public defender office, and then representing entertainers, so it was a natural progression. I say that tongue-in-cheek. They do have big personalities, and I know how to roll with that. The flip side to that is, I'm not afraid to go against the big guys. In addition to currently suing the FBI with ICP, I went up against Apple after they used Eminem's music in a commercial without permission. I'm not intimidated by whoever it is on the other side. If there's a case, let's go for it.
MT: You're very involved with the Detroit Music Awards and we've been critical of it in the past. Convince us otherwise …
Hertz: It's an opportunity to showcase Detroit music, to celebrate Detroit music. The public is responsible for the nominations. The second and third phase is only for people in the music industry. It's almost identical to how the Grammys work. It's not just about who wins or even who gets nominated, it's about the night. It's a party. We like to think it's a Detroit tradition. I think we're the only nonprofit music awards in the country. The problem is that we can't get enough people to participate to make it a balanced ballot.
MT: Tell us something about yourself that would surprise people …
Hertz: I love to travel. I've traveled the world. My first big trip, I was 20 and I hitchhiked from Detroit to New York. I bought a one-way ticket on a charter plane from New York to London. I bought a motorcycle in London, a BSA 650, and then I traveled for six months all through Europe, North Africa and Israel on my motorcycle. That was my first big adventure. The bike held up — it tended to loosen up a lot. It broke down on a dirt road in the hills of Yugoslavia and somehow I managed to get it running again.
MT: Where do like to hang out in Detroit?
Hertz: My favorite bar would be either the Majestic complex or Cliff Bell's. I love Cliff Bell's in terms of the ambience and the music. My favorite restaurant would be Vicente's Cuban Cuisine, downtown. It's on Library Street.