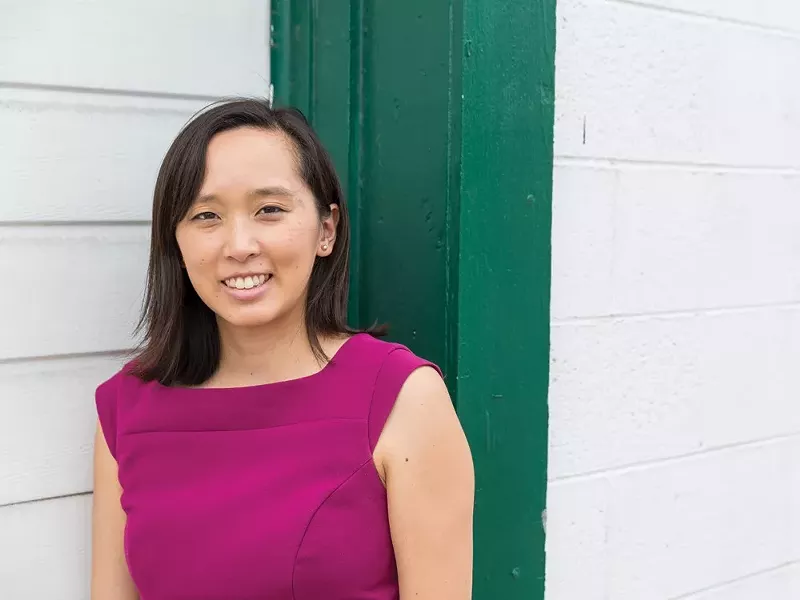 A group of locals working to move
the Belle Isle Grand Prix
off the island finally have a politician listening to their pleas. State representative Stephanie Chang,
the first Asian American woman to serve in the role
, attended
a recent meeting
at the Belle Isle Nature Center where the Michigan Department of Natural Resources asked park users' to voice their opinions on whether or not the Belle Isle Grand Prix should be held on the island.
But while some attendees were pleased with Chang's presence, at least one other was miffed that the politician dared to bring her 2-year-old daughter along. In a private Facebook group called "Belle Isle: Park or Racetrack?" that holds supporters and opponents of the race, a man bashed Chang for not finding a babysitter.
Chris Martin, a "Belle Isle: Park or Racetrack?" group member said, in part, "If you can't find someone to watch you kid among all your friends, relatives and hundreds of community contacts, stay home and don't disrupt a meeting for adults. If you take your kid with you when the legislature is in session, then there is something very wrong with state government."
Other comments have since been deleted, but not before Chang's husband, Sean Gray had a chance to reply, noting that the Gray-Chang family, like many modern families, is busy and sacrifices are often made.
"As her husband and part of a very busy family, Stephanie makes a lot of sacrifices of herself to do her job in a highly effective manner. I was facilitating a meeting or our daughter would have been with me," Gray commented. "If you have anything else to say about my daughter, I invite you to say it to me in person and if you have comments about what my wife should have "known better than," you ought to bring it up with her."
Metro Times
reached out to Chang for a comment on the kerfuffle. Below is her full statement:
"As a working mom-legislator, I truly appreciate the many community meetings I attend that are accessible and friendly to all, including working parents and children, seniors, and students. I also appreciate the many individuals who welcome my daughter's presence at discussions about issues that will affect the lives of District 6 residents — including her own. It is literally her future that I am fighting for in the legislature. Having children at community meetings can serve to remind participants to consider an issue's impact on families and as an opportunity for children to learn about the importance of civic engagement.

I gave birth during my first year as a State Representative, so almost my entire tenure in public office has been a simultaneous journey of motherhood and public service. Being a public servant is a demanding job that requires attention at all hours, and there are a few things that are certain. First, my husband Sean, parents, and in-laws provide an enormous amount of support that allow me to be both a mom and a legislator, taking care of her many times when I am at formal events and meetings or when we are in session late into the night at the Capitol. There is no way I could do this job without their support and the support of many District 6 residents. Second, as my daughter has gotten older and more independent, I began taking her to more community meetings. The vast majority of residents have enjoyed her presence and some have gotten to know my daughter fairly well. Being able to bring her to one or two evening meetings a week also means that I am able to spend some more time with her and find a better balance between work and family. Many weeks I have evening functions every day that involve listening to resident concerns and giving updates - these are important for me to attend. I continue to try to find ways to be both the best mother possible and the best state representative my residents deserve."
Sandra Novacek, the Facebook page's admin, clarified that Martin is not a member of Belle Isle Concern, which is a group working to have the race moved off the island. It's a separate group from the Facebook page.
She notes that she commented below Martin's post an hour before press time with the following comment: "Thanks, Stephanie (and Sean!) I am grateful for your presence at the meeting and support for Belle Isle. I am not grateful for Chris Martin's statements and asked him/her to apologize. It looks like he/she may have edited/retracted his/her statements instead."