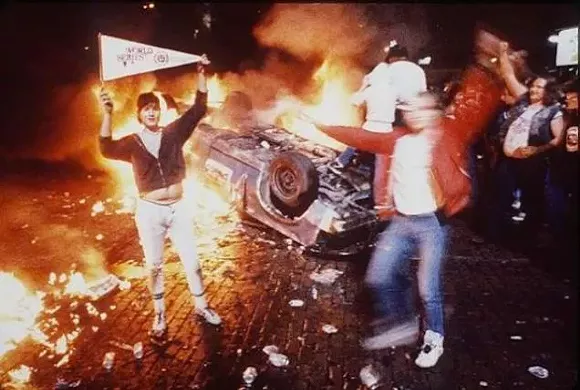 Oct. 14, 1984.
the Detroit Tigers won the World Series
. Instead of being a moment of triumph, the streets erupted in a riot. A drunk and high 17-year-old stumbled onto the scene just long enough for an iconic photo to be snapped, and his life was never the same. In essence, both the event and the young man came to take on meanings that were much larger than they were.
The young man was Kenneth "Bubba" Helms — the youngest of six in a working-class family plagued with mental illness. The day of the game, Helms, a dropout, drank a fifth of Jim Beam, piled into a car with his friends from Lincoln Park, and went to join the riot.
As Barry Petchesky wrote at
Deadspin
in an article titled "
The Slow, Sad Death of a Riot's Symbol
":
Helms ran between the photographers and the police car, raising the pennant high as they snapped away. There must have been hundreds of photos taken, but there's really only one. He stands almost relaxed, his static poise, standing out against chaos on all sides. The blurry fellow rioter beside him, a trail of flaming debris on the cobblestones. All primary colors, and there's Helms wearing black and white, his gut hanging out of his shirt, the pennant aloft.
The photo ran in the
Detroit News
the next day. The event became a symbol for all that was wrong with Detroit — and Helms was the face of it.
Whatever happened to Helms? It was all downhill from there. According to a 2004
Free Press
article by Marsha Low, Helms's newfound notoriety caused him to flee Detroit for Florida, where he got addicted to meth, got married, had a kid, got divorced, and moved back to Michigan. A victim of depression, he attempted suicide via shotgun — and later successfully killed himself by swallowing an entire bottle of painkillers.
The 1984 incident, oddly, wound up being both Helms's best and worst moment of his life. As Low wrote of the aftermath of Helms's suicide:
Days later, the family gathered in the kitchen of their lakeside chalet. Helms' nephew, Jason Yoskovich, was in his uncle's bedroom, looking through his things. At the bottom of the closet, something caught his eye.

"I found the old pennant and I took it up to the family. They were in shock and awe and in tears," said Yoskovich, 22, of Lincoln Park. "My grandfather got out the news clippings to read and he let me have it all."

The pennant, the infamous photo and the newspaper clippings are all that remain of Bubba's legacy. Yoskovich keeps them in a pale wooden frame on his living room wall.