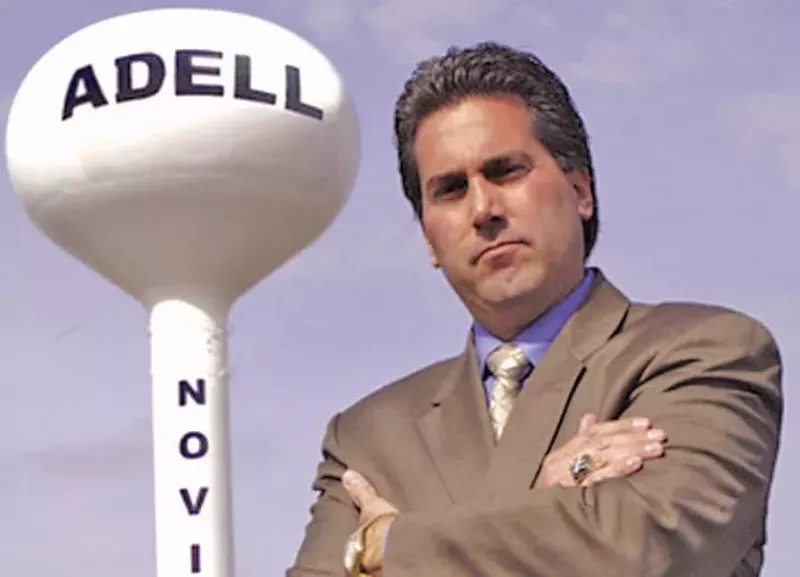 Metro Detroit media mogul Kevin Adell is accused of fraud and racketeering in a federal lawsuit that claims he cheated his family members out of "many millions of dollars."
Adell, who owns The Word Network and 910AM Superstation, counters that the lawsuit is a frivolous "shakedown" that will be dismissed and lead to sanctions against the plaintiff's attorney.
The lawsuit filed last week in U.S. District Court alleges Adell created an elaborate ruse to steal a prime, 25-acre commercial site in Novi from his cousins and siblings.
The property, where the Adell name is emblazoned on a water tower, was controlled by a family trust that included eight other cousins and siblings, according to the lawsuit. But over the past decade, Adell wrested control of the property by causing a foreclosure sale based on "a phony mortgage to secure payment of a phony debt to a phony mortgage," the lawsuit states.
The lawsuit alleges Adell took sole ownership of the property after creating a "sham" foreclosure in 2015. Adell "perpetuated an enormous, outrageous fraud" upon his family members as part of his "long-term, widespread pattern of criminal and other wrongful behavior that did significant harm and likely will significantly harm multiple victims," the lawsuit alleges.
Even after Adell took sole possession of the property, he continued to make his family members believe they still owned it and even used the beneficiaries' money to pay taxes on the property, according to the suit.
Adell "fraudulently concealed his wrongdoing for many years" and deceived his family into believing "that their beneficial interests were well protected," the suit alleges.
The plaintiff in the case, Adell's cousin Joan Adell Tringale, says she didn't learn about the alleged fraud until less than two years ago.
Kevin Adell tells Metro Times that the case is meritless and "fucked up." He says a similar case has been playing out in an Oakland County probate court, where a judge has already said the statute of limitations on the allegations have expired.
Adell adds that Tringale filed for bankruptcy and told the court she had no interest in the property.
"It's a shakedown," Adell says. "The guy [on] the water tower is not going to be intimidated. I have all the time in the world to see this through."
Adell says Tringale's attorney William Garratt is in his 80s and shouldn't be practicing law anymore.
"It's a bad case, and it's going to be thrown out," Adell says. "Anyone can file a case, but there are also repercussions for filing a bad case."
Adell, 56, says he plans to seek sanctions against Garratt for filing a meritless case.
"I have an army of attorneys," Adell says. "At his age, you better know what you're doing when you're fighting a guy like me."
Metro Times couldn't reach Garratt or Tringale for comment.
The trust was created about 50 years ago for the three children of the Adell patriarch. Those children had nine kids, including Kevin Adell, who became the beneficiaries of three trusts.
The trusts' largest asset was nearly 25 acres of land near Novi and Grand River roads, which Adell has since transformed into a shopping complex that includes a restaurant, fitness center, and other businesses.
The suit alleges Adell's attorney and trust agent Ralph Lameti was paid about $1 million a year and was given the use of luxury vehicles, including a Lamborghini. Lameti is accused of helping facilitate the fraud.
The lawsuit claims Adell and Lameti "continued their practice of using the wires and the mail to disseminate a series of false pretenses, misrepresentations, bad faith promises and omissions that were calculated to, and did, mislead Plaintiff and other trust beneficiaries to believe that their beneficial interest in the Novi Property still were and would be protected."
The lawsuit alleges racketeering activity, systemic fraud, embezzlement, theft, false pretenses, and malicious and willful disregard of the plaintiff's rights.
This is at least the second lawsuit filed against Adell since April. The federal government also sued Adell in U.S. District Court, alleging he owes $17.8 million in estate and gift taxes stemming from his inheritance. The federal government is seeking a court order to sell his $3.7 million home and to enforce federal tax liens against the house.

In that case, Adell says he's working on a settlement with the government.
Adell recently made headlines when he abruptly pulled the plug on Black talk radio on 910AM Superstation and replaced it with a lineup of conservative voices.
In a recent interview with Metro Times, Adell defended the change in format, saying he doesn't like politics but was motivated by money.
"I didn't kill 910, the African Americans not supporting it, killed it," Adell said. "I didn't silence the African American community. They silenced it themselves."
Subscribe to Metro Times newsletters.

Follow us: Google News | NewsBreak | Reddit | Instagram | Facebook | Twitter