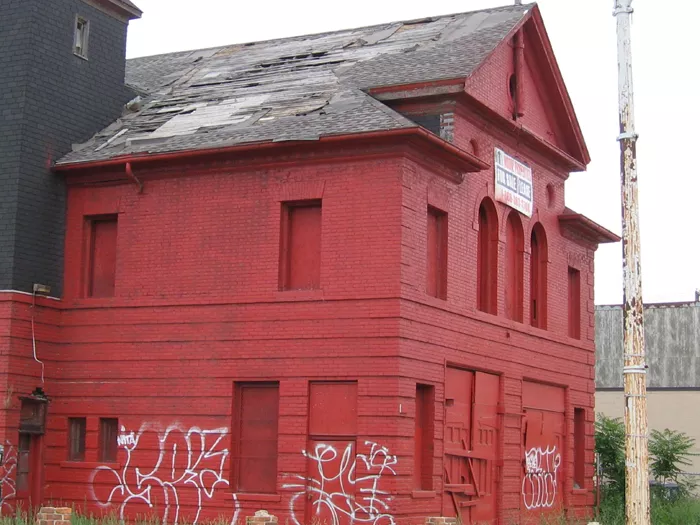 [Edited Wed., June 18, 2014, 11:30 a.m. — An earlier version of this story described Casa de España as a Mexican restaurant. It was a Spanish restaurant.]
Since its construction in 1895, the building at 6138 Michigan Ave. has witnessed many of Detroit's ups and downs and, like so many others, has become a victim to one of the downs. It now stands as only a ghost of its former self. Upon assessment, however, the Abandoned Structure Squad found that a new owner, and some elbow grease, could bring the building back to life.
The 119-year-old building served as the firehouse for Ladder 22 for more than 90 years. In 1991, a couple bought the building and opened it as Spanish restaurant Casa de España, which soon became known as a good place to eat with great entertainment. When one of the owners died in a car accident a few years later, his wife tried her best to keep the restaurant afloat but, a short time later, Casa de España closed. In 2009, the building received some minor work and a new paint job, but for the most part remained vacant, just waiting for a new owner to snatch it up.
Located just east of Livernois on Michigan Avenue, the building is just a hop, skip, and a jump from Dearborn and a straight shot to downtown Detroit. The neighborhood is a little rough — 14 crimes have happened within a mile radius in the last week — but is also quite the busy little thoroughfare, making this a prime location for any business.
Upon pulling up, the first thing ASS noticed about 6138 was that it stuck out like a sore thumb. The paint job it got in 2009 turned the brick exterior into a bright-black and cherry-red masterpiece — not even the plywood over the windows was spared. Some local street artists have proved that the paint job can, indeed, be covered. That is, if the red's too much for you.
The lot next door is empty, but the weeds have grown to person-swallowing proportions. If a new owner decides to purchase this land, hacks the weeds, and removes the piles of illegally dumped junk, this lot could provide space needed for expansion. The back is also overgrown, but, with a little work, could be converted to a nice little patio or bar area.
A low brick wall separates the property from the hustle and bustle of the neighborhood, and is still mostly intact. The one section no longer intact is filled in with railroad ties. Get rid of those, fill in the cracked cement, and — voila! — instant drive-through!
The brick exterior is in very good shape for its age and appears to need very little work. The roof, however, appears to be one fat bird landing away from sporting a skylight. ASS (that's Abandoned Structure Squad, amigo) was unable to assess the interior, but upon further research found that it, too, is slowly falling into disrepair — but not beyond salvation.
The Wayne County Treasury website notes that there are currently no outstanding delinquent taxes for the abandoned firehouse at 6138 Michigan Ave. A sign posted on the building's front advertises it for sale by Moore Properties.