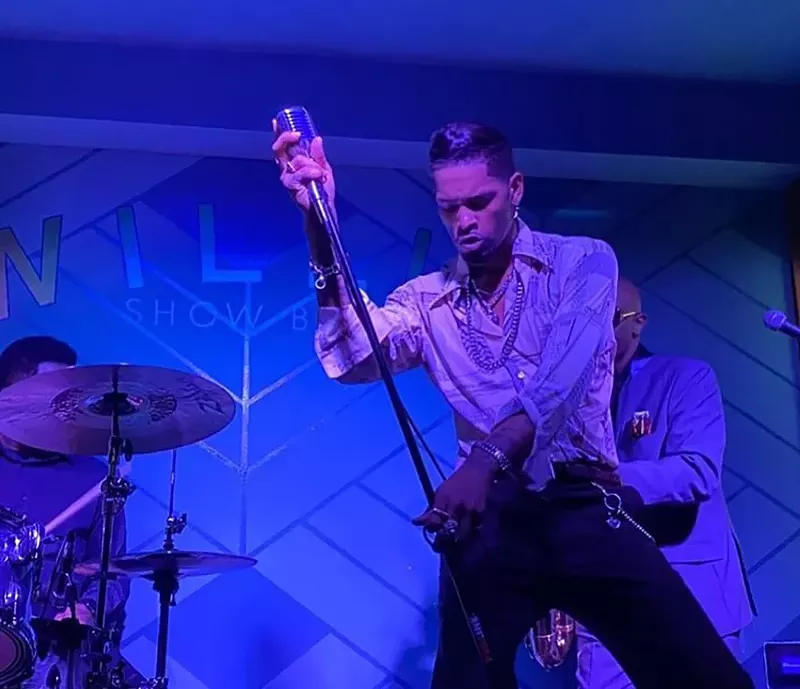 Detroit's stylish Willis Show Bar launched a new residency series that focuses on local artists. Dubbed "Come See About Me," the series features a lead artist who gets to program all of the support, including bands, singers, comedians, DJs, and dancers.
The series kicked off last week with mainstay soul and R&B singer Drey Skonie and the Klouds Band, who will perform one the bar's stage every Wednesday through Feb. 15.
"This show residency came about from being a regular at the Willis Show Bar," Skonie says. "I have a great relationship with the owners Sean and Steve, as well as the staff. So when they decided they wanted to try this with someone, I happened to be the guy to kick it off."
Skonie prides himself on being the perfect mixture of old-school crooner with a bit of pop and trap thrown in as well. The residency will also feature artists Mac Saturn, Hazmat, Goldthumb, Flave, Rick Williams, Josh Adams, DJ Waxtax'n'dre, and DJ President Fance.
"People can expect to hear live music from myself and the Klouds Band," Skonie says. "We'll be doing a different set every week, taking you back to some of our favorite music eras. You will enjoy the environment, and vibe. We also will have food. The venue, if you've never been, has a sound and layout that's super classic, with a top tier bar and staff."
The next show in the series is a '70s-themed "Funk Night" on Wednesday, Jan. 18 with Skonie and Detroit-based funk rock band Mac Saturn, who are heading out on tour, as well as DJ Waxtax'n'dre.
The series continues with an Alicia Keys tribute on Jan. 25, a Black History show featuring "conscious Motown songs" on Feb. 1, a "Kings of the '80s Night" featuring songs by Michael Jackson and Prince, and a day after Valentine's Day show that doubles as a birthday for Detroit singer Apropos on Feb. 15.
Coming soon: Metro Times Daily newsletter. We'll send you a handful of interesting Detroit stories every morning. Subscribe now to not miss a thing.

Follow us: Google News | NewsBreak | Reddit | Instagram | Facebook | Twitter