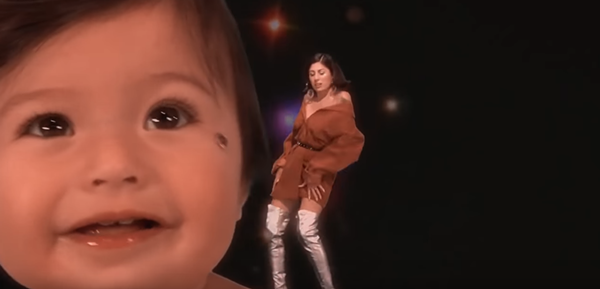 Given pop music's track record with the word "baby," it would be easy to assume that it is almost always in reference to a lover or a seductive term of endearment. For Detroit-native and fierce frontwoman Jessica Hernandez, though, it's all about her mini.

In her first single since becoming a mother, (and her first video since last year's "Break Your Heart" that shows Hernandez nearing her due date), the singer embraces dreamy disco kitsch on "Baby"— an ode to her daughter, Stella.
"I've got my baby on my side," she sings against shimmering backing vocals, as she is multiplied across a vintage laser greenscreen, wearing a variety of '70s-inspired wigs.

"This song is an ode to the most important thing in my life right now…my BABY," Hernandez told Remezcla, which premiered the video on Thursday.

"It's about how much becoming a parent changes you. I started writing the song during my last trimester but didn't finish the lyrics until I finally met my little girl, and just like that everything was different."

Perhaps one of the shining stars of the video is the styling as Hernandez' silver thigh-high boots, off-the-shoulder menswear, her killer side-part, and perhaps the best use of eye glitter since Studio 54, really ups the glam ante.

In all seriousness though, the real star of "Baby" is her baby, who makes an adorable greenscreen cameo sporting her own glitter beauty mark.

Watch "Baby" below.


Stay on top of Detroit news and views. Sign up for our weekly issue newsletter delivered each Wednesday.