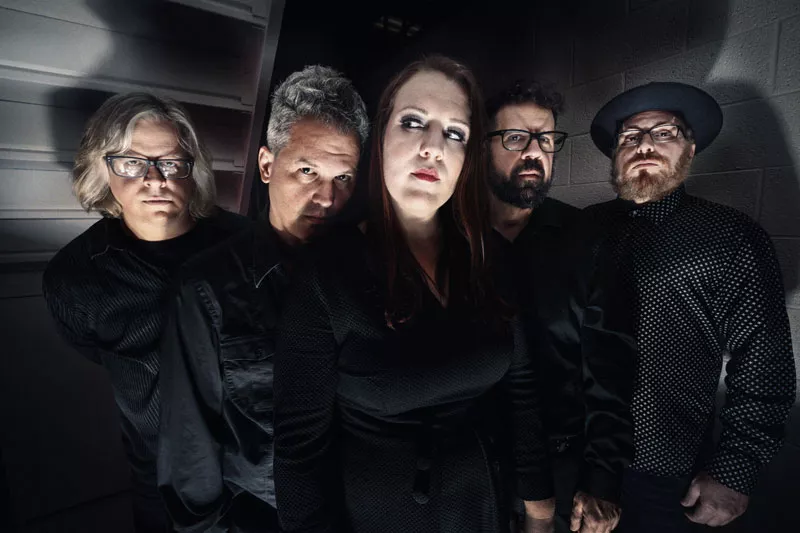 Bands can often say that "we got a lot darker" on their new album, like it's a stark or sudden shift. But the Blueflowers have been steadily advancing into the dark since its first record, starting out already near dusk with the 2009 debut Watercolor Ghost Town and gliding steadily through advancing twilight until arriving at the soul's midnight with this year's Circus on Fire.
The first new release from the Detroit quintet in four years has an album release party on Saturday, Nov. 24, where you can find copies on vinyl and a limited run of CDs. A music video for Circus' lead single, "Look At Yourself," premiered last month.
The Blueflowers blossomed out of the songwriting collaboration of singer and lyricist Kate Hinote and guitar wizard Tony Hamera, who both made an initial impression on the local music scene more than a dozen years ago with a dream pop project called Ether Aura. When the two transitioned into a more Americana-sound, they decided to be a different band entirely, hence the name change.
People often vacillate on whether "Americana" fits in with folk or country, and the Blueflowers are exceptionally adrift. They were never "country," in the traditional sense, though they're "Western" in a surreal sort of way. It was the twang and the reverb — the mystique and the neo-goth splendor, the evocation of a sound, a style, and a presence — that pulled you away toward some lucid dream world beyond a sunless horizon. The band diverged from the woolly garage and howling rock 'n' roll of its native music scene, and glided further still from the post-punk and indie-pop that propogates along the East Coast, and instead took you West — or at least elsewhere, into a sort-of weird West, into the dark West.
"I love many types of music," says Hamera. "And I've always gravitated toward, and been inspired by, melancholic and heavy music... but not in a 'woe is me, I'm so sad' kind of way. For instance, after hearing Chelsea Wolfe for the first time a few years ago, I never realized there was another layer, a deeper layer of darkness, in modern music. I also like to see how far I can push that boundary for my own curiosity... I feel we did that with this release."
You can trust that Hamera has more than a feel for this record, since he was engineering it at the boards of Tempermill Studios, producing, mixing, and mastering Circus on Fire. With an assist from Bernie Eldred, this album was the first of their five recording experiences that was completed entirely at that venerable Ferndale recording space.
And as far back as 2011, when MT writer Brett Callwood praised their album In Line With the Broken Hearted, it was apparent, even then, that "atmosphere" was integral to the DNA of their songs. "And that's still true," Hamera says. "We're just getting there in a different way these days."
One primary way in which the newest material has subtly altered its routes is the addition of newest member and songwriter Marvin Shaouni on bass. Longtime members Jim Faulkner (drums) and David Johnson (guitar) are still on board, consummately so, for these darker destinations. But beyond the human element, of course, Hamera says they used "more effects and fuzzed-out bass and guitars" and were "more aggressive with the tone of the record, more caustic, but still having a hazy atmosphere. I think the key is knowing when to keep it sparse and when to get dense with the effects and instrumental layers."
Now we've been returning to the word "dark," but we must reiterate Hamera is specifying the forging of nuance with that darkness. "My hope," says Hamera, "from the time we started to write [Circus] was to try things in a totally different way, to be more creative, new, and modern, rather than always looking back to the '60s and '70s. There were many conscious decisions made on how to change things up from the previous four albums; from instrumentation, to songwriting, to production."
Hinote admits that some of her "darker" lyrics were inspired by the toxicity of social media. "Fine" is a song that comes halfway through the album, a syrupy, haunting swooner with her tremendous-yet-tender voice singing: "If every single moment is counted by the rest/ the purpose of scrolling is knowing what you like best... I want to believe you, but I have to see you/ I wanna be in your ear."
"The ability to connect with people through these platforms is going to continue to evolve, no doubt, and it seems we're just kind of along for the ride," Hinote says.
The Blueflowers' progression on Circus was influenced by a yearlong hiatus and a significant lineup change: Shaouni, who has been flourishing as a photographer this last decade, returned to the band; he was the original drummer (and played on Watercolor Ghost Town). "(Shaouni) and (Johnson) had a lot of ideas and we wrote many of the songs around the bassline," Hinote says.
Shaouni says he loved playing drums for the Blueflowers on Watercolor Ghost Town, but after a 10-year hiatus from music, returning to the band as their bass player has been an unexpected gift of sorts. "When I rejoined the band I thought I was signing up to help write another folk-noir record, but to my surprise the band wanted to try something new," he says. "Fortunately, I already had a few ideas written on guitar and bass that I couldn't seem to finish on my own, but when presented to the band the songs finally came to life."
But going on 10 years as a modern music group inevitably brought a fair share of growing pains and near band-ending experiences. "But there was a growth that happened (with Circus)," says Hinote, "and an easiness that was very satisfying. Adding another songwriter (Shaouni) into the mix and co-writing some lyrics with our, now former bandmate Erin Williams was game-changing, and inspired different ideas and themes throughout." She pauses. "Though there are still some breakup songs in there."
The Blueflowers perform a release party for Circus On Fire with Warhorses and Matthew Parmenter on Saturday, Nov. 24 at Ghost Light; 2314 Caniff St., Hamtramck; Doors at 8 p.m.; Tickets are $5.
Get our top picks for the best events in Detroit every Thursday morning. Sign up for our events newsletter.