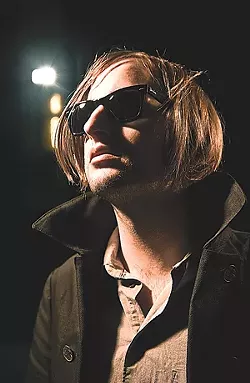 "Hey, Mom? I love you, Mom — but ... I'm in an interview right now. Can I call you back?"
Jason Stollsteimer adores this Thai place in downtown Plymouth — Little Bangkok Cuisine on Forest Avenue — where he orders the same meal (pad see ew) at least once a week. The kitchen staff, obviously endeared by him — they bring him a tall glass of Coke and his lunch without taking an order — have even taught him how to make the sauce at home (the secret? lots of brown sugar).
"My mom said, 'Haven't you done enough interviews?' I said, 'Yeah, Mom. Probably. ...'"
But now that Stollsteimer heads up the star-spangled, six-piece, Detroit "supergroup" known as the Hounds Below, the conversation has slightly changed. Yes, the Von Bondies are still the Von Bondies; Stollsteimer, their perennially vilified lead singer, is still vilified. But the Hounds Below — featuring a dark, worn sound that two-steps across the line between Elvis and Win Butler and is punctuated by sweet organs and scorching desert-sky guitar solos — present a brand-new opportunity for Stollsteimer to get his cred back.
"I totally haven't earned my right to be a musician in Michigan," he says, tongue totally in cheek. "But I have everywhere else in the world."
His time may have come, however, with this new unit that features the unbeatable team of such local professionals behind him as guitarists Ben Collins (Lightning Love) and Sean Lynch (800beloved), bassist Molly Jean Schoen (the Decks), drummer Brandon McDonald (Solar Temple Cult, Ghost City) and a still-to-be-determined keyboard spot originally filled by Jeremy Freer (the Juliets). Jason Croff filled in on keys during their early November performance at the Majestic Café — but the verdict is still out as to whether the multi-talented and multi-ensembled Croff will join the band for good.
When the singer-songwriter-guitarist first approached his dream lineup to play in the Hounds, "I thought they'd all say no," he says. "But they all said yes! So I told them two things: I promise we'll tour Europe during the first year. And that for that first year, no one will make a dollar, including me."
Following early December tour stops in Chicago and Champaign, Ill., the Hounds played a free 7-inch release show at the Park Bar. Of course, that low cost of nothing attitude is basically part of the new order of the music business. And it's a major aspect of Stollsteimer's approach to the new band, which will release a full-length album and tour widely in 2010, with gigs in Europe and possible studio time in London.
"I'll pay for the first year," he promises. "We'll lose money but build something at the same time."
The Hounds are also set to play the South By Southwest music festival in Austin this March. Stollsteimer promises that "we'll be the only band like us there unless Roy Orbison suddenly shows up from the grave."
That's a reference to the band's rollicking, Ray-Ban-clad sound, which has been built to showcase the singer's quavering pipes as well as the lush architecture of the songs. It's a radical departure from the high-voltage, troubled-youth anthems of the Von Bondies.
"Nobody sings anymore," he complains. "It's all about volume. Our songs are quiet enough that you can hear all the instruments. Our organist might be hitting four notes, but there are parts where it's just him, and it's beautiful. It's not about having your moment to shine — it's about making the song shine.
"It's fun," he continues. "There's no stress. The only people who put any pressure on us, I heard, are the [local] bloggers. And so I won't read the blogs."
Meanwhile, the Von Bondies are still cropping up in unexpected places — benefit shows for autism and the homeless in Columbus and Toronto; a shout-out as proof positive of the city's creative culture in a McCann Erickson "Selling Detroit" ad campaign; and at a big New Year's Eve bash at the Dearborn Hyatt next week, with an all-local line-up presented by 89X.
Rumors circled all year that the Von Bondies were done playing shows in Detroit, but Stollsteimer says that's just not true.
"I said we weren't playing any shows in 2009," he explains. But 2010 is a brand-new year, and the Von Bondies don't hit the stage until midnight.
The new year will also mark a decade of the Von Bondies; in 2000, the fledgling band played a New Year's Eve show at the Magic Stick, where they were spotted and signed by Sympathy for the Record Industry's Long Gone John, the same guy who gave the White Stripes one of their early big breaks.
"We played for free, between the staircase and the men's bathroom," Stollsteimer remembers. "We brought our own PA. And that's how we signed our first record. [Long Gone John] didn't even know there were any girls in the band because the crowd in front of him was so tall and we had no stage. You couldn't see anything — just my face. And my face is not a good selling point for any band," he laughs.
Next year, expect a new full-length that plays up the rawer side of the Von Bondies' sound, with a supporting tour starting in May.
"It's not going to be slick," he promises. He's already written most of the material for the new album and plans to finish recording between now and May, in between writing, recording and tour-planning for the Hounds Below.
An impulsive and prolific songwriter, Stollsteimer is often working on four or more songs at a time. His inherent creative urge gives the Von Bondies continued momentum, despite turmoil, turnover and an ongoing struggle for local respect. Even if (or when) longtime Von Bondies drummer and close creative partner Don Blum takes leave — he's 37, so that could happen sooner rather than later — his musical comrade says he'll still keep the Von Bondies alive.
"It's not gonna stop me," he says. "It will be hurtful for both of us, but I'll just keep writing songs."
Friends and haters alike have long wondered why Jason Stollsteimer still lives in Detroit. Wouldn't it be easier to leave a scene that resents him and just start fresh somewhere else? But he says he just bought a house in Ferndale and has made a commitment, at least in real estate, to stay put. Plus, he sees no reason to leave.
"I love my family," he says. "I can live anywhere. If I do [the Von Bondies], though, there's no reason for me to move. I know I can find musicians anywhere, but ... I like Michigan. I guess that doesn't mean that people who live in Michigan like me, though."
In a recent Pure Michigan campaign rolled out in mid-November — in which an assortment of local luminaries, such as Mitch Albom and the Detroit Derby Girls wreck viewers' ears with the sweet sounds of Michigan — Stollsteimer appears on the stage at the Fox Theatre, cracking open a Michigan-made microbrew.
"It's funny, because I don't even drink beer," he says. "[But] it was a great honor."
Stollsteimer doesn't think anyone in Michigan still sees him as the torchbearer of Detroit's early-aughts garage revival — "Maybe outside of Michigan," he says, "but not here" — but that doesn't worry him. His eyes are on a different prize ... and that's not fame, outrageous fortune or flag-bearer status.
He just wants to be a stranger at home — "to be able to go out, do what I want, and not get judged" — and then spend his free time traveling the globe.
"Some people save up for putting a pool in the backyard, or buying a great new car," he says. "My car is the world."
But just for the record: he has never had better pad see ew, even in Southeast Asia, than he has at Little Bangkok Cuisine. And even when he moves to Ferndale, "I'll still be here once a week."
The Von Bondies play the fourth annual "New Year's Eve Rock 'n' Roll Ball" at the Dearborn Hyatt Regency, 600 Town Center Drive, Dearborn; 313-593-1234. With the Hard Lessons, the Underdog and DJ Gabe Real.
Amy Elliott is a new contributor to the Metro Times music section and she can write. Send comments to [email protected]