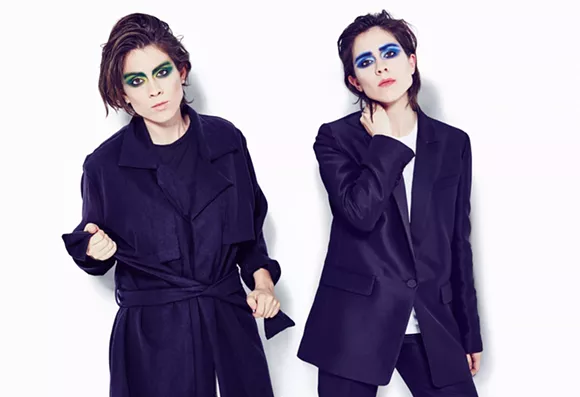 Indie's favorite twins, Tegan and Sara (Obviously!), are coming to Royal Oak in October to promote their latest album, Love You to Death, a masterwork dedicated to the pitfalls and soaring heights of love.
Since their 1999 debut, the identical twins have toured with the likes of Neil Young and The Killers. Although their sound has changed radically since their early days, the sister's insatiable creativity is consistent.
The Canadian sensations will be at Royal Oak Music Theatre on October 26. Tickets are $36, and all ages are welcome.
Tegan and Sara's Love You to Death should be loved to death. In the bouncy, indie sister-duo's eighth studio album, they retain the same insightful lyrics that they've held true to since 1999's Under Feet Like Ours. While they've turned to a bubblier, almost Taylor Swift-esque sound, the album still holds the same overwhelming longing that we heard in "Nineteen." If you liked "Closer," chances are good you'll like this album. The album is a synth-y, intimate look at a passionate, up-and-down relationship, that also examines the idea of acceptance.
In one of the album's best tracks, "Boyfriend," the lyrics describe a woman who will not come out about her relationship with another woman, and is subsequently playing with the narrator's heart. Above all things, this album is unapologetic. "Stop Desire," is, in the same vain as Cheap Trick's "I Want You to Want Me," about the universal feeling of wanting to be longed for. It's brassy and confident, but at the beginning of the chorus's "Get me. Feel me. Want me. Like me. Love me. Need me." the delicate longing for approval sounds just as sweetly painful as it feels when to go through it.
Even at the album's least musically interesting track, "White Knuckles," the concentration to understand the lyrics under the raging synth keeps listeners engaged in the album. All in all, it may not be for the "Faint of Heart," but for pop fans who just don't feel like Katy Perry is cutting it for them lyrically, this album is a perfect confection.