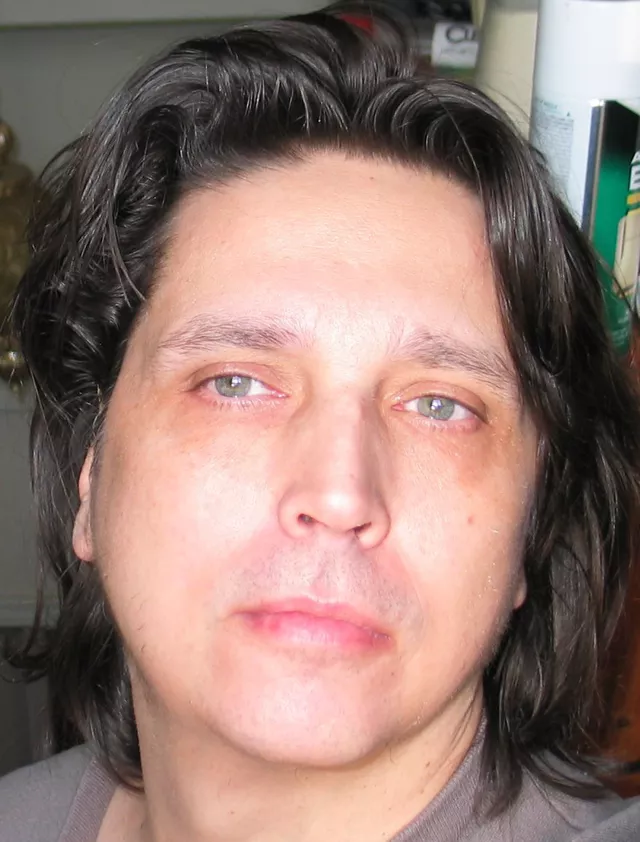 Scott Campbell is having a swell time. 
Brief history: In 1977, Campbell formed the Sillies, a beloved Detroit punk band. The Stooges and the MC5 were gone, and in their place were Destroy All Monsters and Sonic's Rendezvous Band. Also playing around were the Romantics (formed that year) and, a little later, the Torpedos. It was in this climate, somewhere between art rock and new wave, that the Sillies formed. 
Campbell also had a hand in Bookies' punk club in '78, where such bands as the Cramps, the Damned and the Police played their first Detroit shows. Campbell founded the club Todd's. The Sillies stopped playing, then started again, albeit sporadically, and Campbell had a bit of a solo thing going that was well-received by those who heard it. 
That's Campbell the musician, the local old-school punk. Like many Detroit musicians of his vintage (he's 53), Campbell has a résumé that he's proud of. The guy resides in a regular home in Harper Woods, and it's there that this story gets interesting. You see, in the past couple of years, as Campbell tells it, he's gone from sweet old punk dude to public enemy No. 1 in the eyes of local authorities. He has been arrested, vilified and beaten by overzealous neighbors, he says. If this is starting to sound crazy, that's because it is.
It should be noted that I contacted the Harper Woods Police and presented them with Campbell's version of events, which you are about to read. I gave them a chance to comment and received no reply. 
It's entirely possible that you saw Scott Campbell on the local news in October, being pushed into court in a wheelchair, hair messy, face unshaven. Campbell was in front of the judge charged with firearm possession. Campbell says it's nonsense. "The charge was that they illegally searched my minivan and found a completely legal 1858 replica of a Civil War pistol. That's why they took me away. They also stole $200 in cash and my camera, which I had been using to gather evidence against the court and the local inspectors harassing me and my 83-year-old mother. It's beyond bizarre, it's insane."
Why would the police be in Campbell's minivan without cause? 
Campbell says that the harassment started when he decided to run for mayor of Harper Woods in 2009. Then came the arrest in October.
"I don't know that there is specifically a vendetta against me, but the night they arrested me and put me away, I was parked on the street and wanted to get out there and move the car so I wouldn't get ticketed," Campbell says. "The policemen said that they weren't there because I was parked on the street but because I was making threatening behavior. They said my girlfriend had made the complaint. She came out and said she wasn't complaining. They went through my car and found the replica revolver."
For the record, Campbell and his girlfriend, Michelle Southers, had been regulars at Harper Woods City Council meetings and, by their own admission, made a nuisance of themselves asking the questions that the people in charge didn't want to answer. Then Campbell decided to run for mayor, and the harassment began, he says.
Southers is an interesting person in her own right. A part of the Bookies scene with her band Lipstick, she served more than two decades in prison after her then-boyfriend killed his stepmom. According to Southers, he threatened to kill her too if she didn't help him get rid of the body. She did, then was later caught and prosecuted. She was 21 when she went in, and she was released in 2009 at 46. She's a smart cookie, and an engaging personality, and she obviously loves Campbell. 
"He was my first love," she says. "He was also one of the first people that I contacted when I got out. There's no comparison between the Scott I know on a day-to-day basis and the Scott the media is portraying. The reason for his condition on TV is because he was deprived of his medication. He's fine when taking his medication."
The day I interviewed Campbell, Dec. 11, was supposed to be one day before his sentencing in court on felony gun-possession. 
However that date was delayed until January. Campbell is pleased, as it gives him more time to prepare. If his version of events is true, then he has every reason to be relieved. 
"They held me illegally for 30 hours without my medication," he says. "This will allow me time to heal up, because I have something that is ridiculously called shingles. It covers whatever part of the body it affects, but only half. You get covered with huge red welts and sores, and then they turn into black scabs and they leak pus. So basically you have runny sores and, in some cases, people commit suicide because of the pain. I'm on pain medication and I'm on anti-viral medication. Basically, it feels as though someone has put red-hot pokers into your skin. Parts of your head lose all feeling, so it feels as though you're wearing a hat or a helmet. The other parts are burning. In that condition, they kept me in an unheated room for 30 hours without my medicine."
Holy crap. How Lynchian. I'm going to say again that I can't verify any of these claims. I have one side of the story from a man who is, in Southers' words, "broken." I can say that the raving madman portrayed on TV was pretty far from the man I sat down with. In conversation, he's sharp, focused and obviously intelligent. Could he be a mayor? Why the hell not? 
"I tend toward independence," Campbell says. "I veer vastly from left to right. Some people call that libertarian. Basically, I want the government to get out of our damn business. I want the police to stop breaking into my backyard and waving guns and breaking the law. I don't want to be attacked. I can't be pigeonholed. Since I was a small child, I would never go along with what anyone said. It got me beat up and pushed around but I simply didn't go with what I was told to go with. That's been a huge problem at home. I have an old English garden. People have pulled up and taken pictures and complimented me on my garden, and I have been harassed for 15 years because of my garden. My neighbors all do the same thing, and I am not required by law to do the same ugly-ass things that my neighbors do. I worked as a landscaper when I was 18 and 19 at some of the finest estates in Grosse Pointe, in spite of the fact that I have hideous allergies to some of the pollens."
According to Campbell, it is because of a run-in with neighbors before the gun-charge arrest that he's in the wheelchair at all. He says that a conversation about the state of his yard escalated into an argument about the state of the city. An altercation ensued in which Campbell says he was grabbed, knocked to the ground, had his nose and some ribs broken and "all the cartilage" in one leg ripped. 
"Right now I'm limping along with a couple of braces on my leg and a wheelchair that's charging up in my girlfriend's garage," he says. "I might have to sell the wheelchair, and I really need it."
According to Fox 2, both Campbell and a neighbor were charged with disorderly conduct in that incident.
When Campbell was back in court on the weapons charge, District Court Judge Roger LaRose reportedly called it "a serious case" involving a "loaded dangerous weapon" and "a person who may have mental problems," and ordered a competency exam. Fox 2 also said that Campbell faced charges for two guns found by police.
Campbell tells me, "The judge had decided that I must be dangerously unstable, even though there was no reason to assume that. He insisted that I be kept in a mental facility for the next 30 days, which, by the way, ran right through the [November] election, making it impossible for me to be there." So it could appear on the surface that his disposition was due, in part, to political reasons. "That, and they continued to refuse to give me my medication, even though it affects my health not to have it. That does seem questionable. It's either unbelievably stupid or deliberately homicidal."
I put it to Campbell that this is a long way from the '70s punk scene, and he would have been safer sticking to the stage. I love the Sillies' America's Most Wanton album, and I admire Campbell as a musician. Because of that, I want to believe the dude. 
Campbell himself is scared. He sent me an e-mail that concluded: "If you don't hear from me, it's because I will be in a holding cell and held incommunicado. If for any reason I should die while under custody, please look into it. Michelle will have the details."
To find out more about what Scott  Campbell is up to, see scottcampbell.net and thesillies.com.