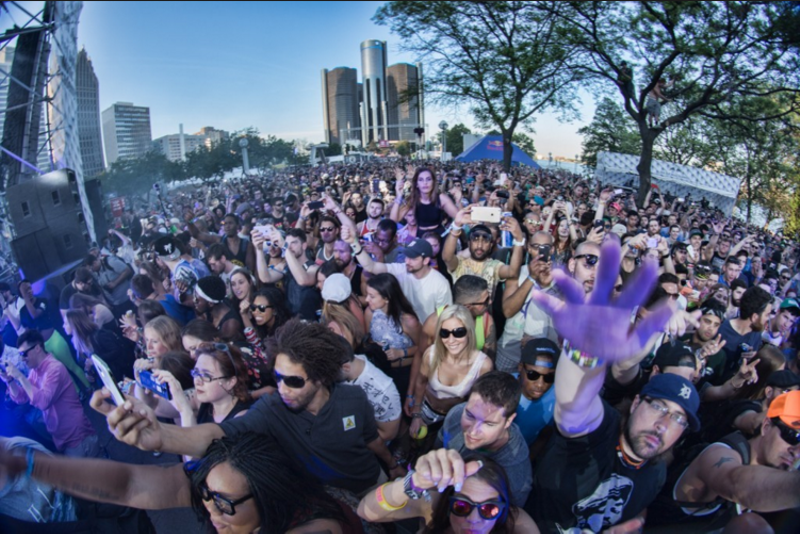 Set times for next month's Movement Electronic Music Festival have just dropped, giving the tens of thousands of ravers expected to attend a critical resource with which to map out their weekend.
This year's event will feature 85 acts across five stages at Hart Plaza. The biggest acts come at the end of each day on the Movement stage — on Saturday its Claude VonStroke, on Sunday its a b2b set featuring Loco Dice and The Martinez Brothers, and on Monday its a special hip-hop performance by every single living member of Wu-Tang.
Additional Saturday highlights include Carl Craig and friends on the newly-designed Stargate Stage for another edition of Detroit Love. Interdimensional Transmissions, one of Detroit's most celebrated labels, will hit the underground stage for a day reminiscent of its famous warehouse parties. Festival favorites Maceo Plex, Ida Engberg, Christian Smith and Lee Burridge will perform on the newly-designed Pyramid Stage.
On Sunday, day 2, legendary French producer, DJ, and radio host Laurent Garnier makes his long-awaited return to the festival for closing duties onthe Red Bull Music Stage. Meanwhile, the Pyramid Stage will be stacked with global talent including Nastia, Tiga, Marcel Dettmann, and Nina Kraviz.
On the final day of the fest, Memorial Day, Movement will celebrate the 25th anniversary of Wu-Tang's classic debut album Enter the Wu-Tang (36 Chambers). Meanwhile, Charlotte de Witte, one of the most talked about techno artists in 2017, will make her festival debut on the Resident Advisor Underground Stage. Mad Decent label boss and producer Diplo returns to the festival for a closing set on the Red Bull Music Stage, where you can catch jazz and hip-hop quartet BADBADNOTGOOD just before. The Stargate Stage, meanwhile, features a showcase of young talent, including REZZ, Mija, and J.Phlip.
The full schedule is available below. You can buy single-day or weekend passes
here
.
Saturday, May 26

Movement Stage
4pm-6pm Latmun
6pm-7:30pm Fisher
7:30pm-9pm Solardo
9pm-10:30pm Justin Martin
10:30pm-12am Claude Vonstroke
Red Bull Music Stage
2:30pm-4pm Black Noi$e
4pm-4:30pm Bevlove
4:30pm-5pm Count Mack
5pm- 6pm DJ Godfather
6pm-7pm Too $hort
7pm-9pm Ed Rush & Optical
9pm-11pm DJ Hype b2b Hazard
Stargate Stage
12pm-2pm Clark Warner
2pm-3:30pm Gaiser - live
3:30pm-4:30pm Waajeed - live
4:30pm-6pm Andres
6pm-7:30pm Luciano
7:30pm-9pm Stacey Pullen
9pm-11pm Carl Craig
Resident Advisor Underground Stage
2pm-4pm Carlos Souffront b2b Bill Converse
4pm-5:30pm Patrick Russell
5:30pm-7pm Eris Drew
7pm-8:30pm Helena Hauff
8:30pm-10pm Marco Shuttle
10pm-11pm Ectomorph - live
Pyramid Stage
2pm-4:30pm Oona Dahl
4:30pm-6pm Manik
6pm-7:30pm Lee Burridge
7:30pm-9pm Christian Smith
9pm-10:30pm Ida Engberg
10:30pm-12am Maceo Plex
Sunday, May 27

Movement Stage
4pm-5:30pm John Jammin Collins
5:30pm-7pm Eddie Fowlkes
7pm-8:30pm John Digweed
8:30pm-10pm Seth Troxler
10pm-12am Loco Dice b2b The Martinez Brothers
Red Bull Music Stage
2pm-3pm Milan Ariel
3pm-4:30pm DJ Holographic
4:30pm-6pm Avalon Emerson
6pm-7pm Shigeto - live
7pm-8pm Will Sessions and Amp Fiddler featuring Dames Brown
8pm-9:30pm Modeselektor
9:30pm-11:30pm Laurent Garnier
Stargate Stage
1pm-3pm Kweku Saunderson
3pm-4:30pm Gene Farris
4:30pm-5:30pm The Saunderson Brothers
5:30pm-6:30pm Blake Baxter - live
6:30pm-8pm Kenny Larkin
8pm-9:30pm Eats Everything
9:30pm-10:30pm KiNK - live
10:30pm-12am Kevin Saunderson
Resident Advisor Underground Stage
3pm-4pm Shady P
4pm-5:30pm Antenes
5:30pm-6:30pm Aurora Halal - live
6:30pm-8pm Anthony Parasole
8pm-9:30pm Steve Bicknell
9:30pm-11pm Ø [Phase]
Pyramid Stage
1:30-2:30 Movement Yoga presented by Detroit Yoga Labs
3pm-4pm Ryan Dahl
4pm-6pm Nastia
6pm-8pm Tiga
8pm-10pm Marcel Dettmann
10pm-12am Nina Kraviz
Monday, May 28

Movement Stage
4pm-5:30pm Stacey Hotwaxx Hale
5:30pm-7pm Delano Smith
7pm-8:45pm Joseph Capriati
9pm-10pm Inner City - live
10:30pm-12am Wu-Tang Clan 25 th Anniversary
Red Bull Music Stage
2pm-3pm Marshall Applewhite
3pm-5pm Beautiful Swimmers
5pm-6:30pm Todd Osborn
6:30pm-8pm PHUTURE - live
8pm-9:15pm DJ Premier
9:30pm-10:30pm BADBADNOTGOOD
10:30-11:30pm Diplo
Stargate Stage
1pm-4pm Chuck Daniels
4pm-6pm Golf Clap
6pm-8pm J.Phlip
8pm-10pm Mija
10pm-11pm REZZ
Resident Advisor Underground Stage
3pm-5pm Dj 3000
5pm-6:30pm Mike Huckaby
6:30pm-8pm Mark Flash
8pm-9:30pm Charlotte De Witte
9:30pm-11pm DJ Stingray
Pyramid Stage
1:30-2:30pm Movement Yoga presented by Detroit Yoga Labs
3pm-4:30pm Stone Owl - live
4:30pm-6pm Radio Slave
6pm-8pm Hito
8pm-10p Ellen Allien
10pm-12am Dubfire