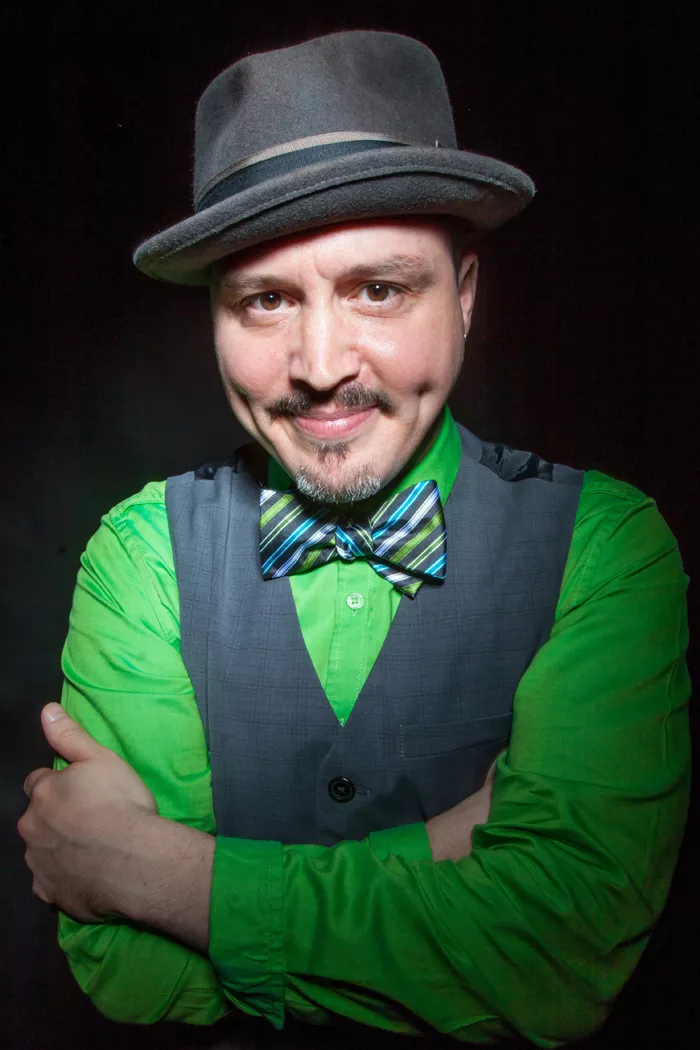 There are plenty of musicians out there who sing about living the classic American blue-collar life, and then there are people like Ryan Dillaha, a man who genuinely did live the blue-collar life, before moving forward with his second life as a working musician and English teacher.
Dillaha is 39 years old now, and he was just 22 when he got his then-soon-to-be-wife pregnant. For the young couple, there was really only one choice — get married. Dillaha had just gotten out of an apprenticeship at a steel mill and so was making good money doing what his dad and granddad had done before him. "I got my union card and got my girl pregnant," the singer-songwriter says. "I don't regret any of it; it certainly made me who I am today."
His life is certainly very different now compared to a decade ago. Dillaha spent 10 years toiling at the steel mill, paying a mortgage, before his divorce changed his life. He moved in with a buddy for a while, quit the steel mill, enrolled as an English grad student, and kicked on with a life of music and creativity. Those days in the mill still haunt him though.
"I'm a sensitive guy, and to see buddies get hurt and people die, it was tough," he says. "In my 10 years at the mill, I bet 20 people died. One was a huge explosion at the powerhouse. That killed nine or 10 guys. Some got burned over their whole bodies. I used to have panic attacks on the way home. I'm just not made for that kind of work. I love and respect the guys that did it. We need those guys, for real. But I'd rather grade papers than swing a sledgehammer."
Dillaha describes himself as a Downriver dude, though he lives in Ferndale now, a clever move designed to get him closer to a creative community. A self-confessed sensitive soul, Dillaha is an engaging conversationalist, humble but proud. He's the blueprint of the working-class musician, or at least the contemporary version (he doesn't sport a ripped blue jean jacket).
The singer quite appropriately describes his sound as Detroit Americana, meaning that its foundation is in roots music, but it is also blessed with the gritty urban qualities that Detroit is known for. "I still think Motown gets a short shrift," he says. "There are so many underground cool things from Detroit, like Iggy and techno, but that doesn't take away that Motown was amazing music. Detroit has a long tradition of, once something sells a bunch of copies, they like it less."
Dillaha's band, the Miracle Men, is completed by guitarist Jason Portier, bassist Michael Millman, plus horn guys Matt Martinez, Roderick Jones and Frank Tyrybon. Until recently, Tim Rios played drums but he had to leave the band to concentrate on a grown-up career with Quicken Loans ("Dan Gilbert's buying out Detroit, and he bought my drummer too," Dillaha says). The search for a new drummer is ongoing, with subs sitting in as the band continues to gig.
Dillaha describes Portier as a Keith Richards-like rock 'n' roll guitarist. "He is a bad motherfucker," he says. "He makes his own Telecasters, and he's an old-school honky-tonk guy. You can hear that old Sun Records stuff in there. When I write songs on the acoustic guitar, it's more of a country-folk-soul thing, like Van Morrison or the Band. Also songwriter stuff, like Tom Petty and Elvis Costello. Jay adds this gritty rock 'n' roll."
Ryan Dillaha & the Miracle Men write and play songs about whiskey and dancing. That's their bag. Dillaha is capable of delving a little deeper but, performing with his band, he wants to go for the hooks and fun. He'll still play the occasional acoustic set to let his sensitive side loose a little. "In the summer, I released an EP called Awful Blue," he says. "We just did six songs. One of them I wrote while still working at the steel mill. It's called "Michigan Weather," and it's about working at the steel mill. Another big influence for me is singer-songwriters like Townes Van Zandt, Neil Young, Bob Dylan — the stuff where all you have is the song. I'm real lyrically driven, and sometimes you want to highlight that with less instrumentation."
While the Motor City is best known for Motown soul, garage rock, hip hop and techno, there is a small pocket of Americana and country-influenced songwriters who have adopted Dillaha as one of their own. The Inside Outlaws collective, which includes Don "Doop" Duprie, Ty Stone, Katie Grace and Matt Dmits among others, has certainly embraced him, and he's at home playing with the country-ragged likes of Whitey Morgan & the 78's and the Deadstring Brothers. We have no shortage of great musicians from all genres here, and Dillaha is convinced that the diversity makes it easier for musicians like himself.
"I'm sure it's not harder than if I were in Nashville," he says. "I know a couple of people that moved down there, and they were more celebrated up here. Everyone plays a certain kind of thing down there. I love all of those Inside Outlaws people. I do think that we're different from them. They are far more indebted to the straight country tradition. We're a little less so. I hate to be all warm and fuzzy, but I haven't had a difficult time in this city. It's been nothing but fun."
Last summer, Dillaha & the Miracle Men went out on the road for a sprawling 16-date U.S. tour. The singer believes that the road trip represents the band's biggest achievement to date. After all, every young musician dreams of insane nights on the road when setting out on an unpredictable career. Dillaha might be getting long in the tooth, relatively speaking, but he's no different.
"We loaded up a shitty old van with 350,000 miles on it and drove around the country," he says. "It was a blast. At 30, you wonder if you'll ever get the chance to do something like that, and it was something I wanted to do since I read Kerouac when I was 18. We got tighter than hell and bonded. We definitely left the tour in the red. We certainly played some shows to no one. We played a show in Bloomington, Ind., to three transvestites."
This Friday, Dillaha and his Miracle Men play the Magic Stick Lounge, the first show of what he hopes will be a productive new year. "I've had some promoter friends of mine tell me I need to be pickier about shows that we play, but I really don't want to get into that," he says.
"Everybody plays a show that's a little dead sometimes. I don't take it to heart. Our set is now none of the songs that I've recorded. It's all new songs, and I'm proud of that. Lately, I've been able to churn them out, so we keep it fresh. We have a really tight, fun set with songs about dancing and drinking, and we hope to cause the audience to do both those things. It'll be fun."
Ryan Dillaha & the Miracle Men play with Escaping Pavement and the Barbarossa Brothers at 8 p.m. on Friday Jan. 17, at the Magic Stick Lounge; 4120 Woodward Ave., Detroit; 313-833-9700; $5.