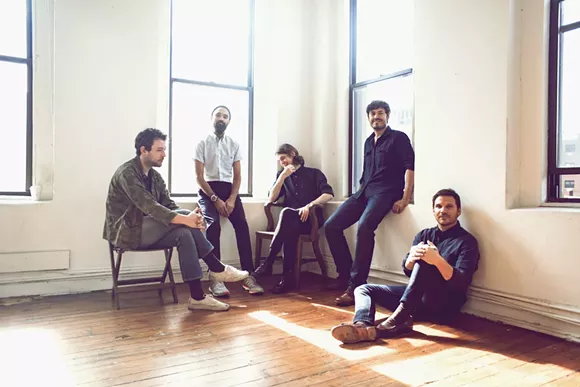 After experiencing immense success as the co-founder and lead singer for Fleet Foxes, Robin Pecknold needed a break. He'd spent years touring with the band's first releases — Fleet Foxes and Helplessness Blues, respectively — and he needed time to process an intense break up.
So, he took some time off — a six-year hiatus that included an existential crisis of sorts. He shaved off his beard and moved to the east coast where he enrolled in Columbia University to study English literature.
While his bandmates were exploring auxiliary projects, Pecknold was reading essays by F. Scott Fitzgerald. In a piece called "Crack-Up" Fitzgerald states, "the test of a first-rate intelligence is the ability to hold two opposed ideas in the mind at the same time, and still retain the ability to function." This became the album title Pecknold says "felt inevitable or necessary."
On first listen, Crack-Up feels less accessible than the band's previous work. Nearly inaudible breaks interrupt the melodies' flow. But, there's so much complexity: Pecknold's voice is strong and beautiful, an instrument fragmented by hums that dip below his usual range, then rise, only to disappear again.
On Sunday, Aug. 6, Fleet Foxes will play their first Detroit show in six years, so we asked Pecknold a little bit about his hiatus, return, and plans for the future.
Metro Times: During your hiatus, did you consider not returning to music?
Robin Pecknold: No, I truly believe music is the most expressive and pure art form — I'm a little religious about it. I remain open-minded in terms of finding other ways to earn a living, but artistically I know that music is my calling, my means of self-improvement, the testament of my experience and growth, and my connection to the unknown.
MT: Was school something you thought may help guide you in a new direction? And do you think you will go back after this record?
Pecknold: School was useful musically in the "if you want to work on your art, work on your life" sense. I thought by broadening my horizons I'd make room in my music for more far-flung ideas, lyrically, harmonically, and conceptually. I would love to go back to school when time allows.
MT: Did you ever struggle with the decision to expand musically and experiment or did you feel you found your sound and could just strengthen and focus on that?
Pecknold: I definitely spent a few years mostly thinking "now what?", having found myself in the unlikely and amazing position of having accomplished and experienced more than I would have expected in a lifetime by age 23. But now I'm grateful for it. It has removed any goal-oriented thinking from my creative process, as no reasonable external validation goals remain. I can now focus wholly on the process and the music itself.
MT: One of my favorite songs right now is "I Am All That I Need/Arroyo Seco/Thumbprint Scar." It seems to start where your last record leaves off by having the F lead you out of "Grown Ocean" and then back in on "I Am All That I Need." Was the F connection, intentional? What is the story being told throughout this song, and would you say it bridges a gap between the two albums?
Pecknold: The F connection was intentional! It's a fitting note to have recur in and connect Fleet Foxes records for obvious reasons. That song is sort of a long after-the-fact breakup recollection. Certain parts depict the breakup and certain parts look back on it with clarity. The lyrics on Helplessness Blues were very questioning and existential, so I wanted the lyrics on this song in particular to be both depictive in a theatrical sense and also sturdy, resolute, declarative. To come back after six years with just more questions seemed weird. It bridges the gap with "Grown Ocean" in that "Grown Ocean" was my first attempt at a sort of hypnotic and repetitive style of songwriting, using few chord changes to induce a trance, and "Arroyo Seco" was my last stab at nailing that sound and taking it somewhere new. I am into different styles of writing at this point and don't intend to revisit that approach.
MT: Can you tell me what that underwater swooshing sound just before the six-minute mark is and how you came up with some of your samples in this song?
Pecknold: Another layer on which the song works is as a picture of traveling around New York, being on the train, among many people, then soon alone in a quiet building, then back outside, etc. I often take the train to the ocean on Long Island so it made sense to have the train sample morph into rhythmic waves at the end of the song, as if the subject is now standing at the edge of the water.
MT: What is the lyric "Light ended the night, but the song remained" on "Third of May/Ōdaigahara" in reference to?
Pecknold: That lyric works in two ways: The song starts with a major chord, and the song before it ("Kept Woman") is in a minor key and takes place at night, so the lyrics describe the musical changes. "Light ended the night but the song remained" also refers to staying up playing music through the night and past the dawn — a memory I have of working with Skye and the band early on. In some ways, yeah, the record is an artifact of he and I reconvening.
MT: What do you listen to in your downtime?
Pecknold: Sibylle Baier and Kaitlyn Aurelia Smith.
MT: On Instagram you teased what looks like a test pressing for your solo album, titled Gioia. Are you working on a solo album now? Do you plan to tour for that album?
Pecknold: Mostly touring right now but definitely thinking about next FF and a small solo collection. We'll be touring the next album for sure.
MT: Do you think you will ever make a less-produced, more loosely recorded album?
Pecknold: Working on songs for a bedroom album like that now! I also love that sound. I like highly produced records too, but it would be fun to finally commit to a certain lowered set of stakes even just for a solo project.
Fleet Foxes perform on Sunday, Aug. 6 at the Masonic Temple, 500 Temple St., Detroit; themasonic.com; Doors open at 7 p.m.; Tickets start at $40.50.