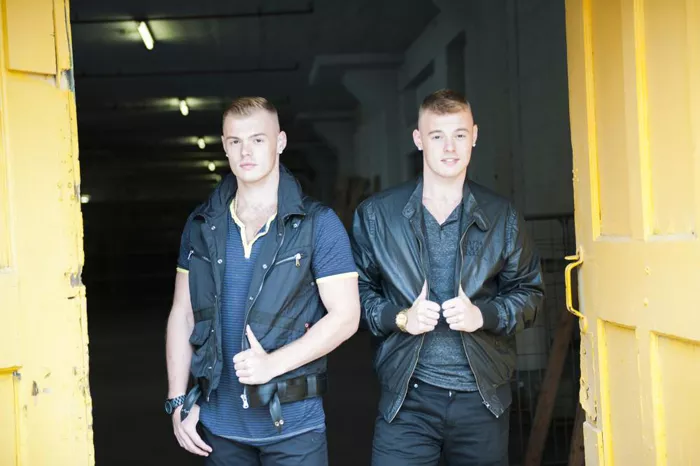 Chicago-based identical twins James and Paul Makelwain, aka Milk N Cookies, are self-confessed fraternity bros turned hard house and "nasty rave" producers and DJs, though they swear that they're nice guys. They coined the term post-bro house to push the point, and they naturally claim to be leading that scene. We caught up with James (or Milk) and asked what the duo is planning for the set at Elektricity this weekend …
1) You describe your sound as post-bro house. What is that?
It's a term we coined a few years back as a joke. It kinda has three meanings. The first is the joke of how people describe subgenres of music in general. Post-hardcore, post-modern, post-rock, future house — all this stuff. That was the first part of the joke, and then as people got to know us, they realized that we're very charismatic and loud, personality-wise. So the second meaning towards post-bro is that we are these bro guys, party dudes from a fraternity lifestyle, but we're still nice people. The actual music, people would say that we make electro-house kind of stuff, funky house music that is very different than a lot of people's music out there. Post-bro, because it's a unique style of electro-house that's coming from the Midwest.
2) Do you guys, as identical twins, have that mental link when you work together?
Yes, 100 percent. I know people can see it when we play, when we're in the zone, kind of like when we grew up playing sports in high school. Literally, no, we cannot peer into each other's brains. But you get to the point where, your bodies and minds are so similar that you can assume what the next person's going to do. So when it comes to DJ-ing, we don't need to talk. We can make hand gestures, and make eye contact, grunt, and we can understand where we're trying to take things. It definitely helps.
3) When was the last time you were in Detroit?
We played two days after New Year's Eve, we headlined Elektricity for the first time. This will be our fifth time playing there in maybe two years. When we played our own show, we brought 800 people.
4) What are your plans for your set?
The past few months, our sound and our style of DJ-ing have evolved rapidly. Instead of playing the big-room rave style of music, we've brought in more funky styles, more bass lines and slower tempos, more melodic stuff. It has that deep and nasty rave sound. It's stuff that puts you in a dancey, party mood, but it's more paced.
5) What's next, after this tour?
We're independent now and we've been independent for the five years we've been doing this. This summer we're focusing on branding — getting music out there, getting our name buzzing for fall tours. We have a lot of shows all over the Midwest. We're going to keep putting out remixes, and then our plan for the fall is to do a huge national tour of colleges and clubs, all over. Hopefully we'll get into Europe in 2015.
Milk N Cookies plays with Fun Fakt & Hanio at 9:30 p.m. on Friday, June 20, at Elektricity, 15 S. Saginaw St., Pontiac; 248-599-2212; $10.