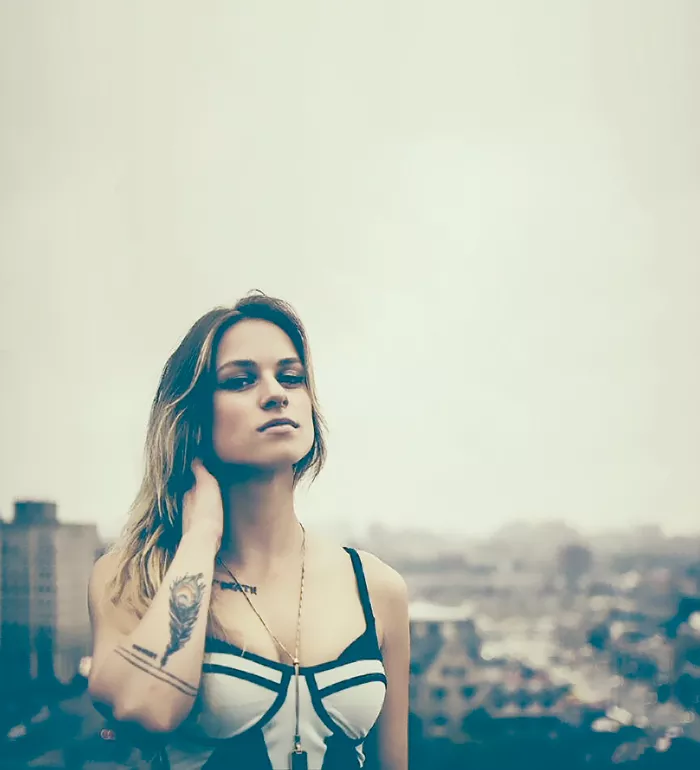 When talking about the city of Detroit and its vibrant music scenes with a local musician, the responses are generally overwhelmingly positive. The metro area is, quite correctly, often referred to as a jewel, a cultural wonderland, a musical mecca — that sort of thing. Maci Delaghetto comes at things from a different angle.
"There's no hate like Detroit hate," she says. "A lot of the DJs in Detroit are vinyl DJs who have been in the music scene for, like, 20 years. As soon as they see a young female DJ getting opportunities, they start immediately judging and criticizing. That's something I've had to deal with from Day One. People talk about me behind my back and don't think I'm deserving of what I've gotten. I have been nonstop doing what I love since I first started doing it. It's been my priority. If you don't have haters, you must not be doing something right."
She's right, of course. They say that when politicians are getting bullets aimed in their direction, they're generally (though not always) doing something right. The same can often be said of musicians and the tirades of abuse they may have to face. Delaghetto (real name Maci Mansfield) is a woman in her early 20s who also models. It's sad that her career is threatening to some of Detroit's established electronic musicians, but perhaps tragically inevitable.
Delaghetto, who was born and raised in Waterford, discovered electronic music when she was 16. "I discovered the producer and DJ Kaskade," she says. "He's been blowing up for the past 15 years. He's been on a steady incline since he started, and I've always had an appreciation for him and his original music. He creates his music from scratch, he works with vocalists, he's constantly in the studio — he's living the dream, so of course that's going to be a huge inspiration for me as a producer and DJ. That's how I got introduced to it. I would go to the live festivals and shows in Detroit, which, you know, is the roots of techno music. I was introduced to that whole music scene and I've been in it ever since."
Not long afterward, about three years ago, Delaghetto started tinkering and making music herself. "I was just messing about with it, not thinking that I was ever gonna get serious," she says. "It became a passion, and I was so passionate about it that I dedicated all my free time to mixing and all of the ways that you can make music. I started taking it seriously just a few of months after starting. Then I booked my first show after I'd just turned 18. My first show was at Elektricity, and I've had a residency there ever since. It was a make-or-break opportunity for me. I had one chance to prove myself."
Elektricity, the renowned Pontiac nightclub, is quite an impressive venue from which to launch a career, a daunting leap into the unknown. Delaghetto says she was buzzing. "I wasn't as nervous as I was excited," she says. "I was so stoked to have this great opportunity at one of the most well-known clubs in the Midwest. To have that opportunity under my belt as my first show was very exciting. I had to prove myself worthy of playing at such a great nightclub."
When talking to Delaghetto, her passion for her work shines through. Yes, she was a model first, and she happily admits that she DJs using CDs rather than vinyl (a fact that's sneered upon by the old school), but this is an artist who has worked her way to where she is today. It's frankly sexist to suggest that her achievements have come through anything other than hard work. The modeling, she says, is just a part of who she is.
"Before I started DJing, I was doing a lot of promo photo shoots and stuff like that," Delaghetto says. "My style is a lot of streetwear. I like to represent that. When you're DJ-ing, regardless of what you're wearing, you're gonna be seen by everybody. You are the focus of the entire show, and so I figure, why not incorporate my street style and what I was originally doing before I was DJ-ing, why don't I incorporate that style into my image? It's who I am. What you see is what you get. I like to represent brands, do a lot of promotion and represent street-style clothing while I'm playing. The photo shoots help with promotion. I use a lot of those pictures for my covers and stuff like that. They both go hand in hand. Image has a lot to do with making it in the industry."
Delaghetto says she adopted her stage name while modeling, way before she began making music. "It's from The Fresh Prince of Bel-Air," she says. "It means 'of the ghetto,' and it really sits well with the types of music I play because I play a lot of the hip-hop sound. That's what I try to incorporate into my music every day."
The DJ and producer's music is a solid and lively combination of trap and house. "I have another side of me that I've been clinging onto a lot lately, which is the deep house sound, but a dark sound," she says. "A lot of UK house and Detroit techno is dark. I feel like everybody can dance to house music. It's a genre that will never go away."
It's telling that Delaghetto enjoys introducing her fans and club-goers to new things, not content to churn out the same dance-floor faves time and time again. She's a genuine artist, always looking to challenge her listeners. "I like to introduce people to music that they've probably never heard before," she says. "With DJs nowadays, I feel like there's a lot of commercialized music being played. I like to give people something new. I like to get hardcore and rile people up a little bit. I like to give people a really energetic feeling when they go out. I want them to have the craziest night ever."
Hard work, talent, and a keen eye for opportunity has gotten Delaghetto where she is, though she happily admits she's always learning, striving to get better. "When I first started, I wasn't as confident as I am now," she says. "Obviously, when you start to pick up on something new, even if it's just a new hobby, you learn a lot through the years. I've also got to say, when I first got into the music scene, I had no idea that people took DJ-ing and everything so seriously to the point where it was 100 percent dedication. When I first started, it was one of my hobbies that I would do part-time, on the side, after work. Now, I wake up and I do the same thing almost every day with music. There's a lot of work that goes into it if you're going to make it a profession. Every year gets more busy, more productive, and more focused on the music itself."
This week, Delaghetto is back at Elektricity, performing a set on the patio. Don't expect a bright, sunshine-y set, though. "I think I'm gonna open up on the patio with a darker sound," she says. "I definitely want to play some originals as well. I'm currently working on music with some friends, and I want to drop some originals. If you're going to play live in front of people, you definitely want to play some of your own music and not just DJ other people's music because that's the best way to promote yourself — to play live. A lot of the deeper tech house sound."
After that, Delaghetto is Miami-bound. "I'm going to be in Miami in August 2-9. I'm performing at Club 11 and it's going to be insane," she says. "It's like a fashion show, but it's going to be performances going on at the same time. It's basically a contest for models to win $100,000 at the end of the night. It's going to be on pay-per-view, on national TV. That's one of my biggest gigs yet, aside from Spring Awakening in Chicago. I'm excited for my first time in Miami, and I'm playing such a huge event. After that, I'm going to continue to try to get booked out of state. I think I've exhausted my stay in Michigan for now."
Perhaps, but the city will be here for you when you need it.
Maci Delaghetto plays with Protohype and Dopeadellic at 9:30 p.m. on Wednesday, July 23 at Elektricity, 15 S. Saginaw St., Pontiac; 248-599-2212; $7.50. She has a residency at Elektricity and performs there regularly.