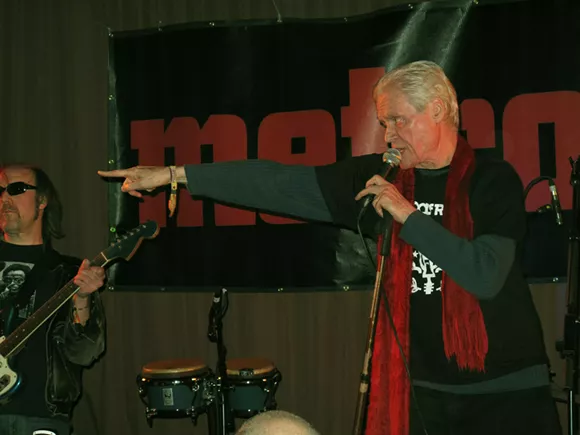 [Update Friday, Jan. 16, 6:18 p.m. — Read former MT music editor Bill Holdship's interview with Fowley before his 2012 Blowout performance here.]
After a long battle with cancer, record producer Kim Fowley died yesterday in West Hollywood, Calif. at 75. There's
plenty
of
eulogies
for the cult favorite already, charting the his career from success with the Runaways and beyond. But worth a closer look are his connections to Detroit, which were many — Fowley even had a section on his website
dedicated soley to his work in the Motor City
.
As far as Detroit goes, Fowley said his career started by working for Motown founder Berry Gordy Jr. "Gordy paid me to think,"
he told
Walter Wasacz for
MT.
Fowley did West Coast publicity and promotion for Motown. He allegedly
gave Iggy Pop the money
so Iggy could buy his own copy of
Raw Power — a
pparently the Stooges owned Fowley's
Outrageous
record when it originally came out. "That's one of those records where if you bought that record when it came out, those people the weirdest people in the world," explains collaborator Matt Smith of Detroit's Outrageous Cherry, a musician
Fowley became a big fan of
.
Fowley started making appearances in Detroit, even performing on Robin Seymour's short-lived
Swingin' Time
variety show. "There
isn't much documentation of this
— I believe he performed "The Trip," says Smith. "He showed up wearing a suit and the people on the TV show were all sort of horrified, because they were like, 'You're dressed like an accountant, and we're putting you on this rock 'n' roll show.' So he went into a store and bought some sort of Middle Eastern ladies' garment and went on TV doing all these crazy dances. Apparently the phone boards lit up and everyone was offended and created a horrible controversy."
He's also worked with acts like Alice Cooper, met Ted Nugent (who apparently dug the guitar sounds of the Runaways), performed at Belle Isle, and was invited onstage by the MC5 in Hollywood ... but Fowley had already left with his date, Michelle Phillips of the Mamas And Papas. Smith says Fowley also at one point played a show at the old Garwood mansion with Steppenwolf's Mars Bonfire.
Smith recounts first being introduced to Fowley by way of
Creem
journalist Ben Edmonds in the '90s. "I dropped by over to Ben Edmond's place, and he was writing an article for
MOJO
," Smith says. "He was talking to these different record producers for this article, and he was like, 'Oh, I have to call Kim Fowley later.' And I said, 'Oh, that's somebody I'd like to work with some day.' One night I pick up the phone, and Kim's just barking at me — 'What is it you want, I don't want to hear any bullshit, what the hell's going on?'
"I was just like, 'I don't know, I thought we could do a record together,'" Smith says. "He said, 'Well how much money do you have?' I'm like, 'Well, I suppose I could raise a couple thousand bucks.' He said, 'All right, send me the plane ticket. I'll be there in three weeks. I want half the money the minute I arrive to the airport, and if you don't hand me that money the minute I get off the plane I'm hopping back on the next plane and I'm out of there.'"
Smith recalls the shock he felt after the phone call. "Like five minutes later it was this weird thing where I somehow ended up off the phone having just made plans to do a record with him," he says.
Smith describes the Jim Diamond-recorded album,
Michigan Babylon
— which featured members of Outrageous Cherry, the Witches, the Detroit Cobras, the Volebeats, and more — as "the weirdest fucking record. People didn't know what to think of it. "Nowadays it makes more sense. In '98 it was just this complete psychedelic antisocial nightmare for people," Smith says. "But then a few years later after 9/11 the whole vibe of the world changed. Now it seems like more of a flower power statement."
Smith says while Fowley was in town, they performed at the Magic Stick, where a mini riot broke out. "[Fowley's] approach to performing was fearless," Smith says. "He would basically have a bunch of musicians, and he'd walk onstage with his head completely empty and walk on with no idea of what he's going to do and he would just make stuff up. He seemed to treat these live shows as an experiment. It was too tedious for him to remember a lyric to a song.
"I felt like it brought out this real dark malevolent vibe out of the audience," Smith says. "It was the first time I saw this real dark side of the Detroit audience. I caught a glimpse of something very dark at that gig."
Smith says Fowley was hardly doing anything that night, though."He was saying stuff like, 'Hey, is it anyone's birthday out there tonight?'" Smith continues. "You look out there and it's like the
Gimmee Shelter
movie, with people just gnashing their teeth. He was doing some kind of mass hypnosis. He was kind of a shaman/magician type guy. There was something weird happening."
But after Fowley returned home, he called Smith up. "He was like, 'You know, there was some ups and downs last week, but I had fun. That was good,'" Smith says.
Smith sees Fowley's endorsement as the beginning of what would come to be known as Detroit's much-ballyhooed "garage rock" scene. "He had this habit throughout his career of just sort of showing up in places right before some sort of musical movement would occur. It was just kind of his thing," Smith explains. "He'd either show up at the beginning of something, or like at the end of something. He would come and write songs for bands that were looking for inspiration later in their career, or he would show up ahead of time. I felt that with the Detroit thing. Whatever happened in Detroit, as far as the rest of the world noticing Detroit, the way I see it, Kim showing up was kind of a turning point with that. It drew a lot of attention from the rest of the world to what people were doing here."
Smith gives credit to Fowley's ability to tread between the L.A. commerciality and the underground. "He was such a complex guy. On one level he was this completely business-like L.A. hustler just wanting to make money, and on another level he was a poet," Smith says. "Talking to him on the phone was like talking to Hunter S. Thompson, William S. Burroughs, and Boris Karloff at the same time.
"He was very encouraging. He felt like we were reinventing rock 'n' roll and carrying the torch for this energy," Smith says. "He was a catalyst for getting a lot of people into it. Just dropping what people in Detroit were doing into conversations around the world. It was a real subtle thing, kind of behind the scenes. You couldn't exactly see it, but it made a difference. He was a real part of it." Detroit artists like Wendy Case and the Go recorded Kim Fowley covers, and it's said that Fowley himself named the Alyccia Berg-fronted group Slumber Party in Smith's kitchen.
"He was a guy that had an intimidating and sometimes scary demeanor to people," Smith says. "He was like a Hollywood guy who was very real. People always say he was always creating this mythology and stuff. I found him to be a very honest guy. Hollywood is all about dishonesty and all about image and being very plastic, and people say he was very cynical. I think he was scary to people because he wasn't putting on a front. He was real. There's a lot of people in Hollywood who acted friendlier but they were not necessarily nice guys. He was a nice guy, even though he didn't seem like it. He came from a place where everybody's acting nice and they're ruthless, cutthroat bastards.
"He had an image that created tension," Smith continues. "He was one of the good guys. The other Hollywood people, if you tried to contact anyone else you'd have to go through secretaries and lawyers. Kim was on the street. He was a very open person, but if anybody messed with him he could be very scary."
In 2012, at
MT
's Blowout festival, Fowley returned for a reunion, and the live recording resulted in a sequel record, Kim Fowley's Psychedelic Dogs'
Detroit Invasion
(by coincidence,
reviewed
by Mike McGonigal in this week's
MT
), Smith sees the event as something of a bookend to that chapter of Detroit music. It was the last year the Blowout was held solely in Hamtramck, and Smith sees Detroit's music scene as fragmented and less rock-focused these days. The
Detroit Invasion
liner notes state it was Fowley's last performance in the U.S. with a live band — with Fowley having hopped on a plane to Detroit only a few days after getting surgery. He may have been using rock 'n' as escapism, but death was clearly still on his mind. On the record's final track, Fowley sings, unironically: "Death is my next long-term project."