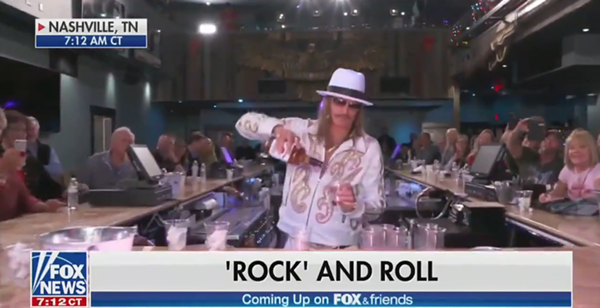 Another day, another diarrhea of the mouth moment for Kid Rock. This time spewing into the perfect receptacle for the Michigan rap-rockers hypocritical rhetoric: Fox News network's chaotic morning program, Fox & Friends.

Fox and Friends co-host Steve Doocy interviewed Rock at his Nashville bar Friday morning touching on hot-button issues like politics, and mainly just politics. Because who better suited to discuss such things than the man that only as of last week had dodged election violations for his fake political bid for U.S. Senate last year because the Federal Election Commission deemed an investigation a waste of F.E.C. resources?

Well, maybe not Kid Rock, actually.
Steve Doocy yells "NO!" when Kid Rock takes a swig of bourbon live on Fox & Friends. (h/t @nfernandez_92) pic.twitter.com/k9o7bfTCOh

— Bobby Lewis (@revrrlewis) November 30, 2018
During the segment Kid Rock plays bartender for a rowdy bunch of breakfast drinkers —
even taking a swig from the bottle, himself because as the news ticker suggests, 'Rock' and Roll
. He also took a moment to praise President Donald Trump's time in office because that's what you do when you're hanging out at a bar at friggin' 7 a.m.
"The President is doing a great job," he says. Rock goes on to blame divisiveness as the leading problem in America. "It's so hard for people just to get past that we can disagree and still be cordial with one another." He adds, that we should be able "to talk about things without going at each other throats and protesting everything," adding that people need to "calm down" and "get a little less politically correct."
"You know, love everybody," Rock preached, "except, I'd say screw that Joy Behar bitch."
A shocked and smirking Doocy immediately apologized, "You cannot say that. We apologize for that," he said.
Rock's heated dig at the longstanding co-host of
The View
(and the show's resident liberal,) is likely in response to comments made by Behar during Thursday's Hot Topic segment.
Behar suggested that Trump should resign
after she and fellow
View
hosts discussed the latest developments in the ongoing Robert Mueller investigation.
"Today is a good day for Donald Trump to resign," she said. "Twenty years for me, that would be my gift. Donald, do it for me."
Towards the end of Rock's back peddling diatribe, Fox-friend Doocy wanted to make sure that Rock was, in fact, sorry for calling Behar a bitch.
"I did apologize for the language," Rock said. "not the sentiment."
Behar has since invited Kid Rock for some cordial discourse, saying shortly after his segment aired, "This bitch and these bitches would be happy to have you on the show."
Stay on top of Detroit news and views. Sign up for our weekly issue
newsletter
delivered each Wednesday.