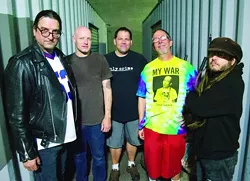 There aren't many people who can lay claim to having a front row seat at the birth of American hardcore, but Keith Morris is one of them. If there was a pantheon of early 1980s American punk, then Morris would surely be in it — along with Jello Biafra, Ian MacKaye and Glenn Danzig. Though most people remember Morris as the curly-headed lead singer of the Circle Jerks, he was also founding member and the vocalist for the first incarnation of Black Flag, singing on the original version of the seminal track "Nervous Breakdown." That recording blew many away, including the editors of Michigan's Touch and Go zine, who declared, "Call it punk rock, call it some kind of new music, call it anything you like, but you can't deny the fact that this is the kind of noise that curdles the minds of the feeble and completely melts those of its most ardent fans."
Talking with us by phone from his California home, in a charmingly discursive manner, the now-dreadlocked Morris laughs self-deprecatingly about his early vocals, asking, "Oh, that snotty-nosed, shrimp-of-a-guy, crybaby bullshitter?"
Morris can afford to crack such jokes about himself, being an original presence in the punk scene — literally childhood friends with many of SoCal punk's heavy hitters — which coelesced during the late 1970s in Hermosa Beach, Calif.
As for being a founding member of Black Flag, he says, jokingly, "I was there in the very beginning, having to deal with three bass players that were not bass players."
Most of his career to-date, of course, was with the Circle Jerks, which lasted well into the '90s; he says differences with his bandmates forced him to form his new hard-touring punk supergroup OFF!, with punk veterans Dimitri Coats of Burning Brides, Steven Shane McDonald of Redd Kross, and Mario Rubalcaba of Rocket to the Crypt.
It all started several years ago, when Coats was helping Morris work on material for a new Circle Jerks album. Morris recalls, "I knew what was going to happen. I've been around these guys for so many years. At some point somebody is going to do something or say something to throw the wrench into the machinery." Morris also blames the music industry and its shady dealings. "Every other person in the music industry has some kind of angle," he says. "They're coming out of the shadows. They want to fuck your unlubed ass — all of that fun shit."
"The guys in the Circle Jerks presented me with a great opportunity because I'd been putting up with all this fluctuating participation in the band anyways," Morris says. "Everybody was playing in other bands, everybody was doing other things, and it seemed apparent that the only reason that the Circle Jerks existed was to go out and pay rent."
In the end, Morris says, "The Circle Jerks made it very clear to me that I was no longer going to be participating in anything they were going to proceed with."
He adds, "I get people saying, 'Well, you're just bashing on your former bandmates.' And it's like, all I'm doing is telling the truth, you know. I'm not making up any stories. This is all the stuff that went down. 'Well, they're your bros! They're your friends!' And it's like, that's right! And I support them in whatever else they're doing! But when the whistle blows and they're all in a room and they're expecting me to show up … it's probably not going to happen.
"We'd be presented with these opportunities but we'd stop to tie our shoelaces and we'd look up and it would be gone or we'd figure out some way to make it disappear or figure out some way to not make it happen. How long can you go on like that?"
It's also clear that the people you select for a band in your 20s might not be the same people you want to play out with in your 50s.
"When you're young, you're partying, you're drinking, you're doing drugs, you're chasing girls, you're trying to grab the golden ring, and you're racing around," Morris says. "You've got the energy. You can go on a binge for three weeks and take two days off to recover."
Even so, the pressures of touring brought members' differences to the fore.
"The tour van is like Das Boot with wheels," Morris says. "You discover who has crabs and who's the alcoholic. All of the personality flaws start surfacing."
At a mature 58 years old, Morris' OFF! bandmates make for a better match. "Being in a band with a bunch of dads means that when we have our time together, we've got to make the most of it," Morris says.
A Tale of Two Flags
Detroit music fans are going to be treated to a little Black Flag whiplash this week, with Morris' Flag (which includes Black Flag alums Chuck Dukowski, Bill Stevenson, Dez Cadena and the Descendents' Stephen Egerton) at the Orion Music + More festival June 8, and Greg Ginn's reunited Black Flag (featuring one-time Black Flag vocalist Ron Reyes) at the Majestic Theatre on June 10. What's going on here?
Morris says, "A lot of people make this out to be some kind of spiteful thing going on or some kind of a competition, and the fact of the matter is we never set out to turn this into a competition. It's Greg Ginn, he can do whatever he wants to do."
This Flag tour isn't the first time Morris has dabbled with fronting Black Flag again. He was invited to explore a Black Flag reunion in 2003, to play two nights at the Hollywood Palladium, along with Chuck Dukowski, Robo Valverde and Greg Ginn. The show went on, but without Morris, instead with Dez Cadena on vocals.
Morris says of the experience, "I started to realize there was reason I quit in the first place. Because of the negativity. If I hadn't quit, I was going to be fired from the band, so I'd made right choice. … I don't want to talk down about anybody. Certain members aren't here to defend themselves. I'll just say it bordered on Spinal Tap. I was shown a complete lack of respect."
But in late 2011, Morris met up with Dukowski, Stevenson and Egerton to perform some Black Flag songs, and decided to pursue the project further.
"We didn't know where it was going to take us," Morris says, "or if we were going to write new songs. We were playing it by ear just like it was when we first started playing. Then it was the blind leading the blind. This time we have a better idea of what we want to do. The thing with Greg and Ron was that they had played together at Ron's 50th birthday party in Vancouver, and I believe the seeds for them getting back together and doing Black Flag were planted at that time. And, you know, more power to them. … The situation with us is that we won't be asked to play with Greg, and he's been extremely unfair, so there's no reason for us to play with him."
The unfairness comes down to disputes over royalties. Morris says, "Unfortunately, there's one thing that always jumbles and fucks up the equation, and that's money. It's sad but it's true."
Morris continues, "Greg is an amazing guitar player, wrote some genius songs, and playing the songs with Greg was a total gas. It was an amazing experience. But the fact of the matter is, when you record and that music gets put out there, all of a sudden there is a thing called royalties. There are so many horror stories involving him and his business. I don't really want to dwell on this, but Billy Stevenson had a softball-sized tumor removed from his cranium. They sawed off the top of his skull to be able to remove it from his brain. Billy passed a Polish sausage-sized blood clot through his heart into one of his lungs. So Billy can't do anything. Billy goes to Greg. See, Billy was and still is a member of the Descendents, the second-biggest-selling band on SST. Billy hadn't received any royalties, and he needs some financial help after he's incurred all of these medical fees. And when you're the second-biggest-selling band on SST, you're due some royalties.
"Billy was a member of Black Flag and toured with them, bailed them out on a tour, and I think he's responsible for drums on, like, four or five Black Flag recordings. There should be some kind of reward for that! Billy went to Greg Ginn to ask him, 'Hey, bro,' face-to-face, no skulduggery, no bullshit, no heavy-handed macho crap, just as one guy to another, for some royalties and it got ugly. Billy couldn't get physical. Billy was on oxygen. What's cool about that? Actually, what's not evil about that?"
Asked about the specifics, Morris says, "I don't know all of the details. All I know is that Billy left and he was a bit shaken. He didn't leave with a good taste in his mouth."
If it sounds like Morris is complaining too much, he doesn't stint on praising Ginn as an artist. "We place Greg Ginn as a songwriter and guitar player on a perch that the majority of other people playing and writing will never attain," he says. "But when you take him down off that perch and place him amongst human beings, he gets an F-minus."
Of the two Black Flag-inspired shows, Morris predicts, "All the die-hard fans will end up going to both. All die-hard Greg Ginn fans will go to the Black Flag show. There will be large group of fans that won't see us because of the situation we're playing in, an expensive festival. If you wanna go, cool, go have a good time see some bands you've not seen or heard before. … At some point, we'll come back and play a regular show."
WONDERFUL!
Listening to Morris now, he sounds thrilled to be up in front of crowds of people who weren't born yet when he was fronting Black Flag but who know all the words. He jokes a bit, saying, "They've seen the book. They've seen the movie. But they've never experienced it. … I'm not weirded out by it. I just try to feed off the energy. A lot of these things seem to disappear once the adrenaline kicks in and those notes are being played. The big struggle is to have the energy to do it at 58 years old. That's the big challenge. … But now we're getting ready to play this festival in Detroit, where some of our favorite bands came from and still live, and with some of the biggest bands in the world. When we first started playing this music, we didn't know it was going to take us to a place like this."
Morris sounds genuinely delighted by it all. "I'm having the time of my life. I've never been this busy. In the last two-and-a-half years, I've been to Europe three times; I've been to Australia twice. … I'm having a great time going to all of these places. I've had more opportunities and done more interviews than ever."
Flag plays the Orion festival at 6:15 p.m., June 8, on the Vans Damage Inc. stage. See orionmusicandmore.com for more info.
Black Flag plays at 8 p.m. June 10, at the Majestic Theatre, 4140 Woodward Ave., Detroit; 313-833-9700.
KEITH MORRIS' FAVORITE DETROIT ROCK
7) Negative Approach
— Tied Down
6) The MC5 — Back in the USA
"The MC5 are one of the greatest. A lot of us wouldn't be doing what we're doing if it weren't for the MC5 …"
5) The Stooges — Raw Power
"… and the Stooges. Love the first two albums, and then you have James Williamson. I mean, Wayne Kramer, James Williamson and Fred 'Sonic' Smith? That's a pretty goddamn badass trilogy pyramid of six-string action! It equates to the triumvirate of Beck, Page and Clapton in England."
4) Bob Seger System
— Ramblin' Gamblin' Man
"I love some of that early Bob Seger stuff, like '2 + 2 = ?' and 'Ramblin' Gamblin' Man.'"
3) The Amboy Dukes
— Various Albums
Keith Morris has good words for Ted Nugent? "Yes, even Ted Nugent — as much of a shmo as he's turned into. Because the Amboy Dukes, and all those early Ted Nugent albums, they're all rockin' records. But who knew that he was going to turn into the bozo he did.
2) Alice Cooper — Love it to Death
"Right now, I'm looking at a poster of Love it to Death, the third Alice Cooper album. If I were stranded in the desert, searching for water, but instead of water I found a stereo, that's what I'd listen to.
1) Sonic's Rendezvous Band
— "City Slang"
My top-of-the-list, No. 1 song would be a song written by one of the guys from the MC5, I gotta go with 'City Slang' by Sonic's Rendezvous Band.