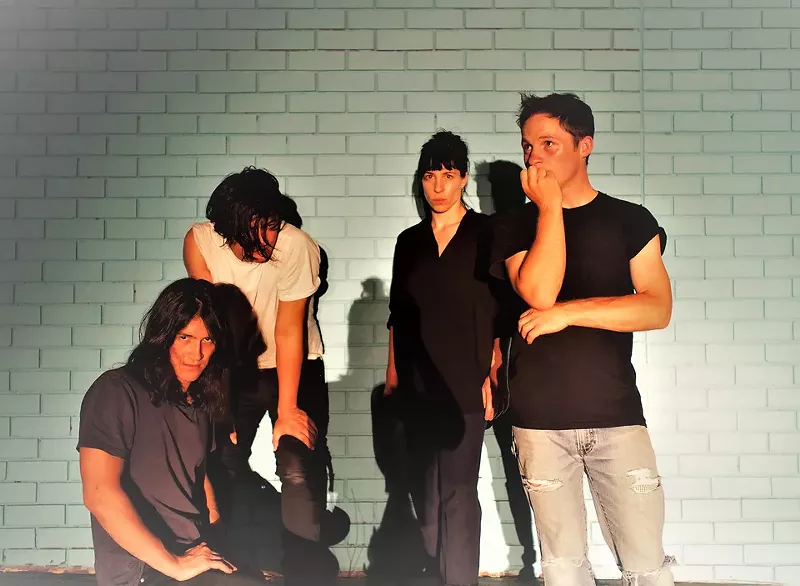 Deaf Wish thrives as a live band. That's not to say that their recordings aren't excellent, because they are. But an album is complete once it exists, whereas a live show is a mutating thing that proves to be different every single time. For Deaf Wish, there's a magic to how the four-piece fills the stage with captivating ferocity, totally devoted to doing right by their songs and each other.
The band – based out of Melbourne, Australia – is Jensen Tjhung on guitar, Sarah Hardiman on guitar, Lee Parker on bass, and Daniel Twomey on drums, with vocals contributed by all four.
Lithium Zion
, their latest and fifth full-length (and second on the iconic independent record label, Sub Pop), is restless, clever, fearless, and vulnerable – all at once.
Their music is what transpires at the intersection of noise and melody: catchy songs augmented with pretty moments and anchored by jagged riffs. Combustible rhythms propel the occasionally unhinged vocals to logical conclusions that never quite fully explode, tending to pull back and let the noise simmer with annihilation.
The thing that makes a band like this stand out is nuance. Deaf Wish welcomes emotional depth without sacrificing the agitated gristliness that has defined it from the start.
Needless to say, Deaf Wish is a band that demands to be seen. Fortunately, we'll get the chance to make that dream come true this Thursday by catching the Aussie rockers at Detroit's newest venue, Deluxx Fluxx. Ahead of the show, we chatted with guitarist Tjhung about growing up in a cultural vacuum, memories of past Detroit shows, and more.
Metro Times:
What's your favorite song on the new album?
Jensen Tjhung
: I really like "Afraid For You." It came out really good. The songs, when we were making and recording them, you have your favorite, and when the actual thing comes back all mastered and complete, some of them just really strike you in another way. I'm really happy with that one.

MT:
Describe the new album in three words.

Tjhung:
Wow. Maybe I can come back to that one, let it percolate.
MT:
Why did you get into music?
Tjhung:
At the moment I've just come back to my hometown, which is on the West Coast, Perth, the isolated capital city of Australia. I left here 20 years ago and it's interesting coming back here, living in the suburbs and revisiting the isolation. You re-enter the past in a way, and music becomes really important when you feel stranded. Catching up with friends and talking about that. Growing up in a remarkably unromantic culture-less place, lots of box malls and maybe a park, and it's hard to get around as a kid, with the transport system. Going into the city and buying records becomes really important as a teenager. It's a common story, but that's what it was for me.
MT:
Can you speak to the evolution of the band?
Tjhung:
We started in about '07. Daniel and I had played in a couple bands in our early 20's. When we started Deaf Wish…it was just a crazy mix [of people]. We didn't really know Nick when we got him on board, we didn't really know Sarah but we had seen her band, and we just threw everyone into the room. We didn't really have any songs either, we just plugged everything in and started screaming and making noise. It was really primitive.
When we started jamming, we only had a few weeks before Sarah was leaving the country so we decided to just work hard and get a document of everything we had, which is what became the first record. As time went on, we had Pete come into the band when Sarah was away. Eventually, Nick left the band and Lee came in. There have been those three different line-ups over the course of ten years but we're never really a consistent band.
We never play a lot in Australia. We had these times where we weren't doing anything, so it's just evolved like that, which is strange to think. When I went and got my visa for the States at the consulate I was asked how long I'd been playing in the band. I said ten years and as it came out of my mouth it felt really strange. I contribute to the band [but] it's never mine or anyone else's. It has a life of its own, and yet you're around it. I don't know if that makes sense but that's how it feels.

MT:
That does make sense, the music has a life of its own.
Tjhung:
We don't really control it. We try to, but it never works. Touring's been a big part of it as well, going overseas. If it wasn't for this band I wouldn't have seen so much of the world, which I'm grateful for. I've met so many great people. There have been times where you just think it's over, and then all of a sudden we're in Europe doing it all again, and we come back with a great energy and do another record. I feel like I'm around it and it pulls me in every now and then.
MT:
Speaking of touring, what are the differences between touring Australia, Europe, and the States?
Tjhung
: They're all really different. In Australia the cities that we play are so far apart, so even to get up to Brisbane – and we're not a huge band, I don't know what sort of numbers we could get to justify what we would pay on flights just to get to a few cities in Australia. So we tend to put a lot more effort into going to Europe and America, we can do a string of 20-30 shows all in a row and just keep rolling around. We're always amazed at the hospitality everywhere.
MT:
Do you have any favorite places?
Tjhung:
When you look at the tour grid of the States you always get excited about rolling into Detroit – we always love it, and I'm not just saying that. [Laughs.] You get really excited heading down to Texas and meeting up with that crew. We've gathered a lot of friends along the way – San Francisco, Texas, New Orleans is
real
fun.
I remember the Detroit shows being particularly messy. We played at the Protomartyr record release show [for The Agent Intellect] as well, which was the only show we haven't done at the Lager House. They come out to Australia and they're great guys too. Detroit's great. We always put a bit more time into record shopping and hanging out there.
I have a strong memory of the first few tours, a lot of the girls [in Detroit] had big dogs on chains in the bars. It's great, it looks vicious.
The people are so warm. I just love it. We always talk about, in the van, if there was a place we would go to live, for a year, we always try to pick one when we're on the road, and Detroit always comes up.
MT:
I remember from previous shows feeling that you guys are such a live band. Is that something you feel too?
Tjhung:
Absolutely. I love it. We all love it. Once you're up, that's your space. You're in that space, you're safe there. You do your thing and you engage with it and if you can be inside every song, you're doing each other justice and your songs justice. But you have to go there to get that right. That's something you own and create and it's the only thing you can really protect. What people say about your records and how they are received, they're out in the world, but when you go to a show, that's your space.
MT:
Have you had time to let the 'describe your album in three words' question percolate?
Tjhung:
[After some deliberation.] What about 'World War Three'?
Deaf Wish performs with special guests The Gotobeds and Paint Thinner at 7 p.m. on Thursday, Sept. 13 at Deluxx Fluxx; 1274 Library St., Detroit; deluxxfluxx.com; $10.

Get our top picks for the best events in Detroit every Thursday morning. Sign up for our events newsletter.