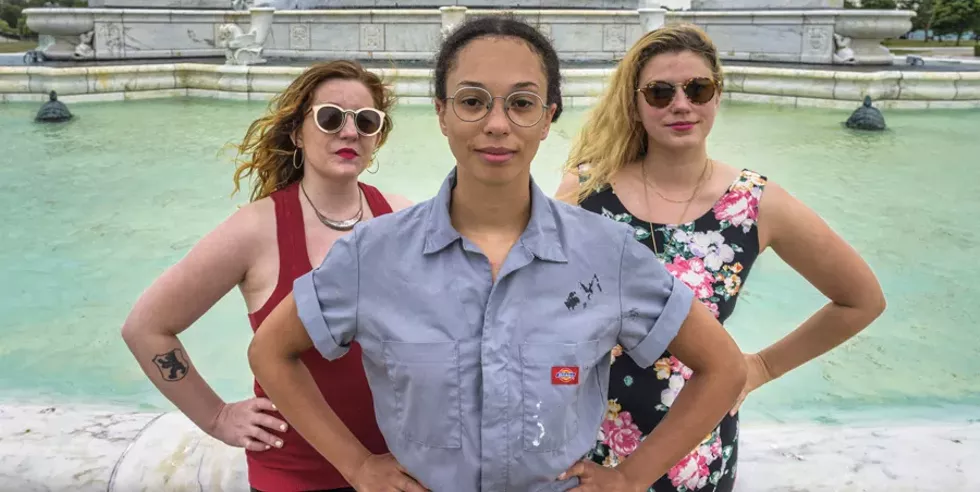 While DJing a kid's open mic night recently, Nandi Comer noticed something she felt immediately compelled to address. While the boys seemed to have no reservations about coming up and expressing curiosity about DJing — "just in my face, almost grabbing at the equipment, no questions asked," she recalls — the girls tended to stay back.
Yet when Comer asked them if they were interested — surprise, surprise — they were. So she encouraged them to come over to show them how to DJ. "It's important that girls see DJs also, so that they understand that no matter what genre, women are a part of the music scene as much as men are," she says. "Girls need to see they can come up and unapologetically touch people's equipment the same way boys can."
Comer admits she's being cheeky, but her larger point is that of inclusion. And that's why she says the work of Seraphine Collective — the Detroit-based feminist group she is involved with — matters.
Seraphine Collective exists, essentially, to help make women more visible in music, with a focus on community building too. For longtime member Rachel Thompson, who is also a clinical social worker and grassroots organizer, the two goals are intimately connected.
"I've met some of my favorite people through workshops and Seraphine meetings," she says. "(I) formed some of my most authentic personal and organizing relationships on dance floors."
It may sound minor, but Thompson says an important first step toward taking on more serious patriarchal issues is to first form authentic human relationships. "Music is the best way I've found to make that happen," she says.


Seraphine Collective has been supporting artists and musicians since Lauren Rossi — the bassist in local post-punk group Casual Sweetheart — founded the organization in 2013. Dissatisfied with the lack of visibility of women in music, Rossi launched a blog to feature interviews with female musicians; out of those interviews came a number of ideas, one of which led to the birth of the Seraphine Collective.
While Rossi is no longer an active member of Seraphine, the idea took off. The collective plans events and books shows that specifically highlight bands led by or made up of women and gender-nonconforming individuals. They also put out mixtapes that highlight these acts, with an even bigger goal to someday launch their own record label.
Thompson serves on the Seraphine Collective's board of directors, but she is also chair of its workshop committee — and this year, the collective's workshop programming is getting more attention than ever. In 2016, they became finalists in the Knight Arts Grant Challenge on the strength of their Beat Match Brunch Workshop. This four-week course is dedicated to teaching women the art of the beatmatch — the classic DJ technique of shifting the pitch of the next song to match the tempo of the one currently playing in order to facilitate seamless transitions between tracks. The first course was held last April, and Seraphine already has plans for a second course this fall.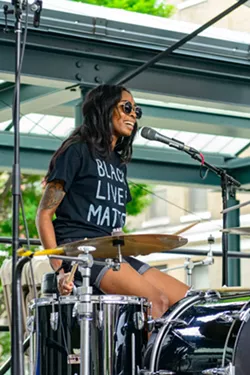 The collective was awarded $15,000 in grant funding to build and sustain the Beat Match Brunch workshops further, which they estimate will cover up to three more full courses. But that money comes with a catch: They must match the funds in order to receive them, resulting in $30,000 toward the workshops. The deadline is October 31, and the year has been a whirlwind of activity in order to make that happen.
The members of the collective, however, are used to having extremely busy schedules. On top of day jobs, the work that goes into building community and supporting creative expression among underrepresented musicians and artists in Detroit is truly a never-ending project.
"It's a lot of work, but a lot of things are possible," says Dina Bankole, the collective's acting president (she also plays drums in Casual Sweetheart and makes music in the projects Secret Twins and Skinny Wrists). "We can really affect change in our communities just by coming together, working together, and not letting things get us down."
Bankole sees a definite connection between her work at a nonprofit called Build Institute — a small business incubator and accelerator that has helped several local businesses launch, including Sister Pie and Detroit Vegan Soul — and her work in Seraphine, in that they're both community-based.
"With Build, we're helping people start their businesses, which in turn will help Detroit become a better city. With Seraphine Collective, we're supporting artists and musicians so that our creative community becomes a better, more accepting, worthwhile place to be," she says.


Supporting the arts is a crucial component, but as feminists Seraphine Collective says they're also able to shed light on social justice in the community, particularly as it relates to the music scene. One way in which this has recently manifested itself is through a series of community dialogues around ending rape culture.
Thompson, who has been instrumental in organizing the rape culture dialogues, points out that the discussions have given people the courage to speak out about their experiences and realize that they are not alone and not to blame. Thompson hopes to be able to offer nonjudgmental dialogue facilitation for both victims and perpetrators who want it. "Nothing is going to change if we stay silent and shameful of our experiences," she says. She says she also plans on working on video PSAs, prevention training, male ally dialogues, and eventually developing a safety policy and safety rating system for all Detroit venues.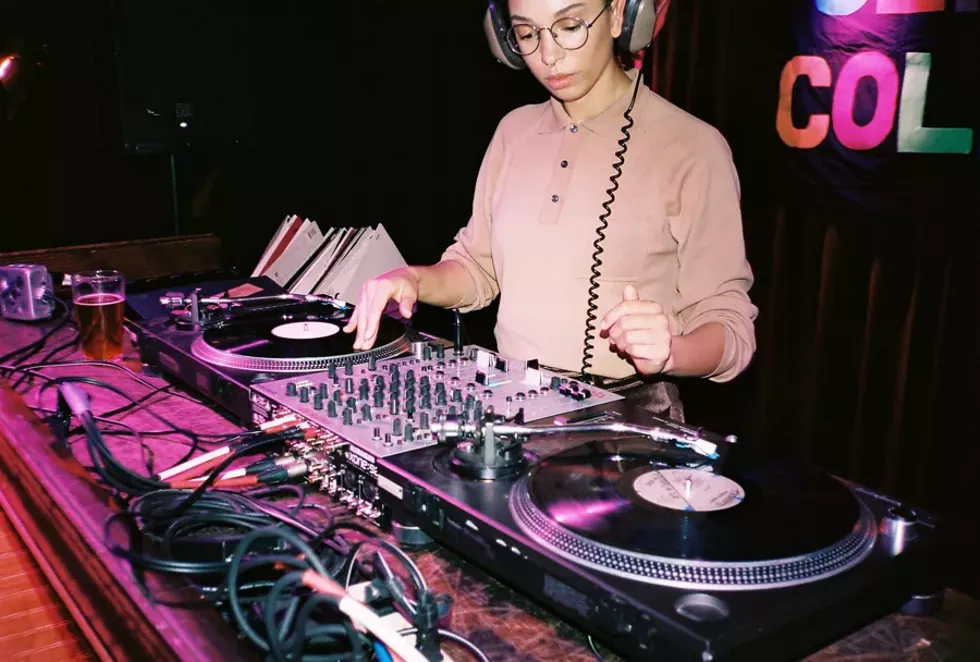 This is also important to Tina Louise, another member of Seraphine who is also on the board of directors. A social worker by trade, Louise makes music as the vocalist of riot grrrl punk band the Free Bleeders, and has also been a key figure in organizing the rape dialogues.
"We've had so many stories related to alcohol in which women and other vulnerable people are sexually assaulted in this way," Louise tells us. "I want to live in a world where men only engage in sexual behavior that is fully consensual and not based on predatory manipulation. Everyone should be able to go get silly in a bar and not be stalked by sexual predators."
Seraphine is careful to book shows and plan events that feature bands led by or composed of women and gender-nonconforming individuals at inclusive venues. How to best carve out this sorely needed community space, where people can perform — and enjoy watching others perform — without having to fear for their safety is a frequent topic of discussion for Bankole. One way they approach this is to do their best to listen to what people have to say about other people in the scene, especially when there are complaints. "We take them very seriously," she tells us. "We have a hard line when it comes to abusive behavior."
The Seraphine Collective's no-tolerance policy on abuse came to a head with the Hamtramck Music Festival controversy earlier this year. One band booked for the festival faced accusations of sexist, racist comments targeted at other bands on the bill, while a member of another band was revealed to be a registered sex offender who pleaded no contest to three counts of fourth-degree criminal sexual conduct in 2008.
While the festival committee held several meetings to figure out how to address these issues, Seraphine immediately took a stand: As an entity that prioritizes inclusive, safer spaces, they removed themselves from the festival entirely and set up an alternate show at UFO Factory, with proceeds from the event donated to local organizations that support victims of abuse.
And that wasn't the first time the group has drawn a line. Back in 2015, when Hamtramck venue Small's booked a controversial all-male, all-white rock group named Black Pussy, the members of Seraphine instigated a boycott of the venue. If the venue was not willing to drop the offensively named group, Seraphine Collective said, they would have nothing to do with them — a boycott that continues to this day.


The culmination of Seraphine's supportive efforts is perhaps best represented by their annual music festival BFF Fest, providing a platform for diverse acts. Double Winter, as likely to jam surfy psychedelic garage as they are avant-inflected dream pop, played their very first set at BBF 1. An early show in the career of psychedelic freakout rockers the Deadly Vipers, still known as Deadly Viper Assassination Squad at the time, also took place during the festival's first run. Stef Chura and her band, known as Diskette at the time, had just begun performing her Liz Phair-esque guitar-pop then as well. And Bankole played her first show with Casual Sweetheart at BFF 1. It's also where she met Rachelle Baker, of electronic duo Little Animal.
"They've put on some of the best shows I've played and been to," Baker says. "They also definitely make me have a higher standard, not only for shows that I play but shows that I go to. If a show doesn't have at least one (female) performer, it's hard for me to want to be there. As many women as there are playing and making music in this city ... and you can't even get one on your bill?"
Not only does the festival provide a chance to correct the lack of female and female-identified performers, but it also provides an opportunity to discuss some of the issues that women face through workshops (last year, one workshop focused on putting an end to street harassment) as well as providing a platform for sharing experiences through zine contributions.
The group releases one to two zines a year, known as the Serazine; about a year ago, Louise contributed a piece titled "Calling Out/Calling In: 'Boys Will Be Boys' and other patriarchal notions affecting the Detroit Music Scene." In the piece, she describes her experiences with total strangers out at shows. In one, she is rendered invisible as Dude A pushes her away from the bar and pays no mind to the fact that he practically knocked her over. In another, Dude B decides he can just rub her back and shoulders as he makes his way to the bar. "Sssh, it's OK," he tells her when she protests. Not only is she invisible, but she also happens to have a body that men are entitled to touch whenever it suits them.
"What many, many, many, awesome and good-hearted feminist men need to understand is that these are not rare occurrences," Louise says. "I have been groped, sexually harassed, catcalled, pushed, shoved, and treated like I'm completely invisible by men at shows for as long as I can remember."
The piece ends with a plea for the Detroit music scene to step up and call each other out on this type of behavior. "We are done being invisible," she writes — which might just be the perfect rallying cry for Seraphine Collective as a whole.
The importance of visibility within the community is stressed within virtually everything the collective does. The Beat Match Brunch workshop series arose partially out of a very real need that instructor Diana Nucera (perhaps better known as electro-soul performer Mother Cyborg) felt for the presence of more women DJs in a city with such a deep connection to the roots of the music.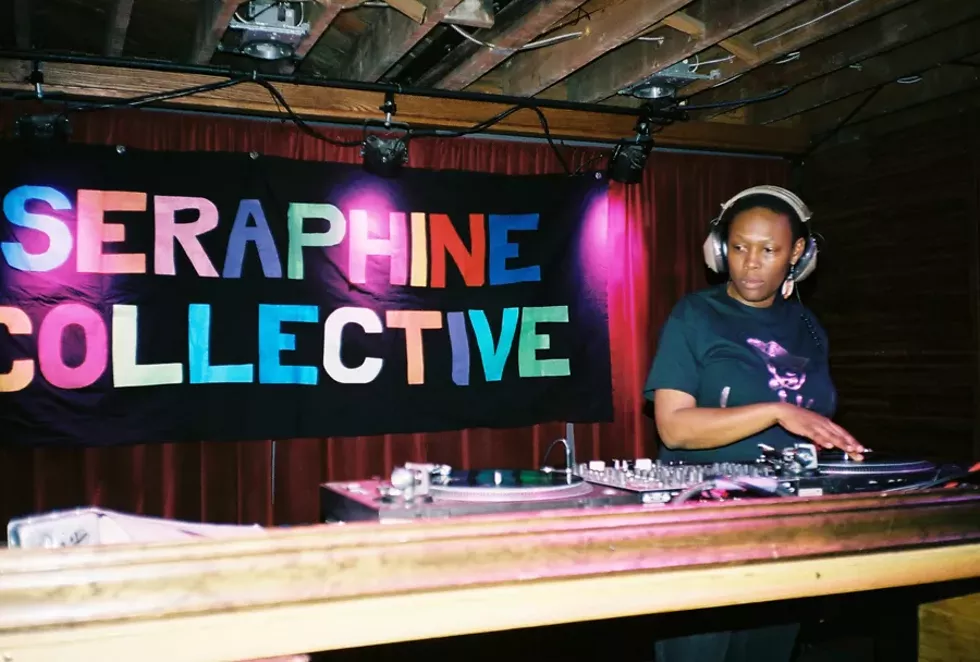 With Nucera's background in technology and education as the director of the Detroit Community Technology Project, she was a perfect fit to teach the class. She says she struggled to keep her Temple of Cyborg gig at Temple Bar together because she really wanted to highlight and work with women DJs. "I was sick of bitching about it," she says when reflecting on it now. So she started to work toward building that community herself by providing a comfortable environment for women to learn how to DJ.
It was also a great opportunity to test educational methods she was exploring in a book she wrote at the time called the Teaching Community Technology Handbook for her day job — "a handbook that goes through how you develop curriculum that is rooted in people's needs, builds community, and empowers folks," she says. She built the Beat Match Brunch curriculum with those community technology techniques in mind, but secretly had doubts that the students would learn how to beatmatch — not in just four classes (she says it took her six years to master it). But the results were, in Nucera's own words, beautiful.
"What made it beautiful was that the girls who showed up, they showed up because they had had this desire for so long and had no idea how to actually realize it," she says.
She did teach the mechanics of a record and record players, but she says roughly 50 percent of the class was not tech-based at all. Instead, it centered on "listening, understanding genre, how people move, what makes you move, who are you, why do you want to do this," she says, as well as less serious things — like instructing the class to write a haiku about their chosen DJ name.
But there also came a point after they had really started getting into it when she made them choose power stances and mantras. "If someone makes you feel doubtful about your skills, what are you going to tell yourself?" she says. "What is the stance your body is going to take to make you feel that mantra?" For her, that comes from being beaten down so much at gigs with people's doubt — and she wanted the girls to be prepared.
"It was my way of creating the community that I needed to keep this all going in Detroit. ... The ripple effect has been really powerful to see," she says. "Who knew? I never expected that. I just wanted to teach some girls how to beatmatch, and it turned into this whole gorgeous thing. I feel like a very lucky person to be involved."
Before Sophia Softky — now the chair of Seraphine's fundraising committee — took the class, she knew the Seraphine Collective primarily from her role as a freelance writer reporting on the local music scene (the collective had helped her out with some tips and connections). She now works at Allied Media Projects, a Detroit-based nonprofit organization focused on cultivating media strategies. Seraphine Collective is one of dozens of its sponsored projects. When she saw the open call for the DJ class, a fire lit inside of her.
"I didn't even know that this was what I wanted," she tells us. "The workshop itself was a genuinely life-changing experience. I got to learn this entirely new skill set in a really supportive environment, which was so unlike the environments I had encountered electronic music in before — very male-dominated and tech bro-y, very competitive and non-welcoming." She now DJs under the name Beige.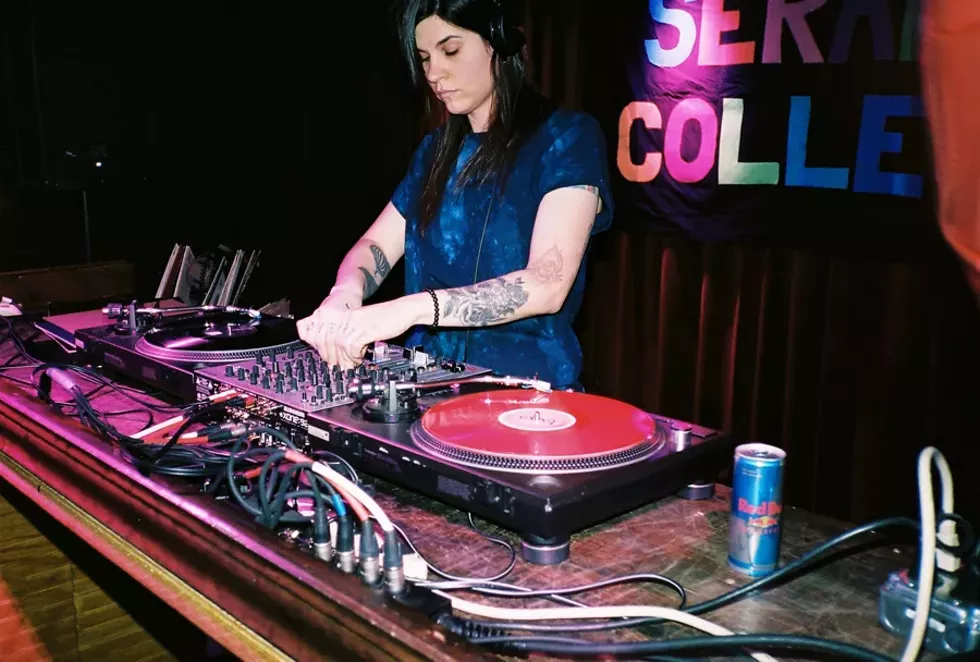 The emergence of a ready-built community of women DJs from this workshop instantly showed its value, and the Seraphine Collective knew they wanted to keep this particular series running and make it a permanent part of their programming. The Knight Arts funds they were awarded can sustain the program for at least three iterations, allowing them to buy equipment, rent space, and pay Nucera. Ideally though, they say the workshops will continue indefinitely. "We'll have the equipment, so we're hoping that people like me, who have taken the workshop, will be able to take over teaching the next generation," Softky says.
Fundraising efforts have raised roughly half the amount needed so far, in the form of shows and events put on by the collective with some help from local businesses and musicians, including Mother Cyborg, who donated all the proceeds from the recent record release show to celebrate her debut album, Pressure Systems. Future events will be planned up until the Halloween deadline, with plans to launch a GoFundMe campaign soon, as well (the group is currently accepting donations).
Seraphine Collective says they will hold the workshops even if they do not match the funds — but the grant would ease the burden of buying all the equipment they need, as well as renting a permanent or semi-permanent space to host the workshops, store the equipment, and otherwise be available for DJs to practice. During the last program, the DJs would get together in between classes to practice, but they would have to borrow Nucera's turntables and cart them back and forth, on top of figuring out where to practice every time; a dedicated space would eliminate these logistical hurdles.
The next program is already planned for September, and it will be hosted at Assemble Sound, the abandoned church-turned-recording studio in Corktown. The workshops at Assemble Sound may turn into a longterm partnership or they may find their own space eventually, but Assemble Sound is eager to help them out with the next iteration.
"Everybody who I've talked to about this program is so stoked about it," Softky says. "Everybody wants to help or contribute and make it possible because so much good has come out of it already."
That good is overwhelmingly in the form of showing women that they can join the music world — whether they're making it, DJing it, writing about it, however they choose to participate in it. While the Knight Arts Challenge funding is specifically for the Beat Match Workshops, the workshops themselves, Softky says, "are also a vehicle to see change in the Detroit music scene in general, and the broader electronic scene outside of Detroit as well. Women and gender-nonconforming people are vastly underrepresented in electronic music performance, production, and DJing, which is ridiculous."
Much of the history of electronic music — especially disco, house, and techno — are deeply intertwined with the political history of liberation movements. "This is very political, socially radical music and women in particular have been shut out of that," she says. "It's not like women haven't been participating or haven't been innovating, but they're not recognized. There aren't that many avenues into learning the art forms and tech."
That dovetails with Seraphine's overall mission to change perceptions about and accessibility to all music scenes. And that would benefit not just women, but everyone. "Opening up cultural spaces enriches all of us — men, white people, straight, and cis people included," Softky says. "Locking people out of the scene for any reason impoverishes the scene for all of us. Recognizing that everybody has something to contribute, I hope anyone can see why that's important."


When discussing future plans and current efforts with the group, it was difficult for everyone interviewed to avoid the topic of the Trump administration. "Outside of Seraphine, I'm trying to organize my ass off to stop what's coming," Softky says. "I don't know if any of us will be successful at that. It's evident that we're in for a world of pain, but maybe these musical or cultural spaces that we're trying to create can be avenues for change and spaces of healing."
Softky says it's forced her to take a look at the bigger picture — and take solace in the small things too. "Thinking about the kinds of music I want to play, the history of the music I want to play, who I'm playing to, why I'm playing, what the purpose is, what am I trying to do?" she says. "Once a week, you get to be in a DJ booth, play music for two hours, and think about nothing but that. That helps. That's something."
Seraphine Collective's day-to-day efforts continue to focus on supporting and promoting inclusive cultural events and spaces. Softky is heavily involved in organizing fundraising events, as well as building her own DJ repertoire. Last month, she launched a new monthly DJ brunch series at UFO Factory with Comer, who DJs as (____) STACKS: a bring-your-own-records event open to women, femmes, non-binary, and gender-nonconforming folks.
Bankole, in addition to her musical projects, is hard at work booking and organizing the next BFF Fest; this year, it's taking place August 11 through 13 at El Club, which will include workshops, an art show, a zine, a mixtape, and a clothing swap — on top of all the music, of course. Expected acts at BFF Fest 4 include True Blue, Eliza Godfrey, Mahogany Jones, Soft Location, Mother Cyborg, Little Animal, and Miz Korona — among others.
In addition to BFF Fest and fundraising for the Knight Arts Challenge, Bankole has also been hard at work booking their regular crop of shows and events, on top of planning how to improve the collective. One big idea is a transformation of the current meeting setup. Previously, the group held businesslike open meetings once a month at various locations. Bankole wants to cultivate a new set-up for these monthly meetings, one with a different type of atmosphere that combines the collective's goals socially in less formal but still relevant ways that are more communal, educational, and fun. Some ideas include planning daytime shows, having pedal and synth demos at Third Wave Music, or taking a tour of woman-owned United Sound Systems Recording Studio.
Beyond that, the group says they hope to one day create a permanent space. "We've been dreaming about it for years," Bankole says. With its own space, the Collective says they would be able to do their own booking, as well as get more of their workshops and projects off the ground. The challenge, as is often the case with such groups, is finding the financial resources to make it happen, but they're prepared to go all-in. After all, this is what they do.
Ultimately, it's perhaps Little Animal's Baker who says it best: "If the music scene and industry won't make a place for us," she says, "then it's up to us to make a place for ourselves and for others."