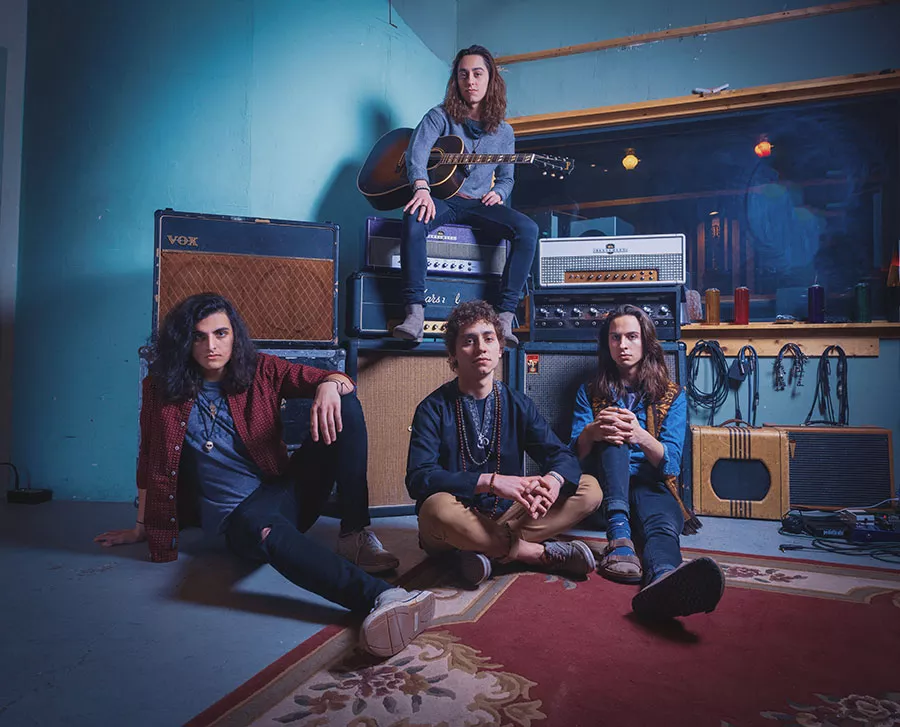 In a dimly lit lobby of Royal Oak's Rustbelt Studios, Greta Van Fleet drummer Danny Wagner opens a bottle of water. "They're always late," he says of his three bandmates, brothers Josh, Jake, and Sam Kiszka. They are in fact late by half an hour, and I have to wonder if their rock 'n' roll antics precede them or if they had simply done their homework.
At 19, Wagner is the second-youngest member of the Fleet, and only when he turns to the side does he strike any resemblance to the late John Bonham. The comparison is only apt because the young band has drawn plenty of comparisons to Led Zeppelin — but more on that in a bit. When I attempt to make small talk by addressing our age gap, Wagner attempts to calm my apparent woes. "I've heard that most women peak at 30," he shrugs. "It looks like you're doing OK for yourself."
Thanks?
In terms of OK-ness, Greta Van Fleet has exceeded expectations — which for a band that has been passed the dying torch of traditional rock and has been tasked with keeping the damn thing ablaze, they seem to defy the fate prescribed to most revivalists. 2017 saw the release of the band's first EPs, which were combined to form the eight-track EP From the Fires. "Safari" and "Highway Tune" rocketed to No. 1 on Billboard's mainstream rock charts, and all 42 dates of their first headlining tour sold out in advance. In recent months, they've found fans in Tom Hanks and Justin Bieber, and have been tapped to open for Guns N' Roses in Europe this summer. Just days before our interview, the band performed with Sir Elton John at his annual Oscar viewing party.
"These guys are so amazing they take my breath away," John said of the quartet in an Instagram post. "They're bloody amazing."
In appealing to die-hard Zep-heads with their primal 1970s transmission — at times, sounding like the best fucking Led Zeppelin karaoke anyone has ever heard, and I tell them as much — they have also successfully seduced a generation too young to have experienced the band's foundational source material firsthand. Something old, something new, something borrowed, and mostly blues — on the surface, the Greta Van Fleet formula does not need adjusting, just some explaining.
During an interview with Rolling Stone magazine, Josh rehashed a recent incident where a stash of colored pills had spilled from his pocket during a performance at a Chicago radio station. What could have been a scandalous mark against the young rocker's reputation turned out to be one example of the band's many glaring rock trope anomalies — the pills were fucking multivitamins.
In other words, Greta Van Fleet have not watched Kenneth Anger's film Lucifer Rising in a corner suite at the Plaza hotel alongside David Bowie with a table full of cocaine, nor have there been any reports of their tour manager pulling a gun on a Fleet Street reporter on a flight to Detroit, and certainly there have been no rumors involving a satanic ritual, a dead shark, and intercourse with a teenage girl. Instead, the band's Instagram feed is strewn with videos of the brothers jumping barefoot into puddles, climbing out of first story windows, eating Girl Scout cookies, and leaping into clumsy backstage cartwheels — rebels with no cause for concern.
In appealing to die-hard Zep-heads, Greta Van Fleet have successfully seduced a generation too young to have experienced the band's foundational source material firsthand.

tweet this
Wagner has retreated to the studio, where producer Al Sutton is running some playback on what is shaping up to be the band's debut LP. Meanwhile, I can't help but obsess over the time and the rest of the band's tardiness as I know the band is set to leave for Europe the following day and during a phone call with management I was told that we had to schedule the interview on a Friday at the end of a work week because the young men are supposed to be recording and are "easily distracted." Great.
Moments later, the studio door flies open and a flood of sunlight pours through behind the tornadic energy of the brothers Kiszka. Josh, sporting a traditional Indian kurta, prayer beads, and an Om pendant, picks up a stack of papers and throws several pages in the air. "This is top secret information, what's going on here?" he says. "This is bullshit!" Jake and Sam follow in a flurry of crosstalk and physical schtick and my introduction to Greta Van Fleet unfolds like a comedic outtake from the Beatles' A Hard Day's Night. The kids have done their homework.
Though they are set to embark on a tour that will carry them through mid-October, they have not packed, nor have they finished recording. They do not seem the least bit bothered by this. And, according to them, they have been granted free reign to do whatever the fuck they please.
"You can't rush a piece of art like this," Sam explains. "I mean this is a substantial piece of work and I think a lot of bands have the trouble of the label getting on them. We haven't gotten that pressure."
"Granted, we've had to instill that as the case," Josh adds. "I think we just have a high expectation for ourselves. You know, for me as a singer and performer, I want to get the best performance, the best vocal I can possibly put down, you know —"
A train running adjacent to the studio roars by.
"That has ruined a lot of recording," he says.
Josh explains that the unfinished debut is all about exploring the "multi-dimensionality" of the band.
"People just presume that it's a Zeppelin thing," he says. "But I don't think after this comes out that that is going to be as prevalent as the initial stuff. We've got our foot in the door now, you know?"
"You are in the door," Danny says.
"You may be the door," Jake adds.
If you want to challenge Greta Van Fleet's rock bona fides, ask about John Denver, Joni Mitchell, or Gordon Lightfoot. Or better yet, throw the name King Crimson at them and watch them light up as they fight to name their favorite overlooked psychedelic influences like Captain Beefheart or Quicksilver Messenger Service. More than Zeppelin itself, the band collectively cites Zeppelin's influences as being integral to establishing its sound. Josh says they were "injected with the blues" early on, having grown up with records by Howlin' Wolf, Big Bill Broonzy, Taj Mahal, Wilson Pickett, and Robert Johnson.
"I think it's really quite interesting how the beginning of the blues was really culturally created, you know?" Jake says. "It came from oppression of the black man and slavery. And it's not to say at all that we've encountered anything close to the amount of pain that they have, but to be able to try and understand it being a bunch of guys from a really small town can offer a different perspective."
As cringeworthy as a bunch of white kids covering Sam Cooke's "A Change is Gonna Come" might seem, Greta Van Fleet proves to be a rare exception. As one of the two covers on From the Fires (the other being Fairport Convention's "Meet on the Ledge"), the band knows better than to dare duplicate the haunting poignancy of Cooke's 1964 performance. Instead, their version reads more like a tribute after having given it their writhing, high-charged treatment.
"We've never really paid attention how it's [our music] received," says Sam. "It's just how we think. You know, is it done? Is it good? Is this our perfection? Is this as close as we can get? So, I think that's what we're mostly worried about. I don't think we've actually thought about public perception until —"
"Right now. Fuck!" Josh interjects. "If the album tanks we could probably give a shit, you know what I mean? It's just music. If it all ends tomorrow — "
"It's alright," Sam says. "We move on."
"Then we'll find another woman in town to name our band after," Wagner laughs.
If you haven't pieced it together, there is no one in the band named Greta Van Fleet. The name is a nod to Gretna Van Fleet, an unsuspecting, dulcimer-wielding hometown elder. (Josh says the "n" was dropped because it "flowed" better.) As for their hometown, well, it's not Detroit Rock City. All four members hail from Frankenmuth, Mich., a Bavarian-style tourist town known for its family-style chicken dinners, indoor water parks, and Bronner's — the world's largest "CHRISTmas" store. In other words: a colorful road-trip rest stop and the most unlikely re-birthplace of rock 'n' roll. The band is aware of this, and lay it on thick.
"It's like being on vacation every day of the year," Josh jokes. "We go to school on toboggans."
"It's like being an elf in Santa's magic court," Sam adds. "We build snowmen every day, ride horses. It's a make-believe, animated town."
Before Wagner joined in 2013, the band may or may not have performed at a Christmas formal while Sam was still in middle school — the band can't remember the details.
"Everyone was freaking out," Josh recalls. "'Oh my god, there's so much skin and it's just too loud, oh my god. What are we going to do? It's going to blow the windows out and all the world's going to melt! All the kids are going to be gay!'"
"All the kids are going to turn communist!" Jake chimes.
No one would fault Greta Van Fleet if they wanted to describe themselves as a Detroit band, even though Frankenmuth is an hour and a half north of the city. After all, the band members agree that their hometown is almost completely devoid of rock venues or a discernible music scene beyond something called "Friday Fun Night." According to them, though, Frankenmuth is a unique place to have grown up.
"I think it's cool because if you go around and no one's heard of your town, which happens quite often, you can share some things you're proud of, and I'm proud to be from Frankenmuth," Wagner says.
During an interview with an Australian outlet earlier this year, Zep frontman Robert Plant gave his official endorsement to Greta Van Fleet. When asked if he was excited about any rising rock 'n' roll bands, Plant referenced "a band in Detroit" and proclaimed that Greta Van Fleet was "Led Zeppelin I," and called Josh a "beautiful little singer."
"I hate him," Plant jabbed with a mock-jealous snarl.
There's no question that Josh's guttural wailing and acrobatic high tenor is what draws those exhaustive Zeppelin comparisons, but to overlook the remarkable musicianship of the band as a whole would be to dismiss all the evidence proving that they are nothing like their "Stairway to Heaven" predecessor.
Sure, Jake told Rolling Stone in January that he had spent a year studying Jimmy Page so "intensely" that he "knew how he thought." But his intuitive riffing is gnarly, and of his own design. And Sam? His restraint on the bass elevates the band's improvisational style to sounding polished and purposeful. Heavy-footed Wagner on drums is a force, and is more akin to the likes of Carmine Apprice than Bonham. Together, the band forms a tight, well-oiled machine. And even though they draw heavily from rock's past, they are different.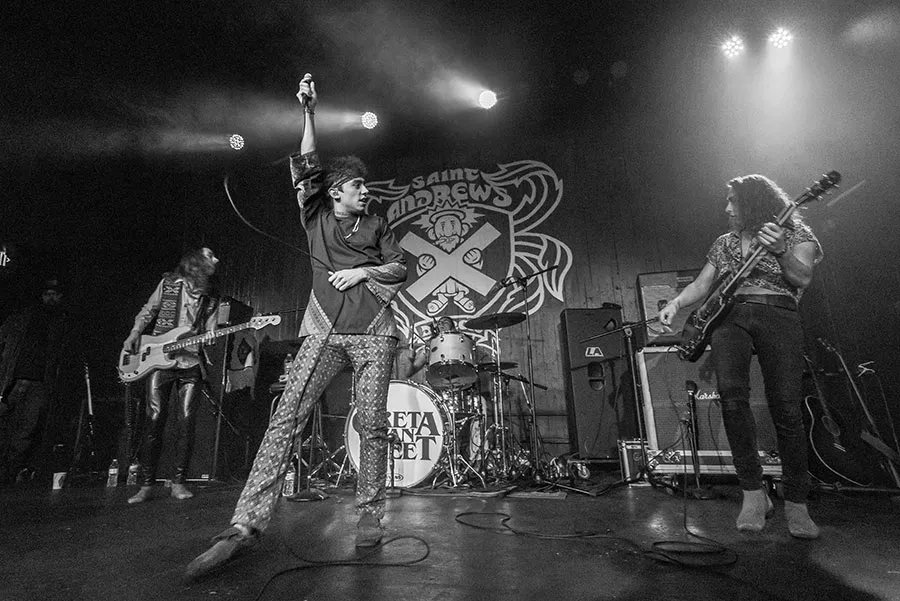 "Everybody's so mad in rock music," Sam says when asked about contemporary rock.
"Right, like telling the audience to fuck off. The kind of thing that turned me off to a lot of [modern] rock 'n' roll is it sounded so hateful," Josh confesses. "It didn't make you feel good like rock 'n' roll does for me, you know? So, that's kind of the thing that our music does, I think, is it doesn't get you down. It lifts people up, all of us, like a real community."
"I think rock 'n' roll should set your soul free," says Sam.
OK, if you're like me, then maybe you had your doubts about the authenticity of Greta Van Fleet. How are some kids from Little Bavaria armed with guitars, a pocket full of vitamins, and access to their parents' vinyl collection any more rock 'n' roll than, say, Disney's Jonas Brothers?
It's clear they've studied the cadence of early Beatles press conferences, mastering their conversational ping-pong (thanks, YouTube) and they've copped the tight, flared, and fringed costumery of their rock-god compatriots (thanks, Tumblr). When asked about staying grounded they say family is key, and they would much rather retreat into the woods than get loaded in VIP sections. If they were forced to pick a new career, they jump at the chance to call dibs on Disney World mascots (Josh likes the idea of playing Aladdin, and we all suggest Wagner would make a killer Mowgli).
'The kind of thing that turned me off to a lot of rock 'n' roll is it sounded so hateful. It didn't make you feel good like rock 'n' roll does for me, you know?'

tweet this
Greta Van Fleet has not reinvented the wheel, nor have they discovered literal fire. What they have found, however, is a formula to reintroduce the world to a genre that was allegedly dying long before these kids were even in the womb. We can scoff and say we've heard this before, and we have — 50 years ago. But 50 years ago you could score ketamine in a convenient parking lot and smoke cigarettes in hospitals, and wearing a seatbelt was totally optional. Everything felt dangerous because it was dangerous.
The fact that times have changed does not invalidate what Greta Van Fleet has set out to do, consciously or not — which is to reformat rock 'n' roll to be sustainable for both the listener and the performer. It's the "live fast, die young" rock trope that is overplayed — not white kids playing pentatonic scales. Similar to the greats before them, Greta Van Fleet is not concerned about the future, but this time it's only because they're making damn sure that they will be around to have one.
As for what's next, Sam admits it's all on them. "If anything," he says, "we've been given the opportunity to do something great."
"We're just going to continue making the music we make regardless of how anybody feels about it, "Josh laughs. "I guess Led Zeppelin karaoke works pretty well."
Greta Van Fleet will perform Tuesday, May 22, Wednesday, May 23, and Friday, May 25 at 7 p.m. at the Fillmore; 2115 Woodward Ave., Detroit; 313-961-5451; thefillmoredetroit.com; Tickets are currently sold out, verified resale tickets are available through ticketmaster.com.
Get our top picks for the best events in Detroit every Thursday morning. Sign up for our events newsletter.