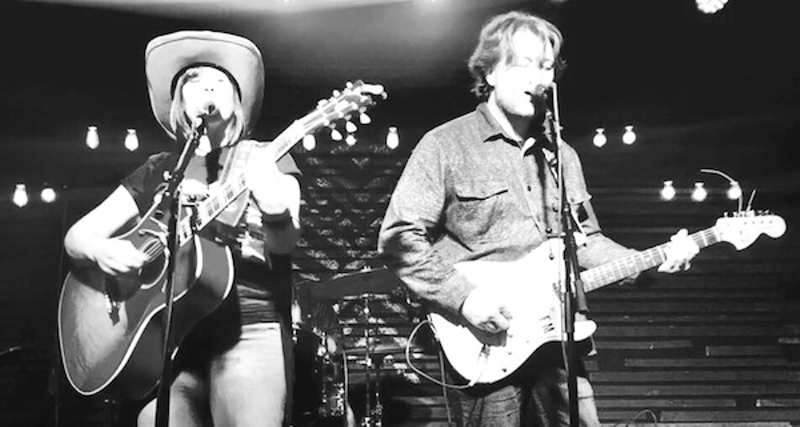 The word is out now: With the release of the new video game
Detroit: Become Human
we can now reveal that some actual, nonfictional Detroit bands are featured in the game. We don't know how they appear, we don't know why, but we do know which bands and which songs are included.
The bands include some we've covered here in the pages of
MT
:
The Whiskey Charmers
,
Emily Rose
,
Thornetta Davis
,
Rocket 455
, Juan Atkins (as
Model 500
), and
White Shag
. The songs have mostly been uploaded to YouTube over the last several hours, and we'll provide links to them below.
The fact that this development was such a surprise was intentional: The people behind the game asked the artists to keep it quiet until today. Or that's what we heard from Whiskey Charmer Carrie Shepard, who spoke with us this afternoon and spilled the beans on how her band got involved.
Shepard tells us it all started with a post on social networking about two or three years ago asking Detroit artists to submit their music for possible inclusion in a larger project.
"It wasn't a lot of information," Shepard says. "So I emailed them and they emailed us back and told us what it was for — but we didn't know anything about video games. I think we gave them our whole first record, and told them, 'These are the songs we have.' And then we didn't hear from them for a year."
That silence came to an abrupt end six months ago, when game developers emailed the Whiskey Charmers, saying they'd selected three songs that "fit perfectly in the game." A few months later, the duo was asked to sign a nondisclosure agreement.
"They didn't want anybody to know anything about the game," Shepard says. "In fact, we still don't know much about the game, other than reading reviews. We don't have a PlayStation. We don't have a copy of game. We don't know where the songs could be in the game."
In fact, Shepard has been watching live streams of people playing the game, trying to figure out how her group's songs figure in.
"Last night," she says, "I watched at midnight some random person's live stream. Of course, we didn't see any music, but they had a musician playing a guitar outside some familiar-looking place downtown. I thought maybe that's how they get into the songs? But then he started singing and it didn't sound like anybody I knew."
Shepard adds with a laugh: "Then the guy live streaming asked, 'Should I push him?'"
It's all cause for plenty of laughter for Shepard, and makes for some odd conversations with her kids, who seem to be the most freaked-out party of all.
"I sent a link to my daughter, and she said, 'Mom, are you sending me a link to a live stream?' She told me, 'Mom, I don't think you understand how weird this is. You don't even realize.'"
01:
"Boom Goes the Music Box" - Emily Rose
02:
"Straight and Narrow" - The Whiskey Charmers
03:
"Seven Moons" - Emily Rose

04:
"I'd Rather Be Alone" - Thornetta Davis
05:
"C Blues" - The Whiskey Charmers
06:
"Perfect Day" - The Britemores
07:
"Set Me Free" - Thornetta Davis
08:
"Can't Leave" - The Whiskey Charmers
09:
"Electric Night" - Model 500
10:
"Johnny Lawless" - Rocket 455
11:
"Midnight Cry" - White Shag
12:
"Go to Hell" - Rocket 455
13:
"Voices in My Head" - White Shag
Get our top picks for the best events in Detroit every Thursday morning. Sign up for our events newsletter.