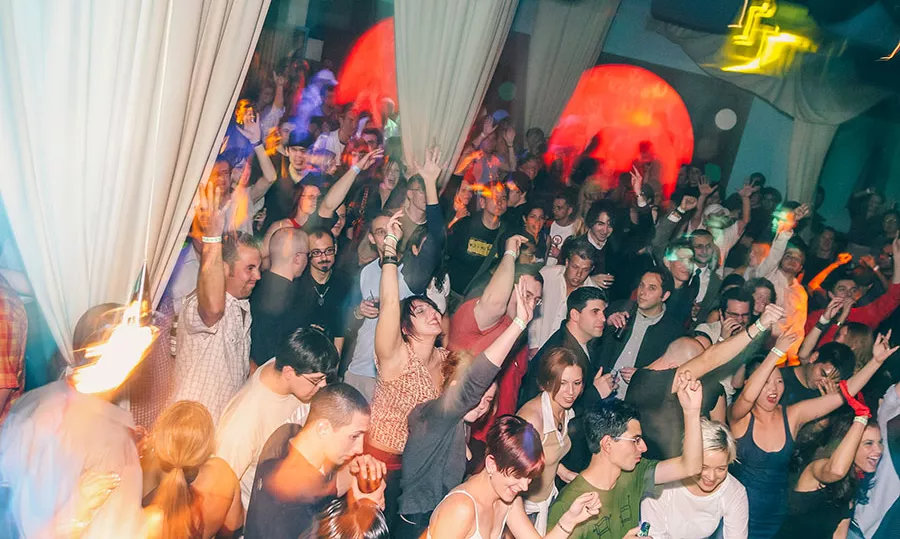 It all began in the '90s, at 1217 Griswold St. — a building in Detroit's Capitol Park that housed 10 sprawling lofts, making it the perfect breeding ground for art, music, and a healthy dose of hedonism. At the time, many of the city's budding electronic music promoters inhabited the space, each floor dedicated to a different genre, ranging from ambient to jungle, and of course, techno. The lofts gained a reputation in the underground community as a destination for late-night parties; when 2 a.m. came around, so did the bass.
It was in this place that a group of soon-to-be friends would be brought together by a shared passion for music and would first be inspired to form Paxahau — better known today as the producers of Detroit's Memorial Day weekend Movement Music Festival. On Saturday, the company will celebrate its 20-year reunion with a party that looks as much to the future as it does to the past.
Speaking with some of Paxahau's core crew — founder and president Jason Huvaere, co-founder and creative director Jason Clark, director of operations Sam Fotias, and talent buyer Chuck Flask — one gets the sense of a tight-knit group of war buddies. Those early years "[were] only 18 months but felt like five years," says Huvaere.
"[1217 Griswold] was the solidification of a lot of our relationships, and the disillusionment that a lot of our relationships wouldn't last forever," says Fotias. The four say they got a crash course in humanity by coming face to face with individuals from different backgrounds, goals, and ambitions, who were all united by the late-night rhythm that brought together a mishmash group of artists, rebels, and tech-junkies under the banner of underground music.
It wasn't until a few years later in 1998 when Paxahau began to take form. By that time, rave culture had gained a bad reputation, and the illegal parties in vacant warehouses were starting to be targeted by the cops. It was at this moment when the Paxahau guys say they saw a void.
"The actual Paxahau brand at the time it started was post-techno, industrial era," says Huvaere. "1217 Griswold, Packard Plant, [these] different warehouses — a whole part of history had come together and paused, and it was in that pause that Paxahau was born."
At the time, mp3 technology was just starting to emerge, giving fans the opportunity to listen to their favorite vinyl or CD tracks digitally. Paxahau got its start by archiving sets and operating as a quasi-pirate radio station, allowing listeners to play back tracks that they usually would only hear if a DJ pulled out the record at a party.
The company didn't begin to throw events until 2000, when they held their debut Take This party at Hamtramck's Motor Lounge. At that time, electronic music was still considered an underground phenomenon that had yet to conquer festival stages and arenas as we know today. And because of the relatively loose guidelines, events were still able to exist under the radar.
Operating in what they describe as a "legal-ish" capacity, Paxahau began throwing warehouse parties that they describe as safe but uninhibited, allowing the parties to still exist in places that would be out of bounds today.
"Everything then was '-ish,'" says Huvaere. "Everything wasn't above board and scrutinized the way that it is now. They were all safe. All of our partners, all of our venue partners, production partners, everything was always safe. We were always operating in a gray zone, and that's what Detroit had a lot of — gray zones. And that's what made the events special."
In those first few years, however, the parties weren't able to pay the bills by themselves. There had to be an external source of capital to initially get Paxahau off the ground.
'We were always operating in a gray zone, and that's what Detroit had a lot of — gray zones. And that's what made the events special.'

tweet this
"[Huvaere] and I had a technology company that we ran together," says co-founder and creative director Jason Clark. "Basically we were building computers and doing websites for companies and were using that money to fund the parties."
Paxahau didn't even begin throwing an anniversary party until 2002 when they celebrated their fourth year. But as the years went on, the parties got more significant and more numerous. By 2006, Paxahau had thrown over 40 events. It was that year that Paxahau approached the City of Detroit with a proposal.
The Detroit Electronic Music Festival made its Hart Plaza debut on Memorial Day weekend in 2000. Although the free festival initially made a big splash, the years that followed became uncertain, run by various groups under various names like DEMF (2000-2002), Movement (2003-2004), and Fuse-In (2005).
In 2006, Paxahau was looking to grow and had its sights set on more significant projects. But with limited space to work with, and limited to one-off nightlife events, there was little opportunity for the brand to expand beyond club shows. Well, except for one.
"It was a big fight... we had been serving the city and music for a very long time before we earned our city contract," Huvaere says. "And we just ran out of people to work for and wound up writing a letter to the mayor and got a response."
It was Mayor Kwame Kilpatrick who had signed off on the decision to hand the festival over to Paxahau, a mere eight weeks before the event was set to start.
"It's like, be careful what you ask for, you know?" says Fotias. "Because we had an idea of what we wanted to do, what we had to do, what we promised to do, but it was a real time in regard to us coagulating as a team."
Despite the short deadline, the deals were already in place before Paxahau got the contract. The emails were ready to be sent, the press release was written, and the talent was willing to sign the dotted line. But for an event like this, there's no dress rehearsal.
"[T]here was no 'You're going to do this, and you're going to do that,'" Fotias says. "Everyone recognized what their strengths were and their abilities in what they communicate and how they communicate, and what their knowledge bases were in certain aspects of things. And it just set into motion."
In the years that would follow, Movement would become the face of the Paxahau brand. Hundreds of thousands of revelers would make the yearly pilgrimage to pay respects to the city widely accepted as the birthplace of techno. No longer just a locals festival, Movement would gain a national and international fanbase willing to cross the country (and sometimes cross continents) to enjoy what the curated lineup has to offer. After successfully wrapping up its thirteenth installation this past May, Paxahau continues to look to the future and always has their fans — and their critics — in mind.
"Lately it seems that it has been to appeal to the people who have been with us since the beginning who are super fans and then also appealing to the music kids, and the EDM graduates that are now paying attention to us," says Clark about the festival's biggest challenges.
In a city that still "remembers when it was free," Movement's fanbase is perhaps one of the most vocal audiences for any music festival in the country. And because Movement operates in a niche market, some fans who consider themselves to be techno purists are quick to express their distaste for some of the festival's booked talent.
This year, there was a substantial backlash after the festival booked Diplo — the producer-turned-pop-superstar whose work with acts like Major Lazer, Justin Bieber, and Skrillex has won him not only Grammy awards, but earned him plenty of haters too. Fans loudly took to the comment sections to express their distaste for the festival's supposed "lack of techno."
But Flask points out there hasn't really been a shift in the festival's approach to talent buying; the general model has been the same since the beginning.
"We've done the exact same model almost every year somewhat just with different talent — some the same, some not the same," he says. "So to me, I feel that we've kind of built this somewhat multigenerational underground music lineup that flows with each other. So whenever people complain about, 'Oh there's hip-hop, what are you guys doing with hip-hop?' Well, we always kinda had a Benny Benassi, we always kinda had a Public Enemy, or a Skrillex."


Newcomers and longtime attendees with short memories (or inflated egos) often forget that the festival was the place that broke many artists that would go on to have successful careers outside of the realm of techno. Huge acts like Bassnectar, Pretty Lights, Skrillex, and even Deadmau5 (who returned in 2017 to play a headlining set as his techno side project, Testpilot) all owe some degree of their success to their early performances at Movement.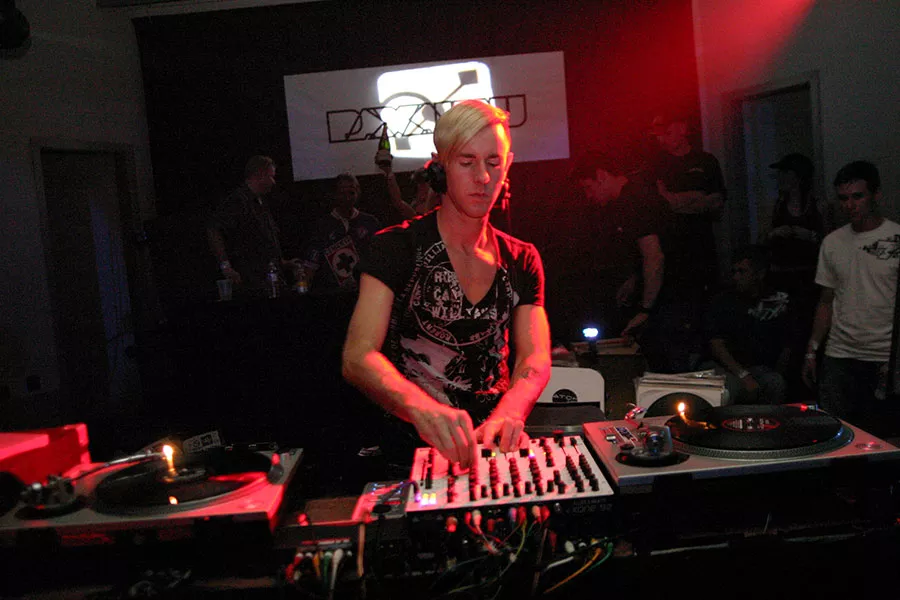 But that's not the only challenge that Flask has when booking talent. What he says many fans don't realize is that the booking environment that Movement operates in is much different than what it was 13 years ago. The rise of EDM, the emergence of massive music festivals worldwide, and the dwindling returns on music releases as the industry moves from selling music to streaming have led to increased competition to book sought-after talent. Europe's loyal fanbases are attractive to touring DJs who can quickly hop from Amsterdam to London to Ibiza in a single weekend to perform in front of massive crowds rarely seen in the United States. However, because of Detroit's place in techno history, Flask says he has found that artists are eager to earn their stripes by performing and passing the test of the festival's notoriously critical audience.
When it comes to choosing top-billed talent, however, Huvaere avoids the word headliner. "The word headliner has really poisoned a lot of egos," he says. "We've looked for the same thing since the very beginning. We look for a personality, performance, and availability. Musically this is in our blood. We don't listen to music we don't like. We don't communicate with artists we don't enjoy working with."
Apart from Movement, the event that has been the focus of much of Paxahau's attention for the past year is their 20th-anniversary party. As far as careers in music go, 20 years is an impressive milestone — if those first 18 months felt like five years, imagine how 20 years must feel.
To celebrate, the Paxahau crew says they wanted to do something special that reflects where the company and the underground community have come since that time. For Paxahau, that meant booking Plus8 Records founders Richie Hawtin and John Acquaviva.
"Since the last anniversary party when Richie Hawtin was with us at TV Lounge, we [said], 'We want to do a warehouse party for our 20th anniversary,' and he was like, 'I'm there,'" says Flask.
The history with Hawtin and Acquaviva goes back decades. The two DJs first got their start in Detroit, crossing the border from Windsor, where they both were based at the time to play underground raves. Since founding Plus8 Records in 1990, Hawtin and Acquaviva have both gone on to have successful careers as DJs, which have included global residencies, party showcases, and for Hawtin, even his own lines of Model1 mixers and even sake.
For Huvaere, it's all come full circle. "We all participated in the first Richie and Plus8 parties," he says. "The history and inspiration that we drew from Richie and John specifically is what created not just our direction, but our entire structure. The foundation of inspiration and experience came from the two of them specifically."


Even the party venue, Bert's Warehouse, is a bit of a throwback — providing the warehouse rave environment of yesteryear, without the dodgy qualities of unlicensed venues. In Detroit's Eastern Market, Bert's Warehouse delivers the scene that many other sites wouldn't be able to.
"It allows us to create an environment of a bygone era without having to pass the expense of creating that event onto the consumer," says Fotias. "It is as it is with the festival pricing, to have it be fair and enjoyable. We want people to come there and have a good time, not worry about the money that they spent to get in."


Ultimately though, Paxahau has taken on a much larger responsibility over the years as the city's unofficial purveyors of techno. With that level of authority, Paxahau's essential commitment to its mission can be summed up with the simple and succinct mantra whispered around their office: "Don't fuck up."
Pax .20 with Richie Hawtin, John Acquaviva, Acid Pimp, Michael Geiger, Mister Joshooa, Craig Gonzalez takes place from 9 p.m. - ? on Saturday, Sept. 8 at Bert's Warehouse Theater; 2739 Russell St., Detroit; paxahau.com; Tickets are $20; 21 and older only.