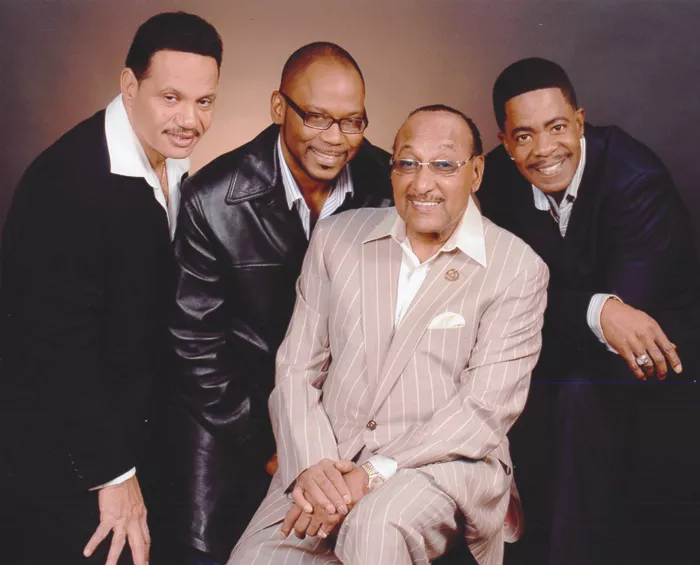 It's been 60 years since the Four Tops formed in Detroit, four high school kids (Duke Fakir, Levi Stubbs, Renaldo "Obie" Benson, and Lawrence Payton) who just loved singing together. The band was active for 10 years before joining up with Berry Gordy's Motown label in 1963, and then the hits started to flow. "I Can't Help Myself (Sugar Pie Honey Bunch)," Reach Out I'll Be There," "It's the Same Old Song" — the list goes on.
The Four Tops are still active in 2014, though with Duke Fakir the lone remaining original member, it is a legacy act. Still, Fakir has assembled a solid group of singers around him, pulling people from the Four Tops' extended family. Lawrence Payton Jr., for example, is singing bass.
We spoke to Fakir about the Tops' upcoming show with the Temptations at Freedom Hill, and much more.
Metro Times: Duke, you're the last remaining original Top. How do you pick bandmates?
Duke Fakir: It was very easy for me because they were all very close to us. We have the son of Lawrence Payton, then we have a co-writer and very close friend of Renaldo "Obie" Benson — his name is Ronnie McNeir and he's been with us about 12 years. He's been a very close friend of ours for over 30 or 40 years. The third person, Harold Bonhart, is a guy who sounds quite a bit like Levi. He's fairly recent, but I've known him about eight years. He's been with us a couple of years now and he's ready, and we're sounding good. I have never had to put an ad out. It's always been someone close to us, in our family, who was able to step in when the time was right.
MT: Musically, how close is the current band to the classic lineup?
Fakir: About as close as you can get. This is the best sounding band since Levi stopped singing and since Obie and Lawrence are not there. We're very close. Of course, being with the Tempts, you always get everybody's A-game. It's like play-off time or something. It's very friendly, but it's competitive once you get on stage. You have to be at your best, otherwise you can get talked about in the dressing room, laughed at. We play games with each other, and that keeps us all on our feet.
MT: Motown moved to L.A. in 1972, but you stayed here …
Fakir: We're home guys. I'm a Detroit man, I love Detroit. It's important and I'm glad I didn't go out to L.A. We get a chance to go out there anytime we want, we work out there quite a bit, but Detroit is my home. I love it. I play golf with all my retired friends that I grew up with. I'm the only one still working.
MT: So much has been written about the Four Tops. Tell us something that people don't know …
Fakir: People don't realize how important it is that people, when they're working together, get along and have the same objectives. We all had the same goals, and we kept those from a young age all the way through to "death do us part." It was easy for us to do that. The formula for success is that unity is stronger than one. There's not too much people don't know about the Tops. They don't know how many genres of music we have recorded and enjoyed singing. We started out singing all types of music, not just R&B. We started singing jazz, pop, hit parade, country & western, blues, everything but hip-hop. We're pretty good at it. We have some stuff on albums that people would be very surprised it's the Four Tops. I've been talking to Sirius Radio about having our own station. There are hundreds of songs that people haven't heard.
MT: Wait, you guys played country?
Fakir: We've got a couple of country songs, yes, we do. We like music. We weren't brought up singing one kind of music; we were brought up singing songs. Even while we were recording, we looked around at what else was out there and did some covers. "Eleanor Rigby," "Michelle," you name them, we've got them all.
MT: You were Beatles fans then?
Fakir: We were Beatles fans, of course. Their manager, Brian Epstein, brought the Four Tops over for a UK tour, but before that he also brought us over for promotion. He told us on the last night of promotion, 'If you can do the best show you've ever done here tonight, I can guarantee you when you come back for your concert tour it'll be front page news and it will be like that for years. I'm gonna make you all as popular here as the Beatles are in the United States.' He did just that. When we came back, it was front page news, all the tickets were sold out, we had a wonderful tour. Then he hosted a party with the Rolling Stones, the Beatles, Small Faces, and a few others I can't even remember. We had a great time that night. We all discussed music and how we got it done. It was just great. Very exciting.
MT: Do you ever get bored playing the hits, night after night?
Fakir: I have this mindset: I'm a born artist. As long as the audience loves the songs that we do, we're going to keep doing them. It's a joy to see people jump up and get excited. For me, it's a thrill. They want to be a part of it, and that's wonderful. Where else are you going to get that kind of love?
MT: What can we expect from this show?
Fakir: We're doing all of our biggest hits. It'll be exciting, it'll sound great, and it'll feel great. We'll throw in a couple of cover songs that we enjoy. It'll be a fun show.
The Four Tops plays with the Temptations at 7:30 p.m. on Saturday June 21 at Freedom Hill; 14900 Metropolitan Parkway, Sterling Heights, 888-929-7849; freedomhill.net; $10-$85.