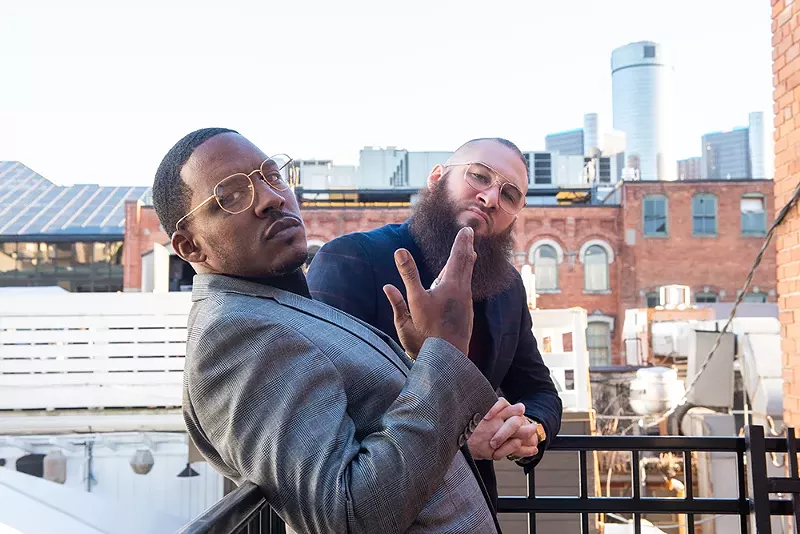 Valid and Stretch Money are known for creating some of the best modern hip-hop music this city has ever heard, but when we meet over bread and humus at Greektown's Golden Fleece restaurant, the two emcees are dressed like they've just walked out of an 1980s time capsule. They both have on crew neck sweaters and suits with a vibe that's more Knight Rider and Action Jackson than AZ and Nas.
The two are gearing up for the release of their collaboration Bill & Isiah, named after Detroit Pistons Isiah Thomas and Bill Lambeer, with obvious racial overtones. It's a retro-inspired album in which the duo channels the renegade and underdog energy of the Bad Boys-era Pistons, and everything else 1980s.
"It initially wasn't Bill & Isiah, it was Crockett & Tubbs," Stretch Money says, referring to the stars of Miami Vice. "The silk shirts, taco meat, gold chains, cocaine, and strippers, BMWs and Corvettes, Ferraris and shit like that."
"I was looking at some throwback photos and I saw this picture of Isiah Thomas rocking this mink coat, and you could tell it was mid-'80s," Valid says. "It punched me in the face. It was everything that we wanted to do, same style, same fashion, sonic '80s, cocaine cowboy shit, and now it's also on some Detroit shit and it's a tall lengthy white guy and a shorter Black dude."
For Stretch Money, his journey to this point has seen plenty of vicissitudes. His break-out moment occurred early on when he released the single "It Takes Money to Make Money" in 2006. The Helluva-produced track featured Stretch Money's witty bars about getting paid layered over a soulful sample from Bay Area R&B group Maze's 1983 hit "We Are One." The song instantly became a Detroit summertime classic that can still be heard every weekend in clubs in Detroit.
Stretch went on to drop an album in 2012 called 25 Miles Per Hour, served a three-year prison sentence for drugs from 2013 to 2016, then dropped Time is Money seven months after his release. But Stretch feels it like his stint behind bars didn't blunt his momentum.
"The buzz was dying down right before prison anyway, so I haven't really felt any regret," Stretch says. Produced by Nick Speed, 25 Miles Per Hour "was a hip-hop project, it was boom-bap," he says. "The streets did not understand that shit at all. They was like, 'Yeah, he flowing but this shit is weak.'"
As years went by, his perspective and motivation toward his music changed. Dope boy anthems and lyrics strictly about shootouts and paper chasing weren't his focus. Stretch wanted to be known as a wordsmith behind the mic.
"Since I came home from prison I knew what I was setting out to do something different, but that's always been my M.O.," he says. "People don't realize in the time of gangsters, drug lords, and drug dealing and repping your hood [that] I came with something to make the people dance."
He adds, "I'm from the streets, been involved in the streets and all of that, but I chose to take a different approach, and it worked."
But as Stretch deviated from a musical lane he had already established himself in, that same lane was on the verge of building a Detroit fan base never seen before. By 2016, Helluava's new self-described "basement sound" had become the backbone to Detroit's hip-hop street scene, with artists like Team Eastside, Doughboyz Cashout, and Tee Grizzley steadily earning attention outside the city.
"I had already made myself legendary in the streets," he says. "I felt like I wanted to raise some eyebrows in the hip-hop community … I wanted the respect from my peers as far as emceeing. I needed it to be no mistake that I'm great."
Stretch has dropped five more albums since 2018. And on March 8, 2019, he took his creativity to a new high when he entered HOT 107.5 "Friday Night Cypher" while being pushed on a dolly with Joker-green hair and a Hannibal Lecter-style mask before dropping a legendary three-minute freestyle.
"I remembered people were so smitten and taken back, they just didn't know what to do with it," Stretch says.
For Valid, his journey has been the definition of "staying the course." The Serbian American emcee burst onto Detroit's hip-hop scene in 2009, finding a home in the boom bap community with fellow rappers who cared just as much about lyrical dexterity and tough drum loops as he did. He established himself as a force with 2015's Reach High, released more singles, and scored wins with projects like The Alley-Oop EP (2017), Valid Live at the Old Miami (2018), and his personal favorite, 2019's Mihajlo.
"Michajlo, that's my real name, that's my baby picture on the cover," he says. "Everything from beginning to end, it's kind of like I went back into my childhood talking about a lot of shit … from my personal life. There was only one or two songs that I'm talking shit like us rappers like to do."
His consistent blue-collar work ethic has paid off over the years, as many of Valid's musical idols have become his peers. He's worked with jessica Care moore, Boldy James, Elzhi, Mahogany Jones, and Nolan the Ninja. Fabled East Coast producer DJ Premier embraced Valid's music and played it on his SiriusXM radio show, Valid dropped bars on Apollo Brown's album Sincerely, Detroit (2019), and his "ValidTimes Day" live show has become a yearly staple in Detroit.
"My approach has always been like I want my shit to be honest, whether it's something positive or something negative or braggadocio," he adds. "I want it to be honest, I want it to be real. I understand that this is a form of entertainment but I want it to come from a genuine place."
Like Stretch Money, Valid has been unapologetically making the kind of music he wants to make and being more outspoken about it.
"As a person, I feel like I'm getting to a place where I give less fucks," Valid says. "I'm going to say what I got to say and that is not just in music but in life in general."
"I felt like I wanted to raise some eyebrows in the hip-hop community … I wanted the respect from my peers as far as emceeing. I needed it to be no mistake that I'm great."

tweet this
Valid says he has always been aware of the "white rapper" stereotypes, but has managed to avoid them with his soulful, boom bap style. "I think the difference is with me … my sound doesn't sound like white boy rap," he says. "I don't think my music blends in that well. A lot of my shit fits next to an Erykah Badu record or a Sum Village record. You take Sean P and Jon B. and put them in one and you get Valid, bro."
Stretch Money looks over and chimes in. "I've never listened to you like the white boy rapper," he says. "It never came across to me. It was just dope. … You also know how to make music that's between Black and white."
The two met through mutual friend Supa Emcee, and Valid invited Stretch to hop on the remix for his track "ULUV." It was another win for both emcees, and a natural chemistry was born.
After that session, they decided to cut a record together, but the duo didn't want to travel the road already taken. They wanted to take a chance and push the creative envelope up a bit.
"Rapping our ass off would be the easy way to go," says Valid.
"We could shoot our shot like, ya'll can't fuck with us, some ultimate boom bap, funky, grungy raps," Stretch adds. "But considering who we are and what we are, not only that but at such a critical timing with all this race thing [going] back and forth, I really think it would be dope to come together and have some fun on some records."
Thus, the idea of building an entire album around everything 1980s was born.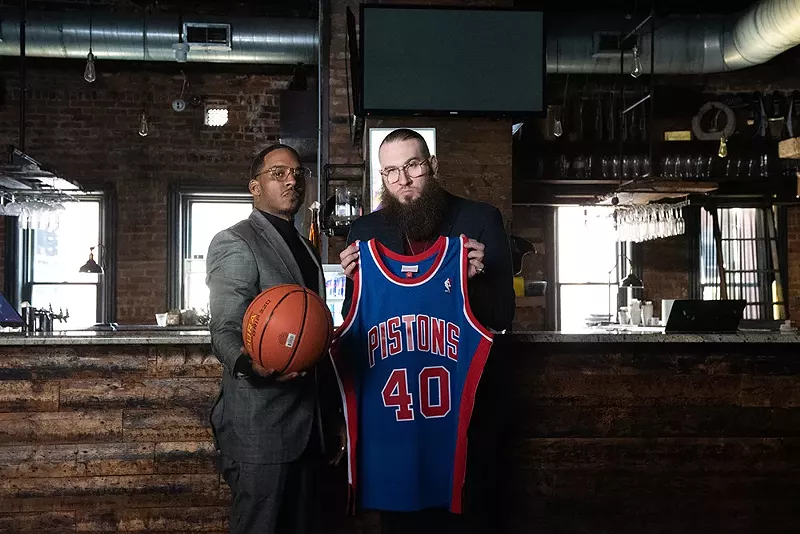 Lead track "89' Cadillacs" starts with a 20-second clip from Boston sports commentator Johnny Most giving the play-by-play of a Pistons-Celtics altercation, which ignites the smooth, melodic cut. "Stink Pink gators, I'm a player, you know what the time is, I'm Isiah," raps Stretch.
"And I'm Laimbeer, smooth as cashmere, shit, welcome to the Palace, I'm the man here," raps Valid.
The next track, "You Know How I Like It," is a head-nodder that continues the theme, preceded by a clip of Bill Laimbeer talking shit.
"The album is structured like a basketball game," says Valid. "The first two songs are like the first quarter where we're introducing ourselves to you. There is the intro, then here is the second track and we're telling you we're the Bad Boys … Right in the middle of the album is the halftime show. It's the more commercial, fun record. It's done like that on purpose."
The third cut,"Revenge," is driven by a bluesy guitar loop and a heavy hook in which Stretch and Valid rap with swagger. The duo brought in a church choir toward the end of the track.
"I wanted it to sound like a '80s movie of muthafuckas plotting for revenge," Valid adds.
"Sentimental" was the first video the duo released, featuring Stretch and Valid dressed like fitness guru Richard Simmons in some scenes, and wearing turtlenecks and cardigans in others. Sonically, the synth-laden track has the most retro vibe of any on the album.
"I was already hoarding samples of that vibe with DJ JMAC," Valid says. "I reached out to him like, 'All those samples you're sitting on that we put into that '80s 'cool bucket'? I need them! I'm sorry but it's me and Stretch season."
"Commentate" is the second video the duo released, and this time they recreate the NBA Jam arcade game, with both Stretch and Valid appearing in pixelated form rapping over a beat reminiscent of the closing score from the movie Scarface.
"Give me the ball dawg, these pups is all soft, they made the hit list, they all got cross off," raps Stretch. "We taking the win home, they suffering, ya'll lost."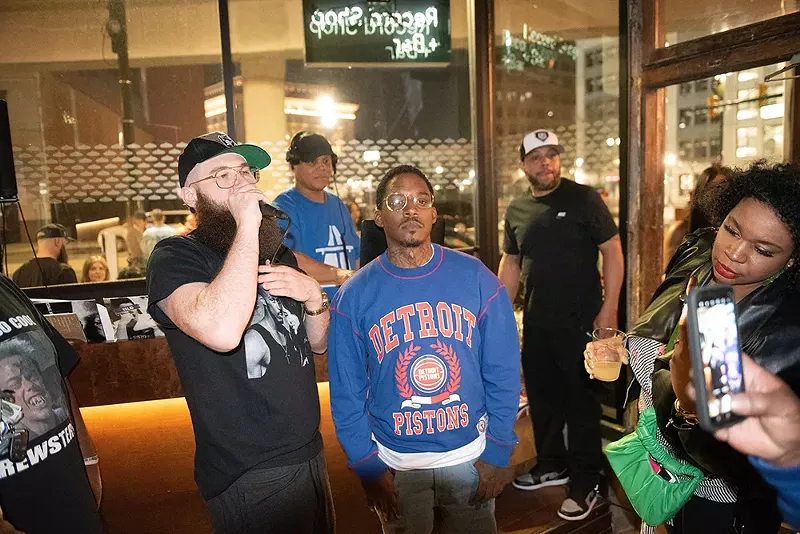 While DJ Head oversaw the project, production duties were handled by JMAC, Dub Musik, Pig Pen, Eddie Logix, Chuck Cross Slot-A, and Canasta. Bill & Isiah is the sum of all its parts, a complete body of work that has to be listened to from beginning to end to appreciate the full concept. The shift in beats, the sports overtones, and the song content make more sense when the album is listened to as a whole.
"Me and Stretch talked a lot about it. I take a lot of pride in song structure and album structure," says Valid. "I don't want any two songs to be structured similarly. I want to make sure nothing becomes redundant."
"I will give him the credit for that aspect as far as bringing that to the table," adds Stretch. "He understands arrangement, verses, chorus, bridges, he gets the art of song making."
And Bill & Isiah is just as much about the personal battles both emcees have faced throughout their careers as it is about the music. Stretch and Valid truly feel like they embody that Thomas and Laimbeer '80s attitude.
"We really are the Bad Boys, and I'll say this on record," Valid says. "This man don't get the respect he deserves, and I don't feel I get the respect I deserve. And we feel like how the Bad Boys were treated in the '80s. The refs didn't like them, the other star players in the NBA didn't like them, the media didn't like them too much. They were like the stinky kids in the corner of the class that nobody wanted to hang out with. But they was like, 'Fuck ya'll, we coming for that championship.'"
Coming soon: Metro Times Daily newsletter. We'll send you a handful of interesting Detroit stories every morning. Subscribe now to not miss a thing.

Follow us: Google News | NewsBreak | Reddit | Instagram | Facebook | Twitter