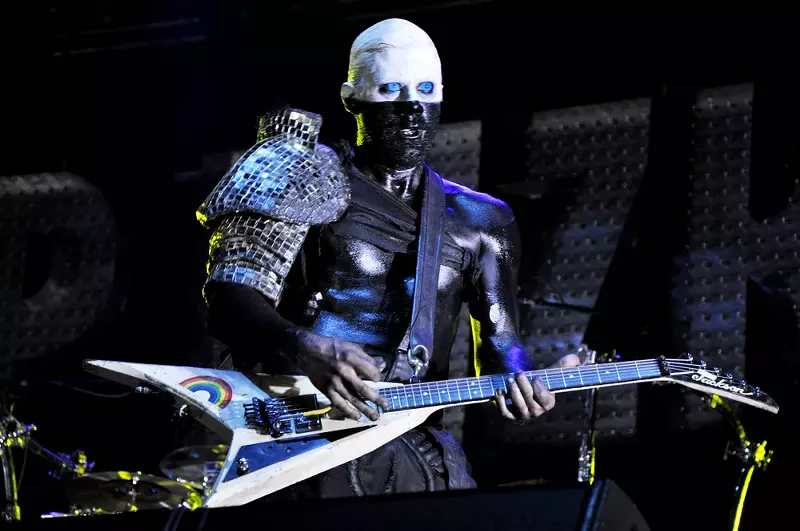 A Detroit judge dismissed Limp Bizkit guitarist Wes Borland's lawsuit against ex-wife Carré Callaway, saying that comments Callaway made in the press about their breakup "simply do not rise to the level of being defamatory."
The legal action stemmed from the time the former couple spent living in Detroit from 2015-2019, when they were renovating a home near Detroit's Boston-Edison neighborhood for a DIY Network TV show called Sight Unseen. Last year, Callaway, who performs in an indie rock band called Queen Kwong, told Bandcamp Daily that Borland abruptly kicked her and her cats out of their house.
In a legal motion filed earlier this year, Borland accused Callaway of violating the non-disparagement clause in their divorce agreement. But Judge Helal A. Farhat of the Third Judicial Circuit in Wayne County disagreed.
"The court does not find that [Callaway] made any defamatory statements regarding [Borland]," Farhat said in the ruling. "In the Bandcamp Daily article, [Callaway] expressed her opinions, frustrations, and the struggles of her divorce from [Borland]. Ms. Callaway did not specifically indicate that [Borland] was the cause of her being 'broke and homeless.' All other statements referenced in [Borland's] motion are either [Callaway's] reflection of her feelings or insinuations made by authors. Statement [sic] that simply do not rise to the level of being defamatory."
In an interview published by Bandcamp Daily last year, Callaway claimed Borland gave her only three days to leave their home just weeks after she had been diagnosed with cystic fibrosis, a life-threatening condition.
"We had seven or eight cats of our own, and when everything fell apart, one thing that made me realize things were really over was his desire to not only get rid of me, but the cats too. There was a disabled one called Daisy. She died a week after he left because he was the only one who could care for her. That's the hardest thing to get over, honestly," she said, adding, "I still have nightmares about it."
On her Instagram account, Callaway shared a statement with the caption, "A win for art, women and freedom of speech. A loss for sad men.❤️‍🔥"
The full statement follows:
In January, a member of Limp Bizmit pursued a legal action against me in Detroit. He alleged that my latest record, "Couples Only," and the press attention surrounding it defamed him. He asked for the court to hold me in contempt and for me to reimburse him $5k for the legal expenses he incurred by initiating the motion.



Shortly before the hearing, his counsel offered to withdraw the motion against me in exchange for my silence and $5k — I declined.



I found out this week that the case has been rightfully DISMISSED.



Thank you for the support during this crazy ordeal. Thank you for keeping my record alive.
The couple purchased the house for $500,000 in 2015, married in October 2016, and filed for divorce in January 2019. In 2020, Borland listed the home for sale for $899,900.
Coming soon: Metro Times Daily newsletter. We'll send you a handful of interesting Detroit stories every morning. Subscribe now to not miss a thing.

Follow us: Google News | NewsBreak | Reddit | Instagram | Facebook | Twitter