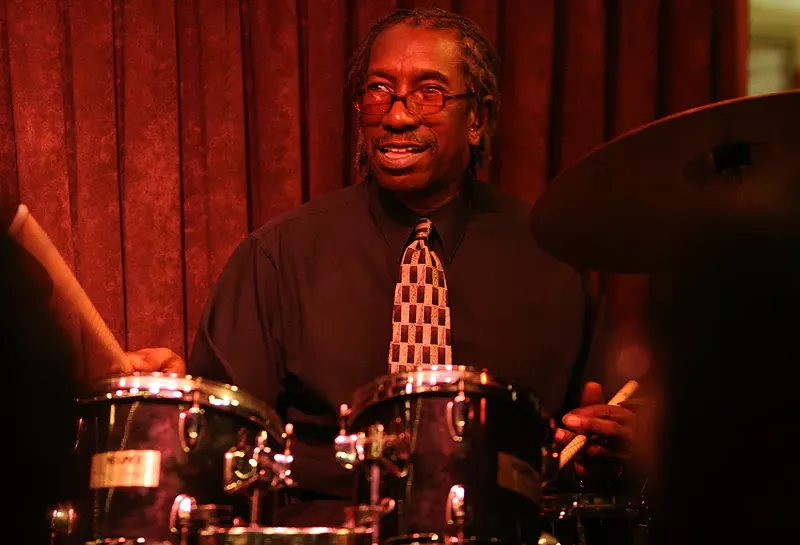 It may be easier to list all the superstar artists and legendary entertainers that drummer Spider Webb hasn't kept time with than the ones he has. From Roberta Flack to Peter Frampton, Aretha Franklin to Harry Belafonte, the renowned Detroit-born percussionist can look back with pride upon an extraordinary six-decade career.
And he does, with incredible detail, in the new two-hour documentary Spider Webb Untangled: The Life and Times of Legendary Drummer Kenneth Rice, released this week on Vimeo and DVD by Lansing-based Megawave Corporation. An official member of Motown Records' illustrious Funk Brothers session players and the driving beat behind such R&B immortals as the Temptations' "Cloud Nine" and Eddie Kendricks's "Keep on Truckin'," Webb will be signing DVD copies of his film and chatting with fans from 3-7 p.m. Wednesday at the Motown Museum Shop in Greektown.
"I could not be more happier with the way my career has gone," Webb declares, his voice more reflective than boastful. "I've done a lot of things most musicians only wish they could. By my early 20s I was traveling around the world, playing with Harry Belafonte, doing things that I never dreamed of doing. I mean, I always had thoughts of playing with the people I listened to on records, but I never really believed I'd ever find myself in that position."
Born Kenneth Ronald Rice in 1944 on Hastings Street, just blocks from Detroit's fabled Black Bottom neighborhood, Webb suggests in the documentary that constant beatings from his mother left him permanently blind in one eye from childhood. "I went all through elementary school with a patch over my eye," he remembers. "So I was an introvert. I kept to myself because I knew I was different than everybody else."
Eventually he bonded with grade school classmates at Goldberg Elementary — many of whom are interviewed in the film — over love of music. "I tried to play trumpet, saxophone, trombone," he recalls, "but when I sat down behind the drums it was like, 'This is where you belong.' I found my calling in fourth grade."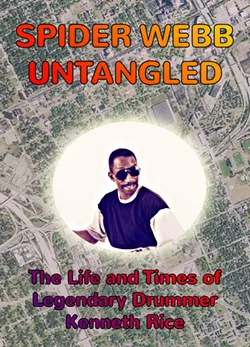 The documentary was inspired by Webb's 2009 autobiography, also titled Untangled and ghostwritten by Bert G. Osterberg. Ironically, the book came about at a time when he had turned his back on music.
"I stopped playing because I was frustrated with the industry," Webb says. "I decided to move back to Detroit, and I got a job with Burroughs, which is now Unisys. I stayed there nine years, and among the people I worked with was this lady named Armaine. We would talk and I would tell her I played drums, worked with Belafonte, blah, blah blah. She was married to Bert, and when she would talk about me he would say, 'Honey, that guy never did any of those things. He's just trying to get next to you!'"
One night Webb was invited to play at a special event and invited Armaine and Bert. "They said, 'Wait a minute. This guy is for real. He can play drums!'" Webb grins. "Bert said I ought to write a book. He had published two books already. He didn't know that I had been trying to 'write my book' for 20 years."
John Palmer of Megawave, the documentary's producer and director who will also be at Wednesday's meet-and-greet event, saw the same promise after reading the book and meeting Webb. The doc has some flaws — you can't help wonder why Webb is interviewed against a white wall with a wood railing for the entire film rather than, say, a stage, recording studio or anywhere with a drum kit in sight — but overall it is an honest, well-spun musical time capsule.
"When people ask me where I went to college I say, 'USD: The University of the Streets of Detroit.'"

tweet this
"I think we could have done some things better," he acknowledges, "but I've never, ever been satisfied with anything I've done. Once you say 'I'm satisfied,' you cease to be creative. The thing I want people to take away from this is that regardless of what kind of hand you're dealt in life, you can overcome it and be successful, because I did. When people ask me where I went to college I say, 'USD: The University of the Streets of Detroit.'"
Latter-day Detroiters may remember Webb from his years performing with acclaimed pianist Bill Meyer and the late bassist Hubie Crawford at Bert's Marketplace in Eastern Market, especially on open mic nights. "Open mic was about giving people an opportunity to do what they dreamed about," he says. "We were never judgmental. We supported them, played good behind them, made them feel good. We let them fulfill a goal they had held in their hearts."
Turning 79 this year and living in the same West Side house his parents bought in 1948, Webb knows this documentary came along at just the right time to redirect his creative passions. Decades of forging his own unique drumming style have left a devastating physical toll: three herniated discs, one bulging disc, three pinched nerves and a severe case of sciatica have left him unable to sit behind a kit. "The hardest thing to accept was that the thing I love the most was the thing that brought me down," he reflects.
"Nobody ever told me I was playing drums the wrong way, or I needed to stretch and exercise because playing drums is so physical, and I probably wouldn't have listened if they had. When I was 40 I thought I was Superman. But I am going to play drums again. I just don't know when."
Many assume his nickname came from his flamboyant drumming style. Many would be wrong. "When I was a kid there was a dance called the hully-gully, and one day I was doing it at school," he relates. "A girl cried out, 'You look like a black spider, climbing up a wall!' The next day everybody said, 'There's that spider! Hey, spider!' And it stuck. From third grade! I added the 'Webb' later myself."
Kenneth "Spider Webb" Rice was scheduled to appear for a meet-and-greet session hosted by Megawave's John Palmer, director of the documentary Spider Webb Untangled, from 3-7 p.m. Wednesday, Jan. 25, at the Motown Museum Shop in Greektown, 580 Monroe St., but the event was canceled due to the snow storm. See spiderwebbuntangled.com for more information.
Coming soon: Metro Times Daily newsletter. We'll send you a handful of interesting Detroit stories every morning. Subscribe now to not miss a thing.

Follow us: Google News | NewsBreak | Reddit | Instagram | Facebook | Twitter