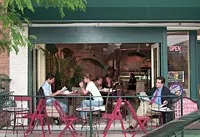 Know what you're in for at Café de Marquis, an independent coffeehouse on Fifth Avenue in downtown Royal Oak. Upon my naïve attempt at buying a coffee "to go" en route to work, co-owner Izabelle Gavric politely informed me that I should sit down and relax while she made it – she'd bring it to me. Apparently, she could tell that what I was asking for (or used to receiving) and what I needed were two completely different things. Disarmed by this new brand of customer service, I couldn't tell whether she was being rude (Now I would be even later to work!), concerned (Does it show I slept all of two hours?) or lazy (Maybe
she
slept all of two hours!). Fearing a long reply, I asked no questions – and sat down. Now I realize, these extra minutes gave me a chance to absorb all that had escaped me in my frantic rush to the counter.
Brushing up against my arm was an enormous tropical palm plant whose wide foliage extended outlandishly to the ceiling. Browsing the small, box-like room from my seat on an antique French-upholstered couch (I just noticed I should probably cross my legs on a couch like this), I took in statuettes, jeweled velvet costumes, a tapestry and candelabra-adorned walls. "Vivemus" was painted on one wall in large red calligraphy. Significant experience studying the Romance languages helped me realize this word had something to do with life. I checked on Izabelle. She was flirting with some Fabio-looking man behind the counter. I browsed the menu selection. Hmmm ... should have ordered a shot of Turkish coffee and been on my way. At this very moment, Starbucks minions would be yelling "Nonfat grande latte!" as they served up my order. I gave up – or in – to the experience.
I chatted with the married couple (turns out "Fabio" is Izabelle's husband and co-owner, Davor) about their little paradise. It seems their attitude is inviting to many regulars who are sick of assembly-line service. The relaxing atmosphere and artistic décor are a magnet for customers of all ages, particularly well-educated "artsy" folk. Neighborhood sophisticates are usually found reading or quietly conversing while world/ethnic music plays in the background.
The café is even more welcoming in warm weather when its façade literally opens to an outdoor café. It's the perfect place to enjoy one of the specialty selections (coconut latte, banana frappe, or ice cream, for instance) while the relaxing atmosphere conjures images of an extravagant tropical vacation.
In short, Café de Marquis isn't going to offer haste. Its owners and handful of helpers will not understand an impersonal or impatient (why wouldn't you want to stay?) attitude. They will, however, understand the value of a good drink. And they will teach those ready to listen the life-lesson in appreciating it.