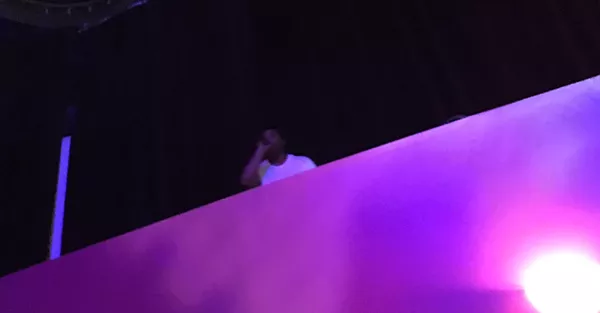 Multiple mosh pits, teenagers in blue face paint, and an endless supply of euphoric energy — these are all things that characterized the first of two sold-out Brockhampton shows at the Majestic Theatre. The self-proclaimed "greatest boy band since one direction" earned their title with a blowout performance on Sunday that ended up feeling like one of the best house parties I've ever been to, regardless if I was too old to be there or not.
The show opened with a flu-masked Kevin Abstract, the group's founder, alone on stage in the trademark Brockhampton uniform: an orange jumpsuit akin to the kind you'd see in a high-security prison. Abstract kicked off the show with
Saturation III
's high-charged opening track, "Boogie," and was soon joined by five more crew members, dancing tenaciously in the same orange get-ups and trading off verses with ease.
Abstract made sure to address potential critiques about his sexuality head on, opening with "Hey Detroit, we're gay!" And later teasing, "Go and tell your parents that we're pushing the gay agenda." The frontman's bold approach to discussing his sexuality is a rarity in the hip-hop world that's not lost on Brockhampton fans, who meet his proclamations with overwhelming positivity. The sea of fans shouting along to lines like "Why you always rap about being gay?/ Cuz not enough niggas rap and be gay" proves that Abstract's vulnerability is just as cathartic to Brockhampton fans as it is to him.
The group continued to perform with brutish confidence. At one point, member Dom McLennon even climbed on top of the bar at the back of the venue and performed from there. Throughout the set, the group threw double birds at anyone and anything that disagrees with their greatness, including a "fuck
Pitchfork
" chant that the audience ardently embraced.
In fact, the crowd did pretty much whatever Brockhampton told them to, including making room for not one, but three mosh pits. Although the pits leaned more toward an intense Richard Simmons class than actual moshing, the energy was there and didn't waver throughout the entire concert — save for the few intimate songs, "Team" and "Summer," performed by the group's sultry R&B singer, Bearface.
At the end of the concert, the boy band called up everybody in the audience who had painted their faces blue — another Brockhampton trademark — to join them in what seemed like a never-ending rendition of "Star." When the lights came on, the crowd was still buzzing with an infectious energy that explains why the show sold out two nights in a row — and probably why some fans likely attended both.