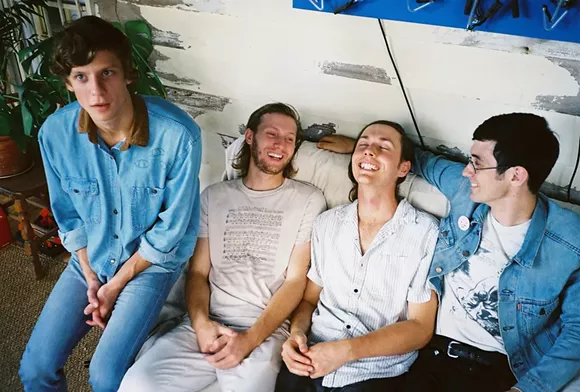 The hazily restrained blend of guitar pop and country rock that Bonny Doon creates is proof positive that Detroit can do the warm, nostalgic thing just as well as it can do the weird punk thing or the loud rock 'n' roll thing. After all, this is a band that finally found its voice after deciding to play as quietly as possible. Now you can hear that lovingly languid sound in all its effervescent glory on the band's full-length debut, Bonny Doon, out Friday, March 10 on the local label Salinas.
Perhaps the initial struggle to find the right sonic fit was because all four members — guitarists and vocalists Bill Lennox and Bobby Colombo, bassist Joshua Brooks, and drummer Jake Kmiecik — have logged time in Detroit's hyperactive punk scene, including stints in Tyvek, PRC, Growwing Pains, and Fake Surfers, to name a few.
When they made the decision to dismantle familiar approaches and take their sound in a different direction, if only still informed by something of the spirit of punk, it opened them up to the melodic capabilities of gentle constraint and focused momentum. To work within the particular musical palette Bonny Doon has chosen, then — in a city with its foot in virtually every musical door but that one — is to be legitimately refreshing.
Lennox and Colombo had been casually collaborating on music for a year or so when they invited Brooks and Kmiecik to join them in building out some songs in early 2014. Since then, recordings that were intended to become demos were released as their debut 7-inch in 2015, also on Salinas. Two months later a tape followed, Classical Days and Jazzy Nights (released on Life Like), which came about after four track recordings were made during a band retreat in Northern Michigan. At one point during all of this, Brooks switched to auxiliary sounds (tape loops, tape manipulations, synth), with Claire Cirocco and MT contributor Shelley Salant filling in on bass, although Bonny Doon is now back to being a four-piece.
The first two releases were a nice build-up for what would come next, both containing songs that appear in slightly different versions on the full length, which was tracked on a reel-to-reel tape machine at the studio of longtime friend and collaborator Fred Thomas (Saturday Looks Good to Me).
The end result is an album that is a gratifying combination of polished songcraft and buoyant atmosphere. In other words, Bonny Doon is indie folk perfection, 11 songs that are somehow both sun and shadow, swathing listeners in the pleasant ache of longing. With country twang, pop melodies, and even the noisy hiss of tape delay poking in at just the right moments, Bonny Doon has created something that is quite difficult to do: an album that feels warm with only maybe just the tiniest effortless hint of the saccharine or maudlin. If the idea of a nicer Stephen Malkmus or a less sad Bill Callahan with a touch of the sardonic as filtered through David Berman appeals to you, Bonny Doon is destined to become your new favorite band.
Even if the lyrical subjects are not new ground — not as if pop music demands it, anyway — the music carries it along so well that the specific topics can be viewed as secondary, in a way. But the everyday nature of the subjects only makes the keenly comforting lyrics that much more appreciable; friends moving away ("Evening All Day Long"), smiley faces and sideways hearts in texts from your mom ("I See You"), trying to be everything you can be but not having the energy ("Relieved"). Young people are obviously behind the words here, but they are clever young people, and the well-formed, heartworn temperament of the songs makes that a little easy to forget.
Metro Times spoke with guitarist, songwriter, and occasional vocalist Colombo about the creative sparks behind their music, including the special role of the Echoplex, how they relate to the city, and more. No Detroit shows are booked at the moment, but keep your eyes out for something hopefully in the spring.
Metro Times: What was the songwriting process behind the new album like?
Bobby Colombo: This album, we started recording it after having been a band for about a year, so we just recorded pretty much every song that we had. We abandoned half of them along the way and what we finished became the record.
Bill and I are the songwriters, we write the lyrics and a lot of the music, but it's a pretty collaborative band — a lot of the things are really constructed on the spot in practice or just during recording.
MT: On that note, in terms of the lyrical content, does anything come to mind when thinking about themes? Are there any images or feelings that you keep returning to?
Colombo: I don't think we think about themes [in that way]. They're just songs about personal experience, introspective songs that look inward. We talk about our writing a lot, but we don't really talk about what we're writing about. We talk a lot more about voice, and how we want it to come across or feel. I'm actually somewhat not even conscious of what the songs are about. We're way more tuned into how what we're communicating is communicated.
We try to be direct. The writing is always evolving and there's always room for improvement, but we try to strip away a lot that sounds like writing and achieve a certain tone that just feels natural.
MT: How do you approach guitar?
Colombo: I've been playing guitar for over 20 years. I don't have the sense that I'm really a skilled guitarist, so I try to create things that I think are emotional but pretty simple. A lot of the songs at their essence are just folk songs. Bill is a much better guitar player than I am, but we also like dissonance and tension, wrong notes, and passages where it feels like the song might fall apart. The guitar is a very important instrument for us. We like to have it be sort of jarring sometimes.
MT: With regard to the dissonance, then, are there any pedals or effects you guys like?
Colombo: A big thing on this record and the EPs before it is tape echo, specifically an Echoplex. It's not a pedal but a box, and a lot of things are run through that, like drums and guitar. There's a lot of white noise on the record, which is the tape echo running into itself to create what sounds like static in an unpredictable way. Any weirdness on the record, it's probably tape echo.
MT: There are definitely moments where I was wondering...
Colombo: What's going on? [Laughs.]
MT: I had moments like that with Fred Thomas' new album too, where I thought for a moment that maybe the files had been corrupted.
Colombo: After we had been a band for about a month, we recorded a demo with him in Ann Arbor and he was the one who really introduced us to the Echoplex. We really liked it, and we ended up mixing the demo ourselves. When we sent it back to Fred, he was like, "You guys put the tape echo way too loud," and we were like, "Oh, we think it's cool," so we have to credit Fred for that. I don't know if he said this or if I'm just projecting the sentiment, but he created a monster.
MT: Do you have a favorite moment on the album?
Colombo: I like "Summertime Friends," the second song, because it's an example of just being in the moment. We weren't sure how we wanted to approach recording, and we've played that song probably about five or six different ways. Fred suggested trying an uptempo version where he played drums and [Jake] played piano and we just went into it without practicing, played it three times, and the third became the take on the record. We like moments like that, where things are spontaneous and captured in a way that is maybe most authentic because there wasn't time to think about it.
MT: What words come to mind when you're reflecting on the album's emotional moods?
Colombo: Sentimental, or nostalgic. A lot of the songs are looking back at periods of time, or have a sense of a period of a time as being a moment that will pass, so I think those are common moods.
MT: What can you tell me about your relationship to the city of Detroit?
Colombo: It's formed me and informed me, as well as the spirit and dynamics of the city, more broadly. I feel it's a good place for me to be working right now. It's kind of small for a city of its size, so one benefit is that you end up interacting with and working with folks who maybe have really different tastes and experiences and perspectives than you, as opposed to a bigger city where maybe there are more specific niches you could fall into. But I also think it can be useful to be around people who are doing the same thing as you, so there is a shared vocabulary and you can help push each other further.
MT: How does the band as a whole relate to the city? Where do the songs, which feel a bit decidedly un-city, fit in?
Colombo: I am from Grosse Pointe but I moved to the city in 2003. Josh is from Detroit, Jake is from Hamtramck, and Bill is from Berkley. We have a lot of stake in Detroit, so we relate to it in a really personal way. Some of our songs do deal with relationship to place, but maybe in more subtle ways on this record. One thing we think about a lot and sometimes write about is the branding of the city and what stories are being told. As young white people, we are often the audience for and beneficiaries of narratives that sanitize Detroit's history and gloss over the injustices which have shaped and continue to shape the city. Since we're all from here, I think we feel a responsibility to challenge anything that's just trying to cash in on a brand, and actually has no benefit to the wider community that has been here for generations.
MT: What's next for the band?
Colombo: We're gonna do some touring in April and probably more in the summer. We're mixing our second record right now that we recorded June through December at Key Club Studios in Benton Harbor so we're excited to finish that up — that's what's on the horizon for the next few months.
Bonny Doon is released Friday, March 10 via Salinas Records; salinasrecords.com.