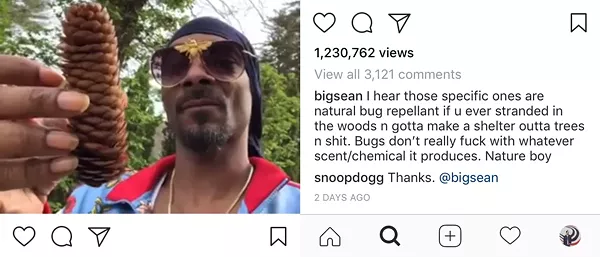 This is... adorable.
Rapper Snoop Dogg spent the weekend at his friend and
Martha & Snoop's Potluck Dinner Party
co-host Martha Stewart's farm in Bedford, New York, where he blitzed his Instagram with photos and videos showing off the idyllic scenery — including a souvenir he decided to bring back to California.
"I'm a naturistic motherfucker, look what I done picked up, man," he tells his crew. "Someone tell me what this is?"
Of course, Snoop is referring to a pine cone, and his entourage reported it as such. But in the comments, Detroit's Big Sean offered that pine cones can be used as a natural bug repellent, "if u ever stranded in the woods n gotta make a shelter outta trees n shit."
"Bugs don't really fuck with whatever scent/chemical it produces," Big Sean wrote. "Nature boy."
Snoop appreciated the advice. "Thanks. @bigsean," he wrote.
We can't confirm that this specific type of pine cone is a bug repellent, but you can enjoy the video below.

Stay on top of Detroit news and views. Sign up for our weekly issue newsletter delivered each Wednesday.