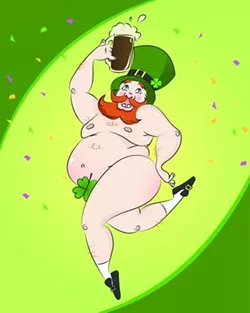 $=$5-$10; $$=$10-$25; $$$=$25-$50; $$$$=$50+
Ashley's 338 S. State St., Ann Arbor; 734-996-9191; ashleys.com: For a $10 cover, pub-goers get a breakfast of eggs, sausage and hash browns and a host of drink specials starting at 6:30 a.m. They'll also have a limited menu of traditional Irish foods throughout the day. The pot of gold at the end of this rainbow is the free T-shirt handed out to all Ashley's customers.
Bailey's Pub 22091 Michigan Ave., Dearborn; 313-277-3212; 1777 Canton Center Rd., Canton; 734-844-1137; 1965 W. Maple, Troy; 248-435-3044: All Bailey's Pub locations will be celebrating St. Patrick's Day with lots of drink specials and live DJs, but if you head to Canton you'll find a costume party for sexiest St. Patty's Day outfit and $1 Jello shots. All three locations will open at 9 a.m. and the night before will have a midnight Guinness toast.
Conor O'Neill's Traditional Irish Pub 318 S. Main St., Ann Arbor; 734-665-2968: Ann Arbor's authentic Irish bar will begin its festivities on Saturday at noon with a "St. Practice Day Party" filled with Irish dancers, bagpipers and three live bands that will grace the pub throughout the day. Opening at 7 a.m. on St. Patrick's Day itself, O'Neill's will provide the same entertainment, along with traditional Irish food and drink specials will go all weekend. Expect a cover charge, but with all the merriness in the offing, it should be worth it.
Cowley's Old Village Inn 33338 Grand River Ave., Farmington; 248-474-5941; johncowleys.com: Cowley's starts off its St. Patrick's Day celebration at 10 a.m. with live bands beginning at noon and playing until closing. The sounds will be provided by the Shawn Riley Band and "Free Beer." Cowley's will serve food from its Irish-inspired menu till 9 p.m. Cover for this event is $10, which provides entrance into the event and a $5 drink ticket.
Danny's Irish Pub 22824 Woodward Ave., Ferndale; 248-546-8331: Danny's will begin its St. Patty's party at 7 a.m. with great Irish beer and food specials that include shepherd's pie, corned beef sandwiches, and Irish stew. Not to mention, live entertainment by McCabe's Girl from 11 a.m. till 5 p.m. No cover.
Dick O'Dow's 160 W. Maple Rd., Birmingham; 248-642-1135; dickodowspub.com: Opening at 7 a.m. for breakfast, the big day will see two bands playing, starting at 10 a.m.: The McGlynns, and Company of Strangers. There will be a specialty menu that includes many Irish favorites, such as shepherd's pie and Irish stew. Dick O'Dows will serve food until 11 p.m. No cover.
Dooley's Tavern 32500 Gratiot Ave., Roseville; 586-296-2739; 12414 Hall Rd., Sterling Heights; 586-323-3501; dooleysirish.com: Dooley's will open at 7 a.m. and feature an outside drink tent with a full bar, live music, leprechauns and bagpipers. There will be specials on green beer, Bailey's, Guinness and more. There will also be a shortened menu of Irish-inspired items such as Reuben sandwiches and pizza, corned beef sliders, corned beef and cabbage, and more. There will also be a bus service taking patrons between all four Dooley's locations
Gaelic League and Irish American Club 2068 Michigan Ave., Detroit; 313-964-8700; Sure, the parade will be a memory by the time the official day rolls around, but spirits will still be high. The Gaelic League and Irish American Club will begin its St. Patty's Day celebration at 11 a.m. with traditional Irish foods and Irish beers. A tent will also be in the back with a performance by The Codgers. Members: free; non-members: $10.
O'Connor's Public House 324 Main St., Rochester; 248-608-2537; oconnorspublichouse.us: Opening at 7 a.m. with a priest blessing the first pint, the downtown Rochester bar will fill most of the day with live entertainment that will perform inside the bar and outside under it's 5,000-square-foot tent. O'Connor's will also feature an impressive 3 bar setup and a complimentary breakfast from 7 a.m. till 10 a.m. The Mojo in the Morning will also be on hand broadcasting live. $10 cover.
The Lager House 1254 Michigan Ave., Detroit; 313-961-4668; lagerhousedetroit.com: Located in the midst of Corktown, there's no question the PJ's is the prime spot to check out the parade a week prior, but for continuing the celebration on St. Patrick's Day itself, PJ still has some flair up its sleeve. Doors will open at 9 a.m., and the party won't stop till 2 a.m. Enjoy live entertainment from Tilted Axes and Duende and Bricktown Station starting at 5 p.m., along with a $5 cover charge. Don't forget the excellent food from PJ's kitchen, which abounds with options for meat-eaters and vegetarians alike.
Old Shillelagh 349 Monroe St., Detroit; 313-964-0007; oldshillelagh.com: Come on downtown to join the Shillelagh's peerless celebration of St. Patrick's Day. The Shillelagh will celebrate the land of the leprechaun in two heated tents that can hold hundreds of people. Practice your Irish party spirit on Saturday at the "St. Practice Day" party, which starts at 11 a.m. with live entertainment. Wear your green on Sunday to the St. Patrick's Day Party starting at 7 a.m. Tents open at 8 a.m. Giveaways, food and beer will be plentiful. The Shillelagh will have about 15 beers on tap and is featuring the "Irish flag shot," made with Grand Mariner, Baileys and Midori, which resembles the orange, white and green flag. $10 cover charge.
O'Mara's 2555 W. 12 Mile Rd., Berkley; 248-399-6750; omaras.net: This brewpub calls itself "Michigan's best-kept Irish dining secret." Their shepherd's pie and Irish stew are menu staples. On St. Patrick's Day O'Mara's will open at 8 a.m., serving items from its breakfast menu until noon. In the afternoon, catch live shows by Ron Coden and Blackthorn and a few others.
Rosie O'Grady's 279 W. Nine Mile Rd., Ferndale; with locations in Chesterfield and Clinton Twp.; 248-591-9163; 4rosieogradys.com; Rosie's will have a breakfast buffet from opening at 7 a.m. till 10 a.m. Also a limited Irish menu will be available, featuring corned beef and cabbage and corned beef sandwiches. $5 cover after noon.
Sheehan's on the Green 39450 Five Mile Rd., Plymouth; 734-420-0646: This is Sheehan's 37th Annual St. Patrick's Day Event. By celebrating, they will open their doors at 10 a.m. inviting everybody to partake in the St. Patrick's Day festivities. The menu will include such trusty favorites as corned beef and cabbage, corned beef sandwiches and Irish stew. Irish beers like Guiness, Smithwick's and Harps will be available on tap. They'll also be bagpipers making their rounds, spreading Irish cheer throughout the day.
Special thanks to editorial intern Emmanuel Smith for his assistance researching this column.
See any errors or omissions? Let us know! Call 313-202-8043 or e-mail [email protected].