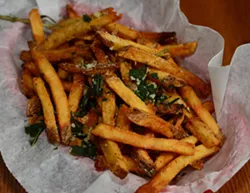 New Italian eatery Arthur Avenue in Birmingham is set to launch its lunch service beginning Feb. 1. Lunch will be served from 11 a.m. to 3 p.m. daily. Co-owner and Pea & Carrots founder Zack Sklar says menu items will cost no more than $10 each. Arthur Avenue is located at 260 N. Old Woodward Ave., and shares its kitchen with another Sklar production, brasserie Au Cochon.
The Peas & Carrots Hospitality concept is the sixth restaurant in the group, which spans Michigan and Illinois. The spot, named after the street in Bronx known for its many Italian dining establishments, opened in December.
Also starting Feb. 1, the restaurant group's five Michigan locations will commence in Project Have a Heart to benefit Heart 2 Hart Detroit, a nonprofit that provides food and basic personal care products for people experiencing homelessness in Detroit. As part of the fundraising efforts, guests who dine at any of the restaurants on Feb. 8 will have a portion of the day's proceeds donated to the initiative.