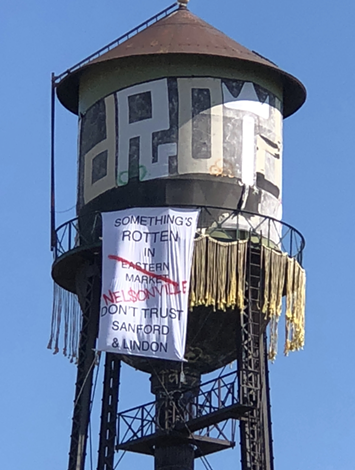 (This story was updated at 12:50 p.m. with comments from the developer.)
Bloomfield
Hills
-raised developer Sanford Nelson appears to be behind another Eastern Market business closing.
Crain's
reported on Wednesday that Farmers Restaurant abruptly closed the day after Nelson closed on a purchase of the building in which the small diner operated for years. He also bought three other nearby buildings.
Why did Farmers close? Farmers owners' son simply told
Crain's
, "We have no comment. The owners have retired."
In a Thursday afternoon statement to
Metro Times
, Sanford said, "The Fermanis family elected to put their building up for sale and then chose to close the restaurant. Both decisions were completely independent of the purchase."
Metro Times
hasn't yet been able to reach the Fermanis family for a comment. The abrupt closure and the larger story playing out in the Eastern Market suggests that there's more to the story, and it likely has to do with money. Regardless, Nelson is here and Farmers is not.
Nelson, who notes that he's lived in Detroit for the last five years, is the 30-year-old son of wealthy entrepreneur Linden Nelson, and he's reviled in some corners because he appears to be on a mission to gentrify the Eastern Market. He, along with his father and other partners, purchased at least 19 buildings in the market for well over $20 million.
There's fear that the changes Nelson's proposing — renovating the units so they cater to a much wealthier tenant — is killing part of the market's soul. Those are the sentiments of the tenants, businesses, and artists who Nelson is forcing out by purchasing buildings and jacking up rent on very short notice. Multiple business owners have confirmed to
Metro Times
that they're facing steep rent increases since Nelson purchased the buildings in which they operate, though at least one has been able to strike a deal. And
Crain's
reports that Adam's Meats and Cultivation Station have also moved or closed.

Deadline Detroit
reported in December that several businesses have been asked to leave, others were asked to relocate, and some residents have been asked to pay between $500 and $1,000 more in rent each month with just 30 days notice.
That's angered a lot of people, especially those in the arts community.
Deadline
reports that Murals In The Market sent back an $1,800 check Nelson donated to it. A huge banner that recently hung from an old water tower in the market read "Something's rotten in Nelsonville. Don't trust Sanford & Lindon." Others said they feared Nelson's plans mark "an end of an era."
Nelson told
Deadline
he plans to fully renovate the buildings, and there's rumors that at least one historic property will be razed. His plans also include some affordable housing units.
Deadline
provided this gem of an anecdote. It sets the scene during Nelson's recent 30th birthday party inside Supino.
The popular restaurant is now one of Nelson's tenants. At his party, he wore a fedora and a Detroit Hustles Harder camo windbreaker by streetwear brand Aptemal Clothing, another of his tenants. Around him stood chic women in high-heeled boots carrying designer bags. Nelson posed for pictures with one on each arm, receiving congratulatory kisses on the cheek.

Nearby sat a chocolate cake in the shape of one of the market's sheds. The inscription in the icing said "Shed 30," in honor of Nelson's milestone birthday.
What does all this say? The proverbial Sanford Nelson is coming to a Detroit neighborhood near you. So if you own a small business or rent a home, make buying your property a priority. It's one of the only defenses.
So many restaurants, so little time. Find out the latest Detroit dining news with our weekly food newsletter delivered every Friday morning.