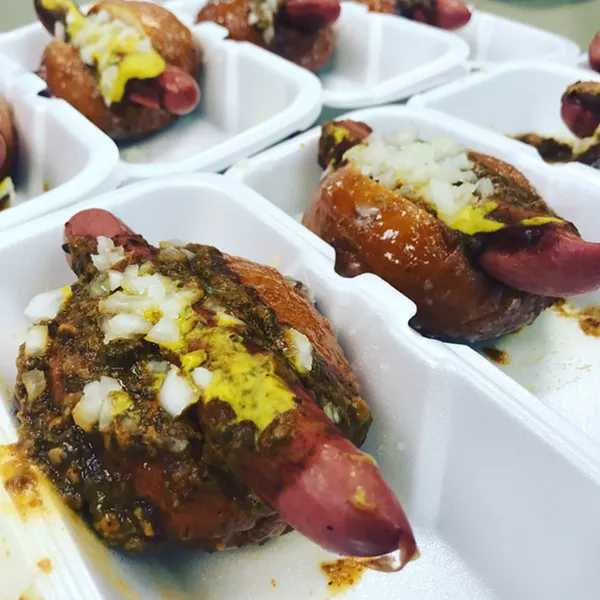 Last year, American Coney Island celebrated Fat Tuesday by pairing the humble coney dog with paczki to create a uniquely Detroit invention: the coney paczki.
This year, the culinary Frankenstein's monster is back, and we at
Metro Times
had to find out what it tasted like.
Our tasters were split in opinion. Senior editor Michael Jackman found that "the doughnut is a little sweet for that classic mix of chili, onion, and mustard," with the "vinegary, savory" elements "going up against a really muscular sugariness."
But food editor Tom Perkins disagreed. "I thought it would work because salt, sweet, and fat is pretty much what we love here," he said. It is unclear if Perkins was referring to Detroit or the
Metro Times
office specifically.
Jackman used utensils to eat his coney paczek — apparently having forgotten the last time American Coney Island owner Grace Keros
gave him an earful
for eating one with a fork. Perkins, meanwhile, ate his with one hand.
Jackman suggested the recipe could possibly be improved if it was just a doughnut filled with chili. But Perkins' final verdict is that coney paczki are "actually good."
Is it good
for
you? That's another story. Jackman estimated the calories to be at least 400. Investigative reporter Violet Ikonomova believed it was likely more like 600. One reader estimated the total number of calories had to be at least 1,000. (American Coney Island did not return our calls asking for the total number of calories.)
Our video of food editor Tom Perkins and senior editor Michael Jackman's taste test is below.