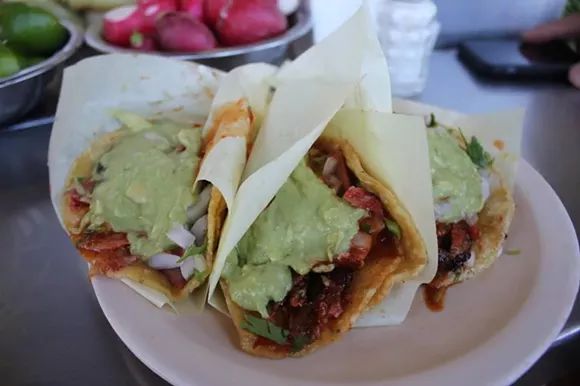 The "Taco Truck Party" is continuing to gain momentum across the nation in this historic presidential election.
Following the delicious threat by a Trump supporter who predicts #tacotrucksoneverycorner should Hillary Clinton become president, taco trucks are now increasingly adding voter registration site and vehicle for political discourse to their savory menus.
Here in southwest Detroit, eight mobile taquerias are joining in this
Friday
. Organizers have galvanized several spots: all El Parian locations, Tacos El Rodeo, El Taquito, El Imperial, Tacos El Toro, and Tacos El Caballo. Volunteers will be on hand to make sure that get a side of voter registration with your tacos de pollo.
The local drive comes after a tasty protest Sept. 3 wherein the
Tacos El Caballo truck proprietors parked outside the Great Faith Ministries Church when Trump came to town - both to slang tacos and show detractors the contributions of immigrants.
Similar forms of activism is taking shape elsewhere across the United States.
The U.S. Hispanic Chamber of Commerce, in its so-called
"Guac the Vote"
effort, is encouraging taco truck vendors to park outside of polling places on Election Day.
Meanwhile, OC Weekly editor Gustavo Arellano, syndicated Latino cartoonist Lalo Alcarez, and cohort Bill Esparza have taken the movement a step further with the creation of the "Taco Truck Party" on
Facebook
. A description of the party says it's a "pro-immigration political movement to unite Americans through tacos to combat racism, pendejadas and nativism" and urges voters to "Make America Asada Again."
Uniting Americans through tacos? That's one campaign we can vote for.